Cobra Kai Co-Creator Teases A Different Kind Of Relationship For Daniel And Johnny In Season 4
Netflix
Netflix is mere months away from releasing season four of "Cobra Kai," the "Karate Kid" follow-up with its heart on its sleeve and its tongue in its cheek. Since 2018, the beloved nostalgia-fest has been turning heads with its high drama, wry humor, and ability to explore the world of karate after 50 without even uttering the words "torn meniscus."
When last we left our heroes, the winds of change were blowing through Reseda, California. Johnny Lawrence and that absolute cad Daniel LaRusso, flying in the face of decades of interpersonal conflict, had decided to team up. Their goal: To combine LaRusso's Miagi-Do with Lawrence's "no mercy" olympic-level bullying lessons in the pursuit of a perfect peanut-butter-and-chocolate approach to punching people.
If that sounds like a dynamic dripping with potential for juicy interpersonal conflict, just you wait. "Cobra Kai's" co-showrunner Josh Heald sat down with The Hollywood Reporter recently to hint at what fans could expect from Johnny and Daniel in the season ahead, and it sounds like things are about to get choppy — karate choppy.
Cobra Kai's next season is bringing the drama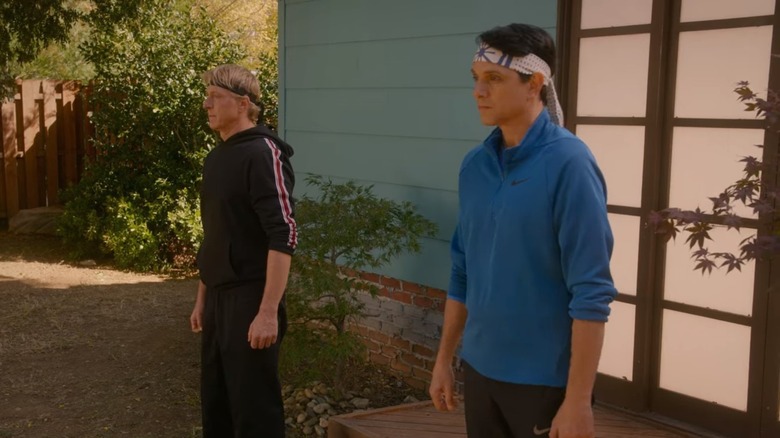 Netflix
"I can just say, without giving away any spoilers, season four delivers on the premise of the series, which is what happens when (Daniel and Johnny) get into each other's lives and get under each other's skin," Heald told THR of the upcoming season. "We've watched arguments, we've watched consequences and reactions, and overreactions, and now we're entering a phase in which they are putting down their weapons and looking at each other and accepting the challenge in front of them with Kreese and kind of taking that next step and trying to grow as adults and leaders.
"And it's a great tipping point," he continued, "for them as performers and for their characters because it starts to provide new colors to their arrangement that are not just 'I hate you, I hate you.' We're finally entering into a second phase of their relationship."
The promise of a new day for Lawrence and LaRusso — or "LawRusso," as we're being informed nobody is calling the duo — is a compelling narrative carrot to dangle in front of fans. Nailing down exactly what this new normal will look like is going to take some patience, though — "Cobra Kai" isn't scheduled to return to Netflix until December of this year.