The Best Time Johnny Lawrence Ever Broke Character On Cobra Kai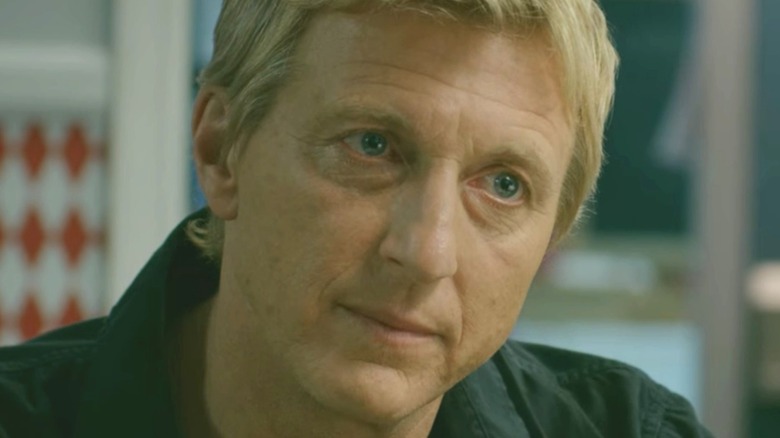 Netflix
In three seasons of "Cobra Kai" on Netflix, we've seen some intense rivalries. After 30 years, Johnny Lawrence (William Zabka) and Daniel LaRusso (Ralph Macchio) still hold a grudge against one another. Now that the karate masters have dojos of their own, their personal vendettas have bled into the lives of their students as well. No one can forget the school-wide battle between Miyagi Do and Cobra Kai at the end of Season 2 that nearly got Miguel (Xolo Maridueña) killed and resulted in Sam (Mary Mouser) having traumatic nightmares in Season 3.
Although there exists some seething hatred between characters in "Cobra Kai," behind the scenes, the actors are all just having a good time with one another. Some examples of this can be seen in the show's outtakes, where you'll catch Ralph Macchio forgetting which dojo he teaches for and the younger actors having trouble staying on their feet. But there is one moment where William Zabka went above and beyond the demands of his character in a wild outtake that will have fans both cringing and cracking up.
The time that Johnny ate glass in Cobra Kai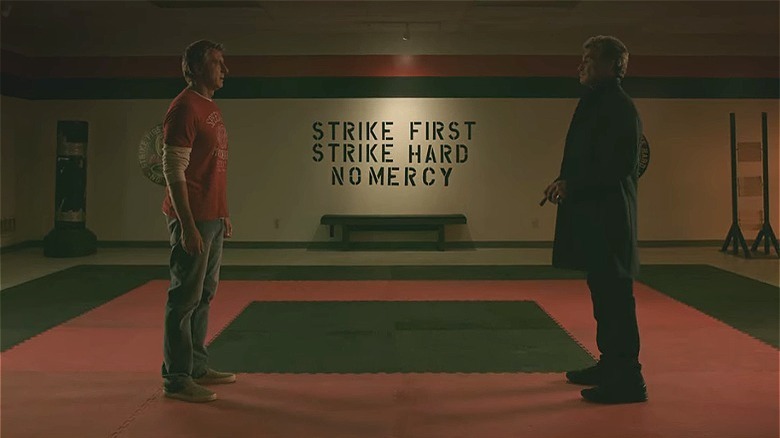 Netflix
The ending of "Cobra Kai" Season 1 saw the return of the hated villain from the first "Karate Kid" movie, John Kreese (Martin Kove). Just when Johnny thought he had moved on from the demons of his past, Kreese slinks out of the shadows holding his signature cigar and a smirk. This sets the tone for Season 2's opener, as Johnny and Kreese face off in a fight that was long overdue.
While the two senseis are evenly matched in skill, Kreese has the advantage of experience. The fight ends when Kreese kicks Johnny into a mirror, smashing it and covering Johnny in shattered glass. In this blooper reel video, at about 2:10, we see Zabka on the ground after the mirror breaks, and he looks up defiantly and spits glass out of his mouth. Now, don't worry, it's not real glass — although Zabka might play a badass, no one is cool enough to chew glass without getting a mouthful of blood. It's likely that this prop was made out of "sugar glass," a safe substance that resembles broken glass but will not harm any of the actors.
Whether Zabka actually got glass in his mouth while shooting the scene or put it there himself as a joke, we can't tell. But it makes for a really good blooper, and it got a laugh from his co-star, so either way, it's pretty hilarious.