Twitter Is Going Wild Over LeVar Burton Hosting Jeopardy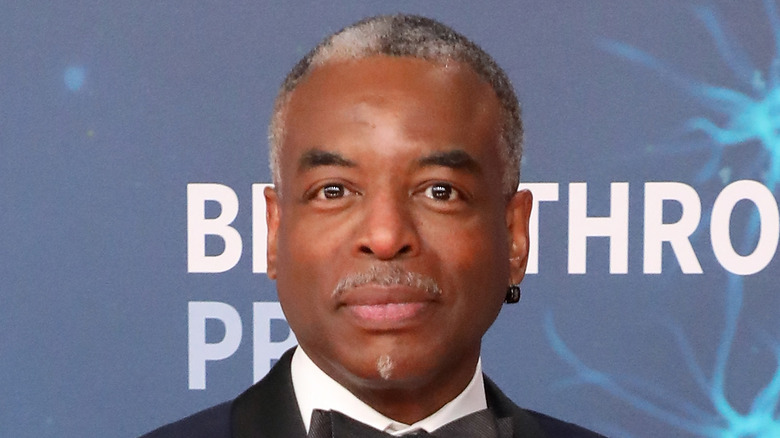 Taylor Hill/Getty Images
The television world was shaken to the core when legendary "Jeopardy!" host Alex Trebek died from stage IV pancreatic cancer on November 8, 2020. He'd become the face of the program over the course of his 37 season run that began in 1984, sticking with it until the very end. Sadly, we all had to face the question, who would take his place on the famed quiz show? With a legacy like that to live up to, following in Trebek's footsteps was a daunting proposition to consider, but as the old saying goes, the show must go on.
In the wake of Trebek's death, a handful of names have stepped in to try and fill the void he left behind. Political commentator Anderson Cooper, neuroscientist and "The Big Bang Theory" alum Mayim Bialik, and even "Jeopardy!" executive producer Mike Richards stepped up to the plate, with the most recent of the bunch being LeVar Burton. The longtime face of "Reading Rainbow" was an early fan choice to step behind the "Jeopardy!" podium — as evidenced by a strong social media campaign and even a Change.org petition to make it happen — and they finally got their wish on July 26, 2021.
"I am overjoyed, excited, and eager to be guest-hosting Jeopardy!, and will do my utmost best to live up to your faith you in me. YOU MADE A DIFFERENCE! Go ahead and take my word for it, this time." Burton said on Twitter (via The Hollywood Reporter), ushering in an atmosphere of excitement that the rest of the social media world would reciprocate in short order.
Jeopardy! fans can't get enough of LeVar Burton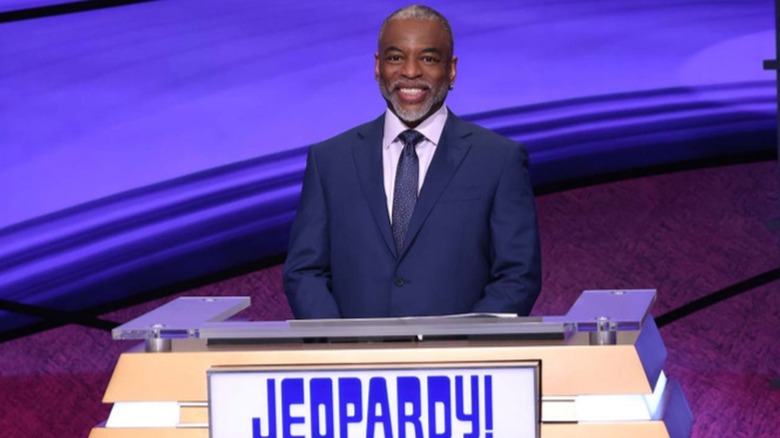 NBC
Unsurprisingly, "Jeopardy!" and LeVar Burton fans came out in droves to voice their support via Twitter. 
It didn't take long for @Garrestotle to determine if they were happy with the "Star Trek" mainstay's performance, tweeting, "Found the @levarburton Jeopardy. One minute in and I love him already." @gambit_1 typed out an especially heartfelt post, recalling, "I remember how excited I was when I realized @levarburton, the guy who brought stories to life, was Geordi La Forge, the only Star Fleet officer I related to, and then Kunta Kinte, the person who helped me start to understand the reality of history. And NOW he's on Jeopardy!"
While some "Jeopardy!" viewers were happy to see Burton, others hoped for more than a one-off. "There's no doubt in my mind that @levarburton killed it on @Jeopardy and should be the next host. #LevarHostsJeopardy" commented @BrokenFiction, with @STEMhasSoul adding, "Just watching Jeopardy with #LeVarBurton. I say we found the next permanent host. Do you agree?" Once the episode wrapped up, @MermaidSailor posted, "Congrats @levarburton for a great first episode of Jeopardy!!! I loved it, and am definitely rooting for you to get the gig."
However, not everyone was impressed with Burton's "Jeopardy!" debut. For instance, @xminustDC wrote, "I don't think I watched the same Jeopardy episode tonight as some of the people on Twitter gushing over it." and @lovedMay14 chimed in as well, calling this installment "One of the dullest episodes #Jeopardy I've seen." Nevertheless, aside from a handful of Twitter users, the consensus was abundantly clear: the people want more LeVar Burton on "Jeopardy!" as soon as possible.