This The Suicide Squad Star Just Landed A Major Role In Sonic 2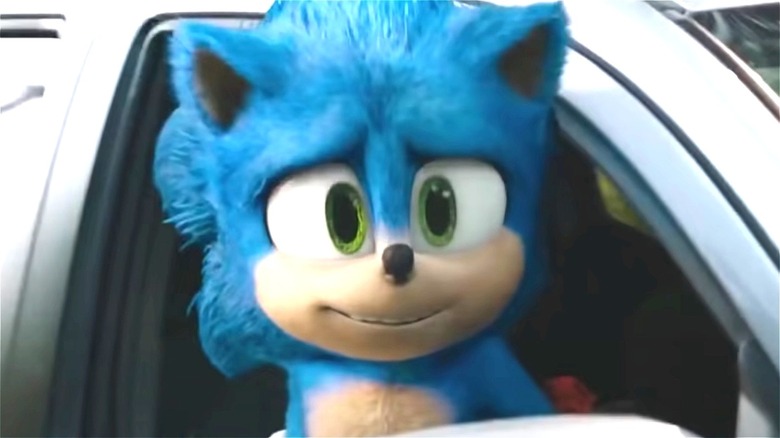 Paramount Pictures
The good news just keeps coming for "Sonic the Hedgehog" fans, as it looks like one of the biggest stars from "The Suicide Squad," Idris Elba, will play a central role in the next movie.
"Sonic the Hedgehog" was something of a surprise success when it premiered in February 2020 — it ended up earning $320 million worldwide (via Box Office Mojo). The initial design of its primary character, Sonic (voiced by Ben Schwartz), was widely mocked and caused a huge fan backlash after images leaked online. Fixing the character's design caused a delay that ended up being well-timed, as the film became one of the last blockbusters to be released before the COVID-19 pandemic closed movie theaters worldwide.
Beyond that, the film was a hit with fans and critics, and managed to become one of the highest-grossing video game movies of all time. Now, Paramount is pulling out all the stops to try and make the second film just as big of a success, and signing a high-profile actor like Idris Elba is certainly one way to do that. Here is the major role that Elba will play in "Sonic the Hedgehog 2."
Idris Elba will voice Knuckles in Sonic the Hedgehog 2
Elba gave fans a pretty on-the-knuckles hint about his involvement in the project when he posted an image of a cartoonish gloved hand with two spiked protrusions coming from the fist to his Twitter. If that wasn't enough to tip off fans, he also added #SonicMovie2 and #Knuckles to ensure everyone got the hint.
Fans got a first look at Knuckles when set photos revealed full-size props of Sonic, Tails, and Knuckles, although the design has yet to be confirmed from an official source. Collider notes that the plot summary for "Sonic the Hedgehog 2" describes Knuckles as a partner of Dr. Robotnik (Jim Carrey). However, fans of the "Sonic" video game series know that while Knuckles starts as an antagonist, he eventually becomes an ally, so it will be interesting to see if Knuckles undergoes a similar transformation in the new film.
The British-born actor is currently starring in "The Suicide Squad," which is still in theaters. Previously, the actor portrayed Heimdall in the MCU, beginning with "Thor" and most recently in "Avengers: Infinity War." He has also starred in films such as "Pacific Rim," and first came to prominence playing Stringer Bell in HBO's "The Wire." 
"Sonic the Hedgehog 2" is expected to be released in April 2022.