Sonic The Hedgehog Movie Delayed To Fix Character's Design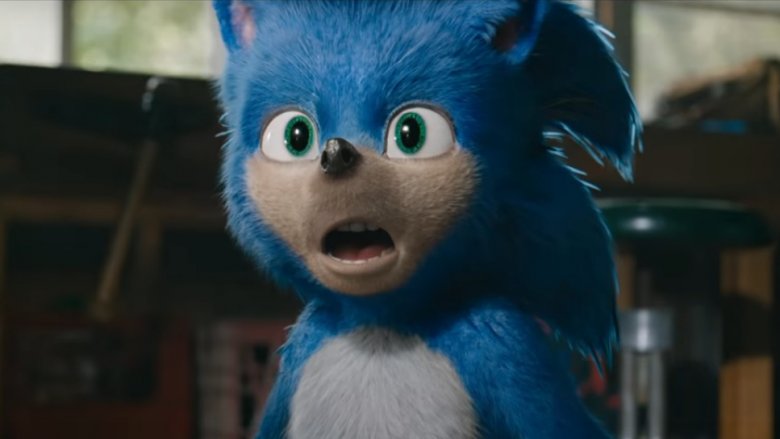 Slow down, Sonic. 
Less than a month after the live-action Sonic the Hedgehog movie debuted its first trailer, the flick's planned November 8 release date has been pushed back to February 2020 in order to fix the design of the lead character after intense (and often hilarious) backlash from fans. Director Jeff Fowler announced the delay via Twitter, with the accompanying hashtag "#novfxartistswereharmedinthemakingofthismovie."
Taking a little more time to make Sonic just right.#novfxartistswereharmedinthemakingofthismovie pic.twitter.com/gxhu9lhU76

— Jeff Fowler (@fowltown) May 24, 2019
First things first: by the time you're reading this, it's all but certain that the hashtag will have been humorously and snarkily revised by the entirety of Twitter, and we're not sure how Mr. Fowler could have failed to realize it would happen. Second things second: the delay is a wise move, because Sonic's design in the trailer — in particular, those awful, terrifying, humanlike teeth — was kind of nightmarish, and didn't look much like the iconic hedgehog beloved to gamers around the world (we're not sure how Fowler failed to realize that, either). 
As to the actual movie, we were pleased to report at the time the trailer dropped that it looks, well, pretty rad. In it, the lightning-fast anthropomorphic hedgehog kicks up a kerfuffle amongst the Pentagon's brass by knocking out power to the entire Pacific Northwest by way of an "energy surge." The military resolves to investigate the potential threat by bringing in an expert (in what, we're not sure): Dr. Robotnik, portrayed by Jim Carrey, whom we haven't seen having quite this much fun onscreen in some time. 
Sonic is stumbled across by a put-upon police officer, Tom Wachowski (James Marsden), who helps the little rodent go on the run from Robotnik and his pursuing minions. The trailer offered plenty of Carrey craziness, awesome special effects, and action galore — but Sonic's character design simply lit up the internet in no time flat, and not in a good way. More astute fans were quick to point out that it would be folly to hold the flick's animators responsible, as the ill-advised design smacked of the "crunch" which often plagues animators on high-profile video games (remember who this film is aimed at). 
I feel so bad for the animators the Sonic movie... There isn't any announcement of movie delay for reanimating the redesign model... Which implies a ton of overworked animators killing themselves to meet crunch time.

It's not their fault either.

— WithMuhCoHostNathan (@SurgingPNSK) May 3, 2019
Mere days after the trailer dropped, Fowler took to Twitter to let fans know that he had heard their criticism (and how could he not have, deafening as it was) and that studio Paramount was on board with tweaking the design for the finished product — although, at that time, the flick's original release date was still firm.
Thank you for the support. And the criticism. The message is loud and clear... you aren't happy with the design & you want changes. It's going to happen. Everyone at Paramount & Sega are fully committed to making this character the BEST he can be... #sonicmovie #gottafixfast 🔧✌️

— Jeff Fowler (@fowltown) May 2, 2019
Apparently, though, the design overhaul will be significant enough to tack on an extra three months or so to the film's post-production schedule. The response to Fowler's latest tweet was largely positive, because let's face it, fans — and in particular, gamers — aren't terribly used to having their demands accommodated in such a fashion. A typical response, courtesy of Twitter user CanadianGuyEh: "Thank you for listening to the fans. You guys made the right call. I have much higher hopes for this movie now because you guys are showing that you are listening. Good on you and good luck to you and your crew!"
Here's hoping that Fowler — a visual effects artist himself — can overcome the initial (admittedly big, fat) stumble and rally his animators to deliver a Sonic design that will sit well with most fans, or at least not give them night terrors. We also have high hopes for this flick; Ben Schwartz, the actor voicing Sonic, has done brilliant work on shows like Netflix's Bojack Horseman, and Marsden makes an excellent comedic straight man. Also, and we can't stress this enough: this film will be welcomed as a return to early, cartoonish, borderline-insane form for Jim Carrey if the trailer is any indication whatsoever. That, dear reader, is something the world is sorely in need of.
Sonic the Hedgehog hits theaters on February 14, 2020.