The Hilarious Way Billie Lourd Recovered From Gruesome American Horror Story: 1984 Scenes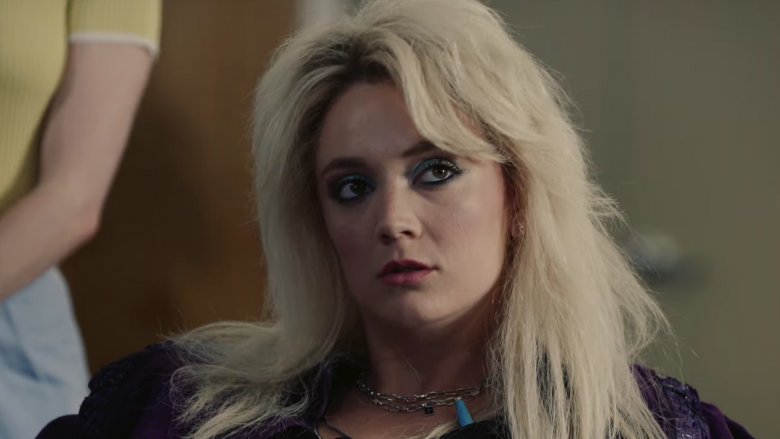 FX
Leave it to Toto to take the pressure off the most gruesome American Horror Story scenes.
Actress Billie Lourd, who's been a series regular on the horror anthology since 2017's Cult season, appeared on The Tonight Show Starring Jimmy Fallon on September 10, 2019 to promote the show's upcoming ninth season, American Horror Story: 1984. There, she gave some insight into how she pulls herself out of the most taxing American Horror Story scenes and brings herself back to reality. 
When Fallon asked if working on American Horror Story was fun, Lourd replied that it is — though on-set humor is often borne out of intense terror. "It's deeply terrifying to do, but it's so deeply terrifying and weird that it gets to be funny sometimes," Lourd said. 
Describing how she deals with those particularly scary scenes, the actress went on to say, "What we have to do in times like that is, you know, sing a little tune. Because it gets a little dark, and everyone's crying, and we're running, and we're bleeding, and it gets sad. So you gotta sing a song."
For Lourd, that song is Toto's 1982 hit "Africa."
"I don't know what you sing when you're sad," Lourd told Fallon. "But I sing 'Africa' by Toto."
Lourd also busts a move to help beat the AHS blues
On the off chance you may be unfamiliar with the song, Toto's "Africa" tells the story of one man's love for an entire continent. It reached the top spot on Billboard's Hot 100 chart for a single week in 1983, and lyrically, it's a true gem — can it get any better than "I bless the rains down in Africa?"
Lourd, however, does not know the lyrics to "Africa." She admitted to Fallon after mumbling through the opening line, "I don't know any of the words, but it seems like I do."
But "Africa" isn't one of those songs that actually requires you to know the words, at least not according to Lourd. "The whole beauty of the song is that you just get so passionate that it doesn't matter that you're saying no words at all," she told the late night host. "It sounds like you're singing the song."
It doesn't end there, though. When asked if she does "a little dance," Lourd told Fallon that she makes her own interpretive dance for the song. She and Fallon stood up and busted out some of your parents' favorite cheesy dance moves, while they kind of sang along to the song. 
"I feel so much better," Lourd said at the end. "I was feeling a little sick and a little sad."
American Horror Story: 1984 will be even gorier than past seasons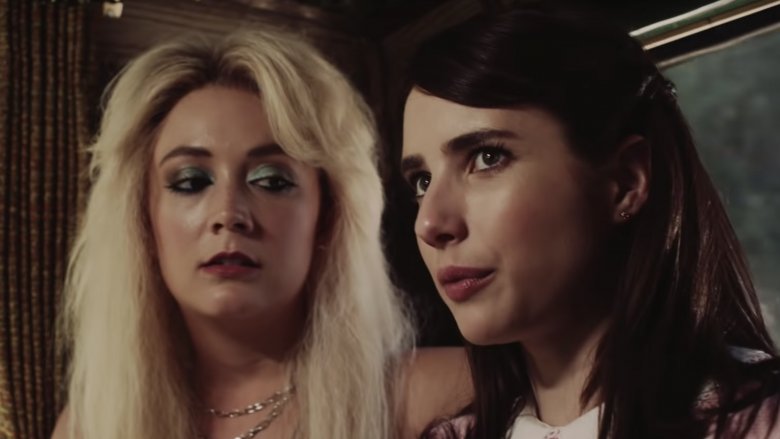 For American Horror Story fans, the upcoming 1984 season is going to require a lot of "Africa" song-and-dance sessions. As Loud revealed to Fallon, "This one is even gorier than it ever has been before. So I need to sing 'Africa' literally every day, all day, because it's terrifying constantly."
That's saying a lot considering how gruesome American Horror Story can be. (Let's not forget all the scenes so violent, disturbing, terrifying, sexually-charged, and downright unbelievable that they've gone down in history as the most controversial moments in AHS history.)
AHS: 1984 is the slasher-flick-inspired ninth season of Ryan Murphy's terrifying anthology. Set during the summer of 1984, the season follows a group of Los Angeles friends to Camp Redwood, a place with a particularly bloody history. During their tenure as camp counselors, the group goes up against Mr. Jingles (John Carroll Lynch, whom Freak Show fans will know as Twisty the Clown), a serial killer who's returned to his former hunting ground. "He sounds nice, but he ain't, y'all," Lourd said of the character.
For her part, Lourd plays Montana Duke, an aerobics instructor who lives and breathes her profession. By the actress' estimation, Montana is a character whose best attribute is the likelihood that she'll become a popular Halloween costume: "I want people to look at my hair and be like, 'I want to put that on my head for Halloween.'"
There's still plenty of time to hammer out the details for your Montana Duke Halloween costume — there is not, however, much time to prepare for AHS: 1984 and all the gore it'll deliver to the small screen. American Horror Story returns for its ninth season on FX on September 18.