The Theon Greyjoy Scene From Game Of Thrones That Went Too Far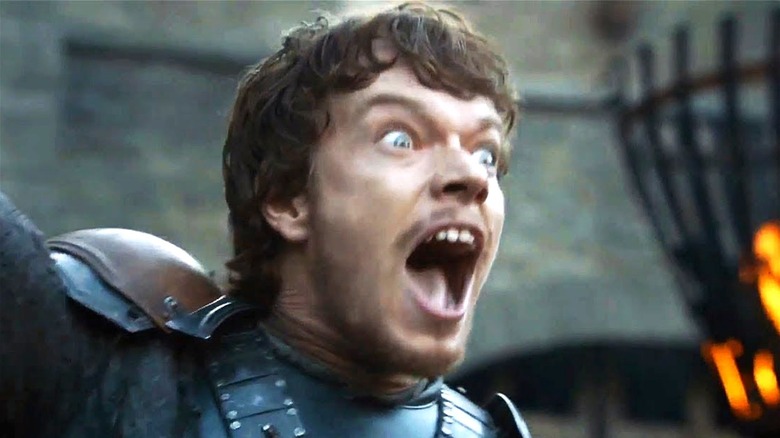 HBO
The fantasy genre is populated with many wonderful, enchanting worlds that are filled with magic and intrigue. Unfortunately, Westeros is not one of those worlds. Yes, it's home to fascinating characters and stories, but it's not an ideal holiday destination. HBO's "Game of Thrones" adapts George R.R. Martin's books in a way that includes most of the gory details. The final season was drastically changed by showrunners David Benioff and D.B. Weiss — but the less the finale is talked about, the better. The earlier seasons of the show dominated pop culture because of their brutal, no-holds-barred approach — and those highs weren't matched by the ending.
One of the most infamous moments of the series came in Season 3, Episode 9 "The Rains of Castemere." The Lannisters and the Freys manage to assassinate Robb Stark (Richard Madden), his wife Talisa Stark (Oona Chaplin), and Catelyn Stark (Michelle Fairley) alongside most of the Northern forces at the blood-soaked "Red Wedding."
But Season 3 also pushes Theon Greyjoy (Alfie Allen) into dangerous new territory when he faces the consequences of attempting to conquer the North. He winds up being kidnapped and taken to House Bolton's Dreadfort, where he is forever changed by his experiences. Theon's arc introduces audiences to one of the most hated characters in the "Game of Thrones" story, eventually leading to one scene that went too far.
Ramsay's torture methods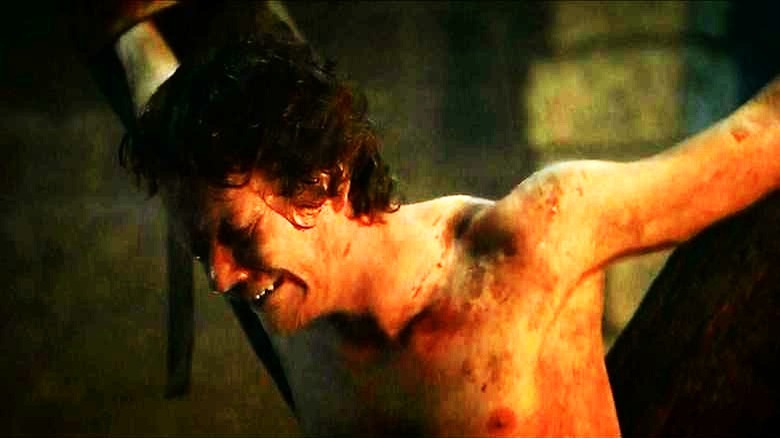 HBO
Once Theon is at the Dreadfort, he gets acquainted with Ramsay Snow/Bolton (Iwan Rheon), the illegitimate son of Lord Bolton (Michael McElhatton). The unhinged villain is one of the most hated characters in the franchise, next to Joffrey Baratheon (Jack Gleeson), thanks to the way he treats Theon and, later, Sansa Stark (Sophie Turner). During Season 3, Ramsay has a group of soldiers torture Theon by pulling his fingernails out, flaying one finger, then cutting it off, as well as shoving a screw through his foot. It's all pretty unpleasant to watch.
However, in Season 3, Episode 7 "The Bear and the Maiden Fair" things really take a turn for the worse. Two women wake Theon up and tell him they want to take him to bed because they've heard rumors that he's well-endowed, but it's another of Ramsay's cruel tricks, who decides to "alter" Theon's appearance by gelding and castrating the young Greyjoy. Ouch.
It's not exactly a family-friendly show, is it? Obviously, this torture only gets worse as Ramsay pushes Theon's psychological state to the brink, conditioning him into becoming a lowly, meek individual called Reek. Eventually, the villain gets his comeuppance by the end of the series thanks to Jon Snow, but Ramsay's taste for blood and torture is incredibly hard to watch.