Why Calendar Man From The Suicide Squad Looks So Familiar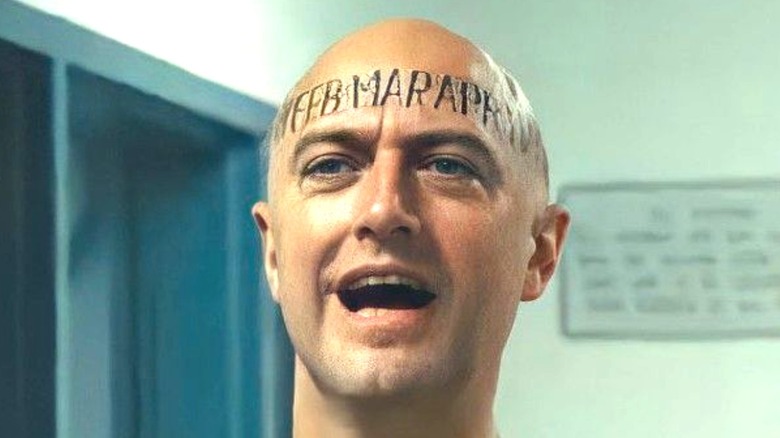 Warner Bros./DC Films
Even a team of D-list supervillains has standards. 
Audiences watching "The Suicide Squad" undoubtedly noticed that Belle Reve penitentiary wasn't exactly turned upside down in its search for members to add to the titular team. Some bad guys just didn't make the cut. Among these was the shiny, tattooed head of the serial killer known as Calendar Man, whose crimes in the comics have historically tended to correspond with holidays and particularly notable days of the year. Dangerous? Yes. Terrifying? Maybe. Particularly useful in the infiltration of an island nation and the destruction of its secret laboratory? Not really. 
The dates didn't quite work out for Calendar Man to join the Squad on its mission to Corto Maltese, but he still got to be a part of Task Force X, at least for a little while. In addition to appearing as Calendar Man, the actor who played him also performed motion-capture for the character of Weasel, who is believed to have drowned during the initial infiltration of the island but is later revealed during a post-credits scene to be alive and hiding in the jungles of the South American island nation. But who is this actor?
If you've seen more than one movie made by "The Suicide Squad" director James Gunn, then you definitely recognize his brother, Sean Gunn, because James has a tendency to cast Sean in just about everything he does. But Sean has other frequent co-collaborators aside from his brother, as his filmography suggests.
Sean Gunn took on superheroes for the first time in The Specials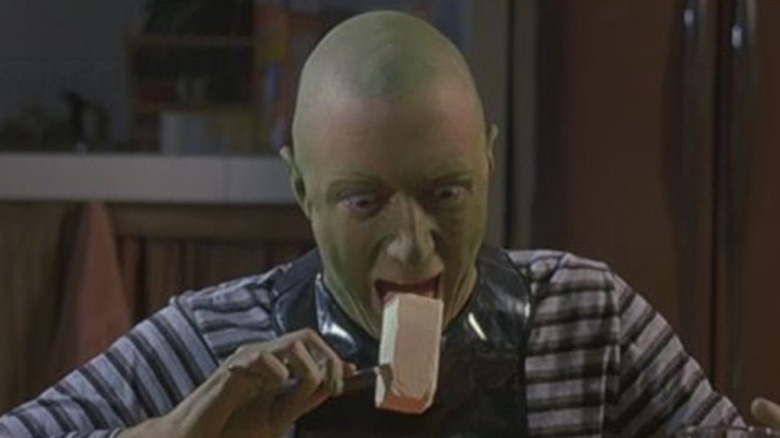 Fluid Entertainment/Regent Entertainment
Sean Gunn's history of collaborating with his brother goes back for more than 25 years, when James wrote the screenplay and served as an associate director for Troma Entertainment's 1996 low-budget black comedy "Tromeo and Juliet," in which Sean had the short-lived part of Sammy Capulet.
Four years later, the pair teamed up for the low-budget superhero comedy "The Specials," with James acting and writing the screenplay –- which would be directed by "Chernobyl" creator Craig Mazin — and Sean playing the part of Alien Orphan, a green-tinted lifeform with the ability to shapeshift. Alien Orphan, also known as Doug, crash-landed on Earth and is still getting the hang of life on this planet. He's looked after by Power Chick (Kelly Coffield), who tries to help him adapt.
"The Specials" is an early entry into the canon of misfit superhero teams whose biggest obstacles are their misanthropic personalities and dysfunctional relationship dynamics with one another, and it boasts a cast that has gotten more impressive with time: Thomas Haden Church, Paget Brewster, and Judy Greer, among others. But it's probably best that the brothers' work with superheroes didn't stop there. 
Sean Gunn kept Stars Hollow running on Gilmore Girls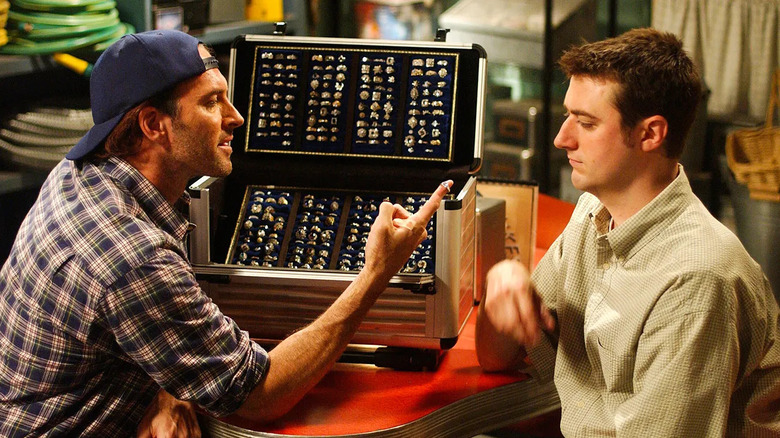 The WB
Not a lot of people saw "The Specials," so it's more likely that your first introduction to Sean Gunn came on the small screen, where he played Stars Hollow's enterprising eccentric Kirk Gleason on the WB's "Gilmore Girls."
Kirk is one of the quirkiest of the show's many oddball townies, always popping up in a new job or with a new business venture, always finding some way to make the situation just a little more awkward than it was. He's easily brow-beaten thanks to his pathologically eager-to-please nature, but his gung-ho attitude and willingness to risk anything, even embarrassment, makes him a vital cog in the machinery of the town's life and its own obsession with its traditions.
Kirk's legacy has left a lasting shadow over Gunn's career, but he says he understands why the character has proven so popular and so relatable. "Everybody can relate to that feeling that, 'I'm having one of those days where I'm not doing anything right,'" Gunn told Entertainment Weekly. "And Kirk feels like that all the time. He wants so desperately to do the right thing and to be loved and respected but he just can't seem to get it right."
Gunn would reunite with "Gilmore Girls" showrunner Amy Sherman-Palladino for two episodes of "Bunheads," playing the perfectionist coffee shop manager Sebastian.
Sean Gunn joined up with -- and fought against -- the Guardians of the Galaxy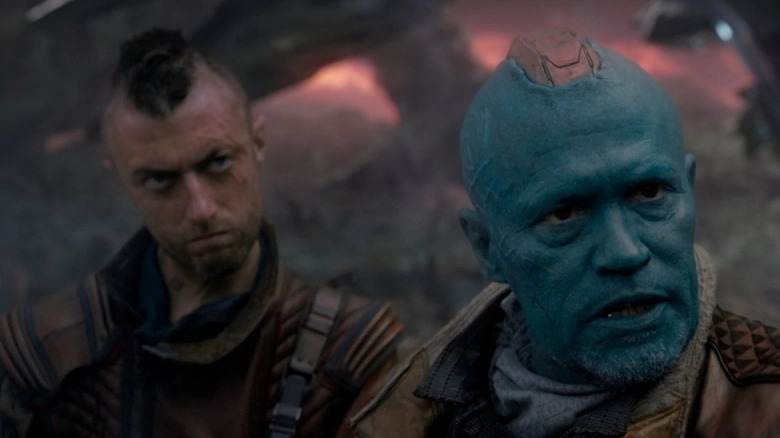 Marvel/Disney
Years before "The Suicide Squad," Gunn pulled double-duty in the Marvel Cinematic Universe, too. He appears in roughly human form in the James Gunn-directed "Guardians of the Galaxy" as Kraglin Obfonteri, the loyal, if sometimes faint-hearted first mate of the Yondu Ravager Clan who alternates between battling against and assisting Peter Quill (Chris Pratt) and his ragtag group of galaxy-savers during the course of the movie (and its sequel). It's he who inherits Yondu's (Michael Rooker) uber-powerful Yaka Arrow after his captain's death in "Guardians of the Galaxy Vol. 2," and who gets maybe that film's best joke when he tenderly offers to replace Peter's beloved Walkman with a new piece of technology called a Zune. 
And though you won't recognize him from his work as such, Gunn also did performance capture and on-set voice acting for the role of Rocket Raccoon, with his voice later dubbed over by that of Bradley Cooper and his features replaced with the snarls and fur of the battle-hardened procyonid. All of which he says was fine until Kraglin and Rocket had more scenes together in "Vol. 2", which Gunn reported on Twitter was a real pain to switch back-and-forth between.
Gunn's work in the MCU has kept him busy ever since his debut. In addition to "Guardians of the Galaxy Vol. 2," Gunn once again juggled multiple responsibilities in "Avengers: Endgame" as well as the upcoming "Guardians of the Galaxy Vol. 3." He also reportedly shot scenes as Kraglin for "Thor: Love and Thunder," and served as the on-set Rocket in "Avengers: Infinity War."
Sean Gunn fought for his life in The Belko Experiment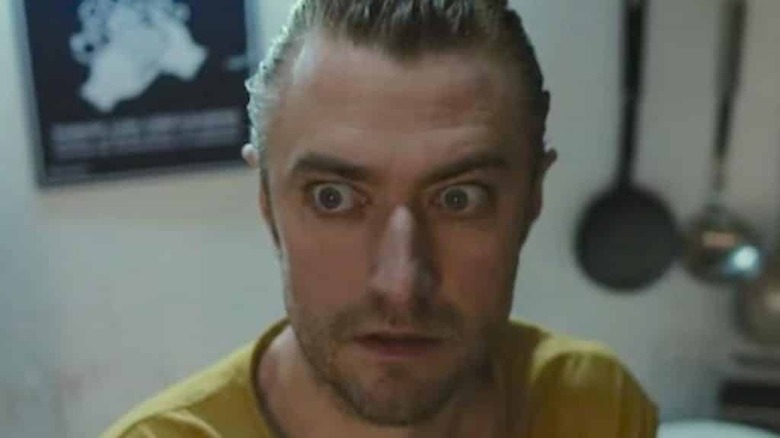 Orion Pictures
In 2016, Sean Gunn appeared in "The Belko Experiment," a film directed by Greg McLean from a James Gunn-penned screenplay about the employees in an office building that is suddenly closed off from the outside world. The stranded workers are then told to kill one another or risk being destroyed themselves, and a battle royale ensues.
Gunn played Marty Espenscheid, a paranoid cafeteria worker who is trying to extract the unexploded bombs from the skulls of the employees who died via other means. Marty and his pal Chet's (Abraham Benrubi) plan is to use the explosives to blow their way out of the building and escape, but the pair is killed by executive Wendell Dukes (John C. McGinley) before they can put their plan into action. The trackers come in handy later for hero Mike (John Gallagher Jr.) when he confronts the people who organized the experiment.
Having early access to the screenwriter paid off on "The Belko Experiment." In an interview with Variety, Sean explained that James let him read the script and asked him which role he'd like to take. After some brief back and forth, Sean picked Marty, which apparently even his co-stars agreed was the right decision. He told the outlet a story about McGinley asking him which part he was playing before shooting started. "I told him I was Marty and he said, 'Aw, best role in the movie!'" he recalled.
"The Belko Experiment" has even more crossover than usual with James Gunn's latest film. In addition to Sean and frequent collaborators Michael Rooker and Mikaela Hoover, the movie also features actor David Dastmalchian, who plays Polka-Dot Man in "The Suicide Squad."