Why Javelin In The Suicide Squad Looks So Familiar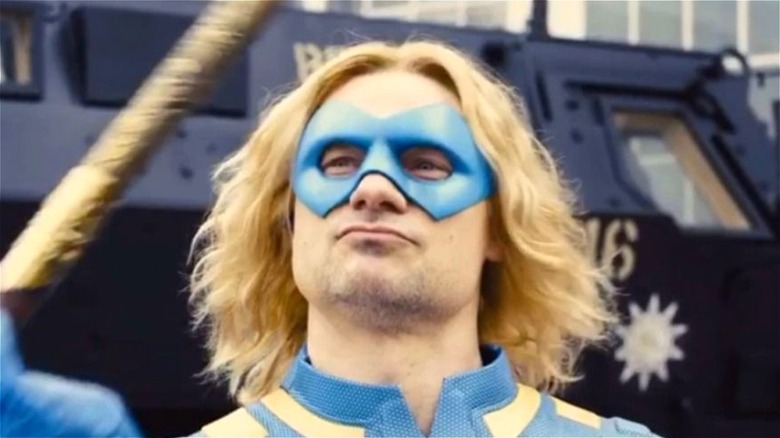 Warner Bros Pictures/DC Films
The character list of "The Suicide Squad" is completely jam-packed with live-action versions of deep-cut DC Comics figures that will have even some dedicated readers going back to the books to brush up. One clear standout from the roster is former Olympian Gunter Braun, better known to the viewers as Javelin. From his eye-catching blue and yellow bodysuit to his mop of blond hair to his namesake weapon, he manages to make an impression in a sea of distinct characters.
Even with his facemask obscuring his looks, there's a good chance that you were hit with a tinge of deja vu while watching Javelin either in theaters or on HBO Max. And there's a good reason for that. The character is played by German YouTube star and actor Flula Borg. While joining the DC Extended Universe in "The Suicide Squad" is a big moment for his acting career, it's far from his first notable gig.
From his early YouTube hits like "Flula in Germany" to his recent spate of TV guest-starring appearances, there are many places you may have gotten your eyes on Borg before "The Suicide Squad." Here are some of the standouts.
Flula Borg broke out onto the big screen in Pitch Perfect 2
While "The Suicide Squad" may be a big resume booster for the YouTube star turned actor, it's not actually the first time he's been a part of a major film franchise. In fact, one of his first big acting roles was in the second entry of the mega-popular singing competition film series "Pitch Perfect."
In "Pitch Perfect 2," Borg played Pieter Krämer, better known as one of the trash-talking members of the intimidating German acapella group Das Sound Machine. The intense group serves as one of the main antagonists for the Barden Bellas and Pieter, along with the group's appropriately named leader Kommissar (Birgitte Hjort Sørensen), is typically front and center both in their electrifying performances and when it comes to dishing out backstage smack talk.
During an on-set interview (via ScreenSlam), Borg revealed that he was approached to appear in the movie based on his YouTube career. "I know that somebody just sent some emails, some links, 'We're looking for a German person,' 'Hey, what about Flula? He makes weird videos, here's some from YouTube,'" Borg revealed. "And then boom, I auditioned. Had no expectations ... but then three weeks later phone call ding dong, ring ring 'Let's do it.'"
Younger and Silicon Valley gave Flula Borg opportunities to shine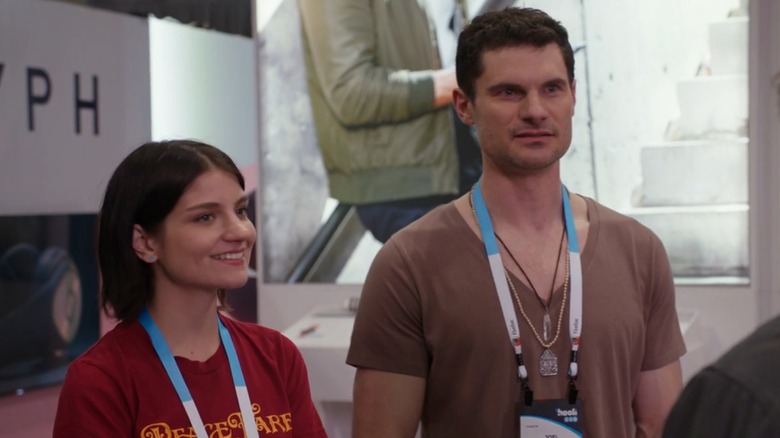 HBO
Although cinema provided Borg with his big breakout role, TV has proved to be a major go-to for the actor. Following "Pitch Perfect 2," Borg had a number of guest-starring roles on popular shows of the mid-2010s. Some of these, such as appearances on "@midnight" and "Conan," saw Borg appearing as himself. But others gave him the opportunity to further test out his acting talents.
On the TV Land sitcom "Younger," Borg played the delightfully tongue-in-cheek role of Dorff, one half of a fashion house called Hector & Dorff that Liza (Sutton Foster) and Kelsey (Hilary Duff) do business with. Borg also appeared on the "Workaholics" episode "Termidate," which inexplicably revealed that the guys once all competed on an early-aughts dirtbag dating show.
One of his most notable roles from this period was on HBO's tech comedy "Silicon Valley." On the episode "Hooli-Con," he played the insufferable new beau of Richard's (Thomas Middleditch) former love interest Winnie (Bridey Elliott). Borg's Joel isn't just a self-obsessed tech industry nightmare creature, he's also the developer of a tone-deaf app game wherein users get points for virtually feeding the unhoused or planting crops in food-insecure areas.
Flula Borg squared off against Larry David on Curb Your Enthusiasm and bugged Chidi on The Good Place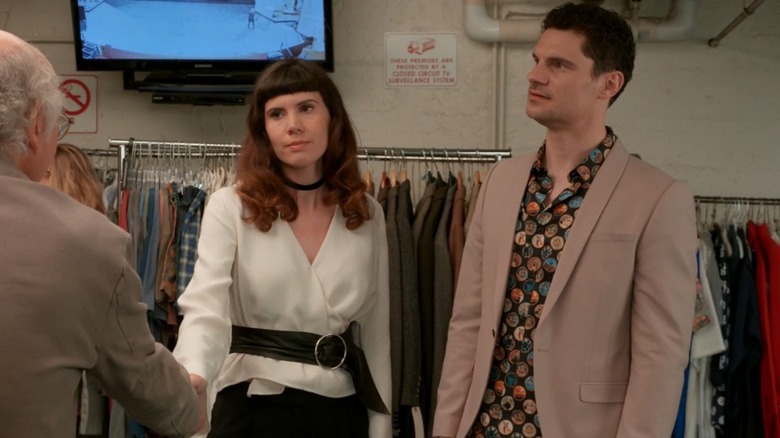 HBO
"Younger" and "Silicon Valley" are far from the only TV series where you might have spotted Borg. Fan of the Kaitlin Olson starring fish out of water comedy "The Mick"? Borg guest stars on the Season 2 episode "The Trip" as a German teacher. What about Netflix's short-lived brewery set sitcom "Brews Brothers"? Well, Borg had a four-episode arc as a Belgian monk named Truffle who comes to help out at the brewery.
Borg also got the opportunity to show off his improvisational chops on "Curb Your Enthusiasm." On the episode "Fatwa!" he played special-guest star Lin-Manuel Miranda's cousin-in-law Ernst. As you may have already guessed, he gets embroiled in a bitter rivalry with Larry David over the course of the episode.
Maybe philosophical comedy is more your bag? Well, you likely saw Borg on "The Good Place" as the persistent waiter Helmut Deutschermann on the episode "The Ballad of Donkey Doug." Or perhaps you're more into city-government sitcoms, in which case you may have caught Borg as Sforg on the "Brentwood Trash" episode of "Mr. Mayor" (which has a second season on the way).
No matter where else you've seen Flula Borg before "The Suicide Squad," it seems clear that you'll be seeing him a lot more in the future.