Jeopardy's Mike Richards Finally Responds To Those Controversial Complaints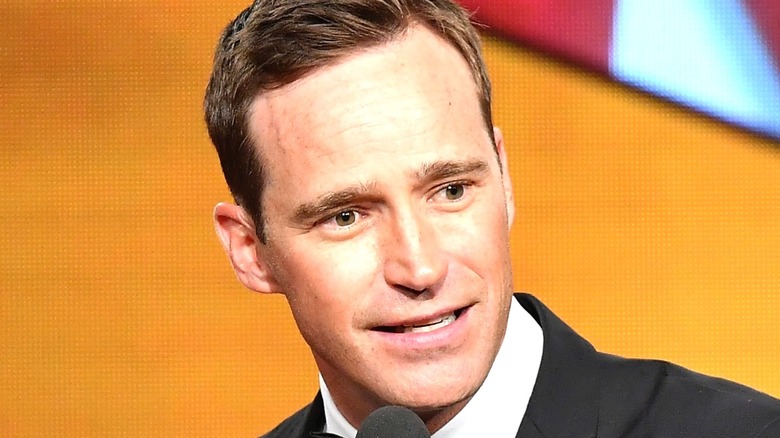 Earl Gibson III/Getty Images
When Variety broke the news that Mike Richards had entered into advanced negotiations to host the popular game show program "Jeopardy!" in the wake of the 2020 death of Alex Trebek, fans of the program reacted with confusion and disappointment. The names of actors LeVar Burton and Mayim Bialik, as well as former "Jeopardy!" champion Buzzy Cohen, whose guest hosting run on the show proved popular, trended on Twitter in response to the news.
On August 5, The Hollywood Reporter found that Richards had been referred to in a 2010 lawsuit filed by former "The Price is Right" model Brandi Cochran against CBS and FremantleMedia, in which she alleges that she is a victim of pregnancy discrimination after taking time off to give birth in 2008. Richards produced "The Price is Right" at the time, and the show declined to ask her to return after she delivered.
In a claim filed with a California appeals court, Richards is depicted as reacting with bias and in horror to Cochran's pregnancy. "Go figure, I fire five models, what are the odds one of the ones that I keep gets pregnant?" he was alleged to have said at a 2008 holiday party in response to the situation. He later "stormed" up to Cochran and said "Twins? Are you kidding? Are you serious?"
Today, Mike Richards released a statement replying to both controversies. What did it say?
Richards knows what it's like to be a parent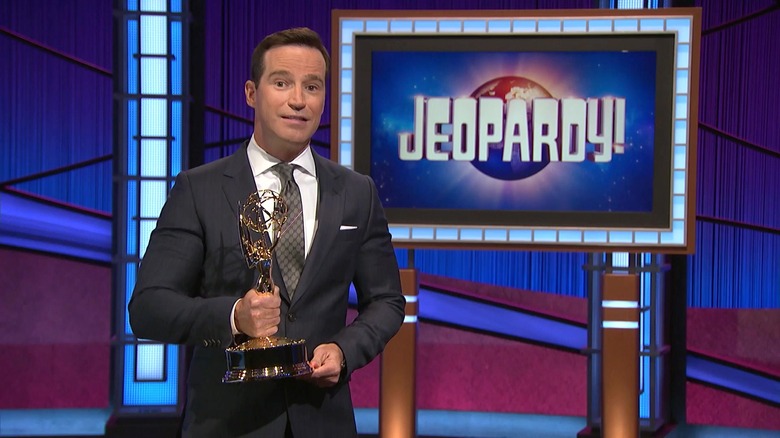 Daytime Emmy Awards 2021/Getty Images
Richards originally refuted Cochran's lawsuit by stating at the trial that Cochran's firing was a matter of performance, and Cochran's modeling was good but "would not take us to great." The court disagreed and awarded Cochran $8.5 million in damages, which was then overturned. An appeals court upheld the verdict, and the suit was later settled out of court. However, Cochran's weren't the only pregnancy discrimination claims filed during Richards' producing run on the show, though none of them successfully went to trial. 
According to a memo sent to "Jeopardy!" staffers on August 9, which was then reprinted by The Hollywood Reporter, Richards addressed both controversies.
In regard to his being asked to host "Jeopardy!", he replied, "It is true that I was asked if I would consider hosting the show. I was humbled and deeply honored. No final decisions have been made and discussions with me and other potential hosts are still ongoing." He added "the choice on this is not my decision and never has been."
Responding to Cochran lawsuit, he stated, "These were allegations made in employment disputes against the show. I want you all to know that the way in which my comments and actions have been characterized in these complaints does not reflect the reality of who I am or how we worked together on 'The Price is Right,'" continuing, "I know firsthand how special it is to be a parent."  He added, "I would not say anything to disrespect anyone's pregnancy and have always supported my colleagues on their parenting journeys." 
Keep an eye on this space for more information, as news seems to be pending as to who will become the new permanent host of "Jeopardy!"