This Is Where Is Jeopardy Is Filmed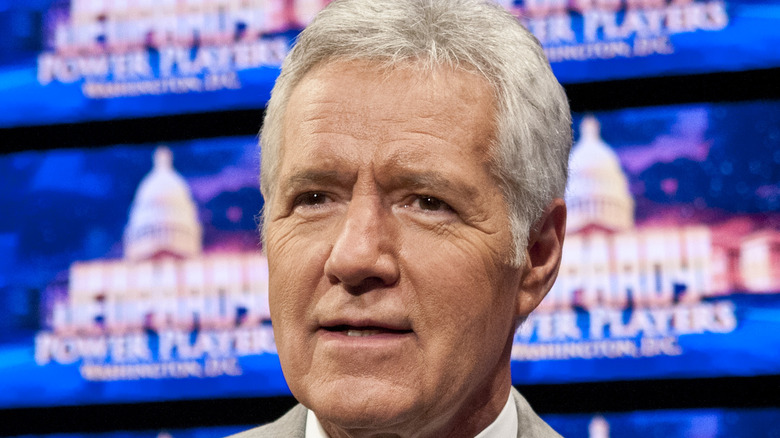 Kris Connor/Getty Images
Just about everyone has heard of "Jeopardy!" With over 8,000 episodes under its belt, the television quiz show has been on the air since its first episode aired in March of 1964, which is a pretty crazy fact to fathom. The show is still very much going strong after all these years, as, according to Forbes, the episodes of the current season (its 37th) saw an average of 9.68 million total viewers in the first few months of 2021.
In its earliest days, it was hosted by Art Fleming, but its longtime host Alex Trebek, who hosted the show from 1984 until his death in 2020, who has become almost synonymous with "Jeopardy!" over the years.
Those familiar with the show can definitely picture Trebek on the "Jeopardy!" stage setup, where he spent decades connecting with contestants and quizzing them on a wide variety of topics. Fans of the show have likely dreamt about landing a seat in the live audience, which appears in every episode. And they likely have also wondered just where "Jeopardy!" is filmed — just in case they do get a chance to sit in the live audience, of course.
The Jeopardy! stage lives in Culver City, California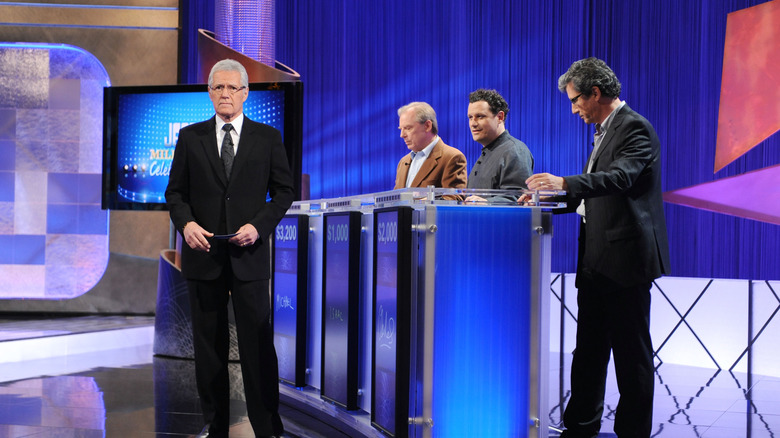 Amanda Edwards/Getty Images
"Jeopardy!" films every episode in the same location: on its sound stage at the Sony Pictures studios lot. The Sony lot is located in Culver City, California, a city in Los Angeles county that is mostly surrounded by Los Angeles the city. The game show had a few other homes, however, before settling in Culver City.
As reported by Outsider, when Art Fleming was still the host, the show was filming in New York City at Studio 6A in the Rockefeller Plaza. In 1978, for the slightly altered version titled "The All-New Jeopardy!" production was moved to Burbank, California to the NBC studios. Then, in 1984, when Trebek came on as the host, "Jeopardy!" was moved again to a set on Sunset Boulevard in Hollywood, only for it to be moved a year later to Stage 1 in Hollywood Center Studios.
Finally, in 1994, for the series' 10th season, "Jeopardy!" moved to the Sony lot in Culver City, where it has remained ever since. Twenty-seven seasons later and Culver City has proven to be the perfect home for the game show.