Why T.D.K. From The Suicide Squad Looks So Familiar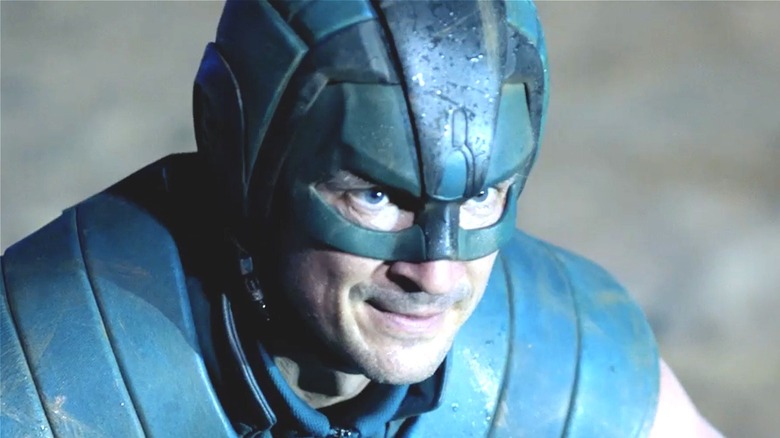 Warner Bros./DC Entertainment
James Gunn's "The Suicide Squad" is finally here, and it's just as crazy and R-rated as expected. Starring Margot Robbie, Viola Davis, Idris Elba, and a lot more, the movie focuses on a newly organized group of criminals brought together and sent to the fictional country of Corto Maltese to stop a secret program called "Project Starfish," which the ruling party plans to use against other nations. Well, it's safe to say that nothing goes as planned, and there's quickly fighting, deaths, and plenty of chaos to test even the most skilled member of the squad. 
While there are many interesting characters in "The Suicide Squad," one of the most memorable is definitely T.D.K., played by Nathan Fillion. T.D.K., also known as The Detachable Kid, is one of the criminals who heads to Corto Maltese on the mission for ARGUS, an organization led by Amanda Waller (Davis). When they are ambushed by local forces, T.D.K. showcases his unique ability to detach his limbs and control them telekinetically, which is certainly a sight to see, but even that is no match for what the crew faces in "The Suicide Squad." 
So who exactly is the actor behind the hilarious character? Here's why T.D.K. looks so familiar. 
Fillion portrayed Captain Malcolm 'Mal' Reynolds in Firefly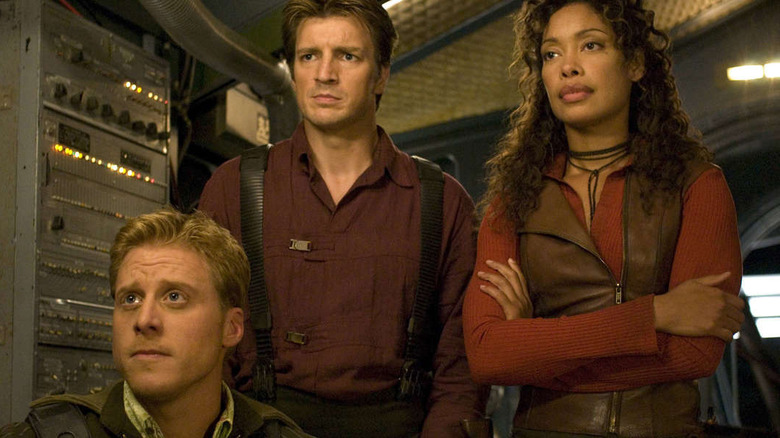 Universal Pictures
Fillion's first major role, and arguably his most memorable, is playing Captain Malcolm 'Mal' Reynolds in the 2002 sci-fi TV series "Firefly," along with the following feature-length movie, "Serenity," which came out in 2005. Also starring actors like Gina Torres, Alan Tudyk, Morena Baccarin, and Summer Glau, among others, "Firefly" tells the story of a crew of nine people who survive on a ship called Serenity in the year 2517. The human race has entered a new star system, and after a past civil war, the United States and China formed a central government called the Alliance. While the show may take place in a strange, technologically advanced future, the same worldly problems remain, with intense inequality and culture clash. 
As for Fillion's character, Mal is the captain of Serenity. He's faced a lot of loss in the past, and so his sole mission going forward is keeping his crew alive. Mal is very close with Zoe (Torres), who fought beside him in the war that led to the formation of the Alliance, following him to Serenity after it was over. The captain is clearly a very skilled leader, having commanded platoons in the war before forming his own crew aboard his ship. While "Firefly" only lasted one season, the story continues in the film "Serenity," and both have grown to have a devoted cult following over the years.
The actor played Dr. Adam Mayfair in Desperate Housewives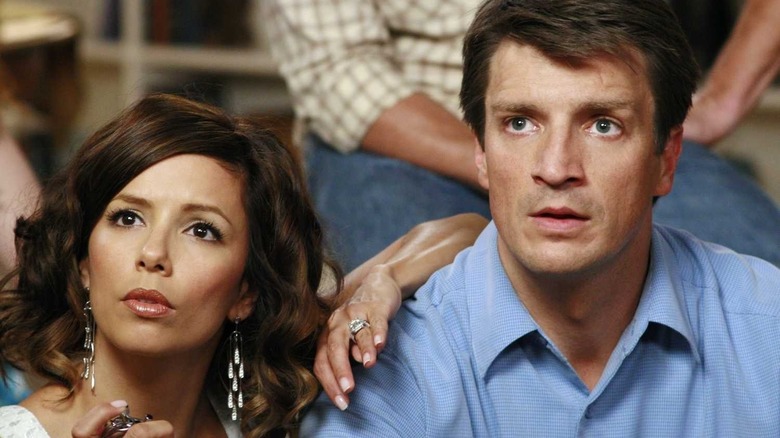 ABC
In Season 4 of the hit ABC series "Desperate Housewives," Fillion moves into Wisteria Lane as the second husband of Katherine Mayfair (Dana Delany), Dr. Adam Mayfair. Initially, Adam seems like the perfect guy, entirely devoted to his wife and adopted daughter Dylan (Lyndsy Fonseca), with a great job working as a gynecologist. But over time, his past history of sexual assault is unveiled, which is the real reason they move to town, leaving behind their life in Chicago. Still, Adam's dark side is nothing compared to what goes on in Wisteria Lane. 
Throughout the whole fourth season, Adam works with Katherine to keep the secret of a terrible event that happened in Dylan's childhood from their daughter, while also keeping her away from her biological father, Wayne Davis (Gary Cole). Eventually, it becomes too much for Adam and he decides to leave Katherine and return to Chicago, but he doesn't do it soon enough, as Wayne suddenly appears and comes after Adam and his family in a rage. Adam is able to save Katherine and Dylan's lives, with Wayne dying during the altercation, but he still can't save his marriage, and Adam is not seen again in the TV show again, save a short flashback in the series finale.
Fillion was the title character in the crime procedural Castle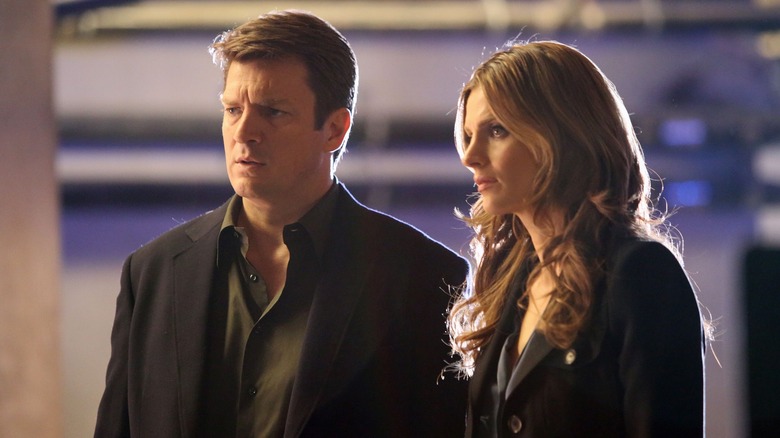 ABC
His longest-running show yet, "Castle" stars Fillion as a famous mystery author named Richard Castle who is brought in for questioning by the NYPD when they face a case that looks like a copycat of a killer from one of his books. Soon after this case, Castle starts shadowing NYPD homicide detective Kate Beckett (Stana Katic) to get over intense writer's block, constantly clashing with the stern, focused woman due to his cheerful, lighthearted personality. Over the course of eight seasons that ran from 2009 to 2016, the fan-favorite crime procedural focuses on the developing relationship between Castle and Beckett, as the detective slowly warms up to Castle — though their bickering never stops — and the two develop a close relationship, falling in love. 
"Castle" also stars Jon Huertas as Detective Javier "Javi" Esposito, a member of Beckett's team, Seamus Dever as Detective Kevin Ryan, another team member and Javi's best friend, and Tamala Jones as Dr. Lanie Parish, an NYPD medical examiner and Beckett's best friend. After Season 8, Katic and Jones announced that they would not be returning if the long-running crime procedural were to be renewed for Season 9, leading ABC to cancel "Castle" (via New York Daily News).
Fillion currently plays Officer John Nolan in The Rookie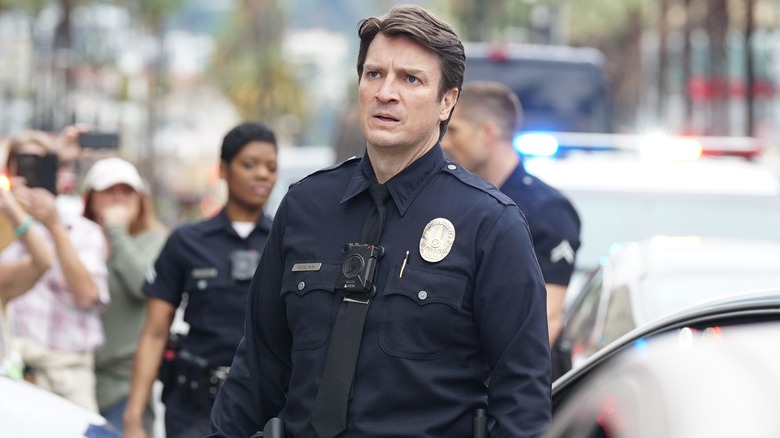 ABC
Right now, Fillion has another starring role on television in "The Rookie." Just a few years after "Castle" ended, Fillion jumped on board another ABC series. But this time around he's playing an actual police officer, not just someone who writes about them. In "The Rookie," Fillion's character John Nolan is the oldest rookie cop working at the Los Angeles Police Department. The series is actually based on a man named William Norcross, who decided to pursue his dream of being a police officer at age 40, dropping everything to move cross country and start over. Norcross even works as an executive producer on "The Rookie" (New York Post).
After working in construction for years to support his family, Fillian's character Nolan closes up shop and decides at age 45 that he wants to finally become a cop. Moving from Pennsylvania out to LA, Nolan is able to graduate from the Police Academy and start his new dream career, but he faces a lot of obstacles. The other cops see him as too old to be a new cop, while his day-to-day work managing the Wilshire area of LA constantly challenges his abilities. "The Rookie" also stars Alyssa Diaz, Richard T. Jones, Titus Makin Jr., and more, and just finished airing its third season in May 2021. The series returns for Season 4 on September 26, 2021 on ABC.