The Tragic Death Of Scrubs Star Markie Post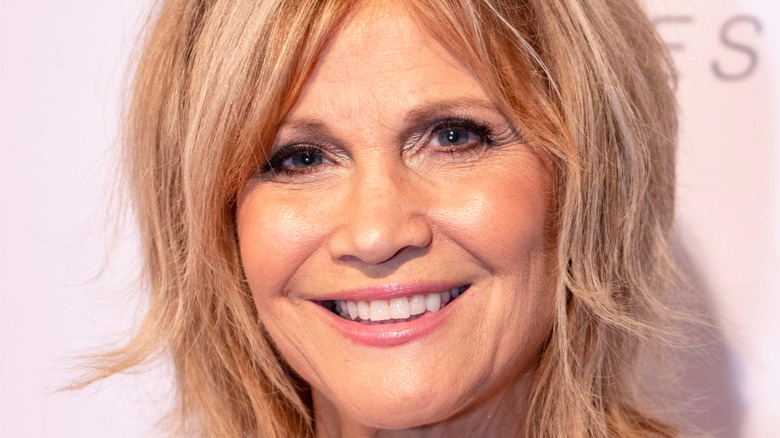 Shutterstock
Actress Markie Post, known for her roles on "Chicago P.D.," "Night Court," and "Scrubs," died Aug. 7, following a nearly four-year battle with cancer, according to Deadline. She was 70.
Born Nov. 4, 1950, in Palo Alto, California, Post started her career in game shows, working on both "Split Second" and the CBS series "Double Dare," the latter of which was hosted by the late Alex Trebek. She eventually transitioned to acting in the late '70s, landing guest-starring roles on shows like "CHiPs," "Barnaby Jones," "Hart to Hart," and "The A-Team." In 1982, she took on the series regular role of Terry Michaels on ABC's action drama "The Fall Guy," which ran until 1985. Beginning in 1984, she portrayed public defender Christine Sullivan on "Night Court," appearing on the show until it ended in 1992.
On the big screen, Post was best known for playing the mother of Mary (Cameron Diaz) in the 1998 comedy "There's Something About Mary." In fact, Post played the mother of a number of characters over the years. She appeared in a few episodes of NBC's long-running hospital-set comedy "Scrubs" as the mother of Dr. Elliot Reid (Sarah Chalke), and portrayed Barbara "Bunny" Fletcher, the mother of Sophia Bush's Detective Erin Lindsay, on "Chicago P.D." on a recurring basis from 2014 until 2017. In 2018, following her cancer diagnosis, she also appeared on the Netflix comedy "Santa Clarita Diet."
Post is survived by her husband, writer Michael A. Ross, as well as her daughters, actress Kate Armstrong Ross and Daisy Schoenborn, son-in-law Bryce Schoenborn, and one granddaughter. In a statement released to Deadline, Post's family said of the late actress, "Our pride is in who she was in addition to acting; a person who made elaborate cakes for friends, sewed curtains for first apartments and showed us how to be kind, loving and forgiving in an often harsh world."
Markie Post was beloved by friends and co-stars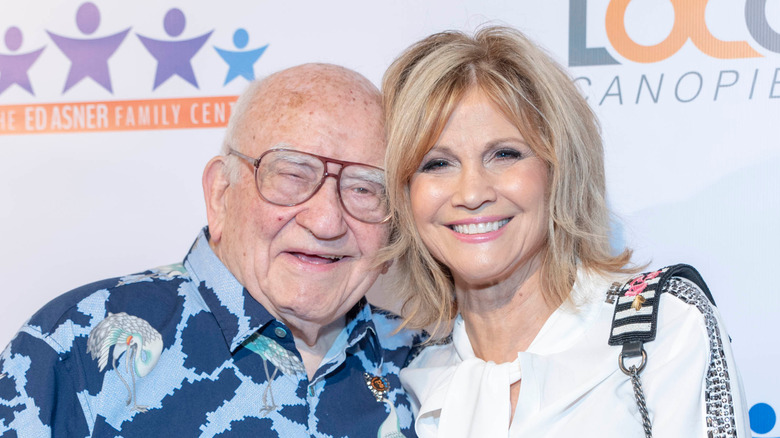 Shutterstock
Post's death resulted in an outpouring of social media love. A heartbroken Bush took to Instagram to remember her on-screen mom, writing, "Markie Post was a TV icon. Bold. Funny. Always in on the joke, usually before the rest of the room. Always holding a deeper perspective on a character's reality than what was on the page."
"When I lived in a box that made it deeply difficult to be a woman," Bush continued, "Markie came in with arms to envelop me and eyes that fired both kindness and lightning storms into the room as she held me, and likewise called other women into her safe space. She did it all with a smile and a laugh, and with more wisdom than most of us could ever hope to learn or muster."
Hilarie Burton Morgan, who appeared in Lifetime's "Christmas on the Bayou" alongside Post, remembered her on Instagram, writing, "Devastated just isn't a strong enough word. To know Markie Post was to fall head over heels in love with her." 
On Twitter, Ed Asner wrote, "I am devastated to hear of the passing of my friend Markie Post. She was a true talent. We did Hearts Afire together and to work with her and John was a gift. F&@k Cancer!" Meanwhile, "Night Court" star John Larroquette shared a photo of Post and wrote, "Her grace, her warmth, her intelligence, her compassion, her optimism, her empathy, her humility, her love and devotion to her family. And her flawless comic timing, her beauty, her laugh and more.."
Elsewhere, actress Mary McCormack, who appeared in the TV series "The Kids Are Alright" with Post, shared on Twitter, "This breaks my heart. Markie was just the best. An incredible scene partner and friend. I feel so lucky to have had our time together. I will miss her very much."