Here's How You Can Watch Every Season Of Scrubs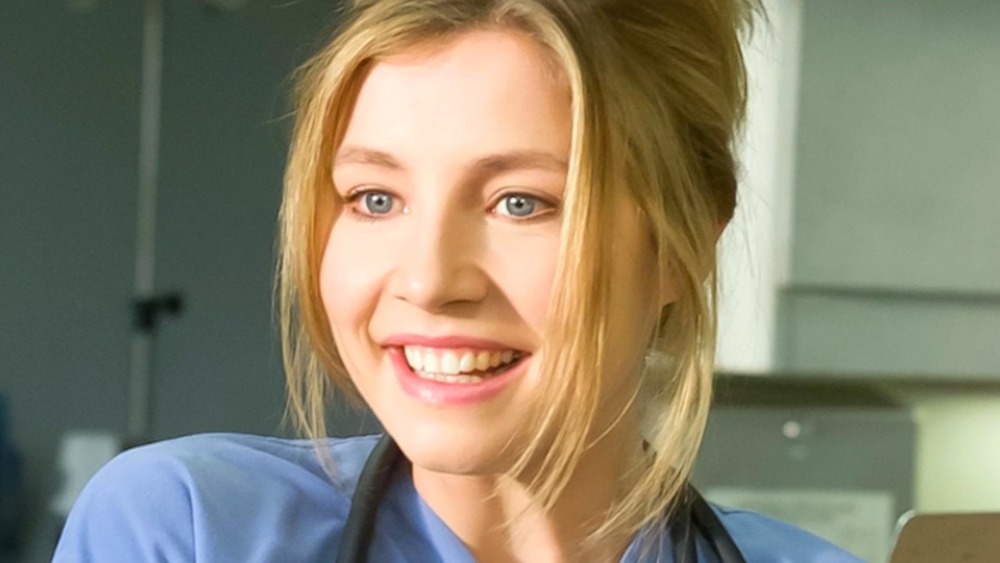 We may receive a commission on purchases made from links.
Some choose, respectfully, to disagree with girl group TLC. They very much wants their Scrubs, and they'd like to know where to stream it. 
Premiering in 2001, the hilarious sitcom Scrubs started off showing the rocky road of J.D. (Zach Braff), his best friend Turk (Donald Faison), and J.D.'s on again/off again love interest Dr. Elliot Reid (Sarah Chalke) during their first few years after graduating from med school. All three find themselves in the dysfunctional environment of Sacred Heart Hospital, desperate for everything Sacred Heart tends to lack — guidance, respect, and ethics. Told mostly from J.D.'s point of view — with Braff narrating his character's diary entries – Scrubs is filled with ridiculous fantasy scenes pulled from J.D.'s imagination. Among other classic daydreams, we get to see J.D. and Turk in a West Side Story-esque "romantic" interlude and are treated to J.D.'s  reimagining of the Scrubs cast as Star Wars characters. 
Along with the three Sacred Heart newbs, Scrubs boasts a wonderful cast of eccentric characters — some of whom are less "eccentric" than they are just "twisted." There's the vengeful Janitor (Neil Flynn) whose real name is a mystery for most of the series, the nurse Carla (Judy Reyes) who takes J.D. under her wing and calls him "Bambi," the terminally depressed lawyer Ted (Sam Floyd) who somehow finds his way into an a cappella group, and, of course, the curmudgeonly Dr. Cox (John C. McGinley) who cares too much for his own good and who J.D. latches onto and turns into an extremely unwilling father figure almost immediately.
Whether you've never seen Scrubs or you're an invested fan, there are actually a couple of different options you have to binge the series right now.
You can binge all of Scrubs on Hulu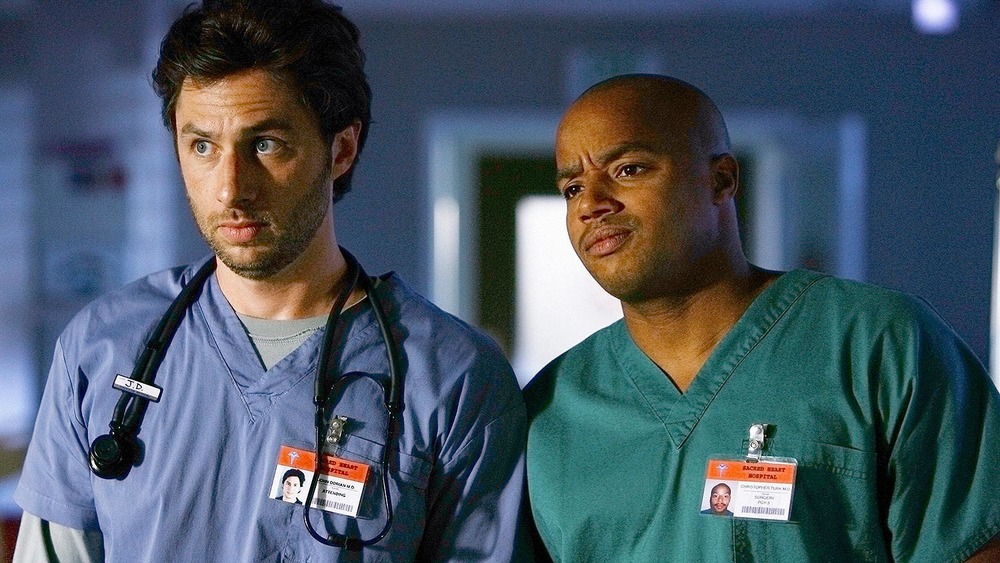 You can watch all nine seasons of Scrubs on Hulu's streaming service. This includes the original eight seasons which end with the two-part "My Finale" and were originally meant as the series finale. There's also the ninth and final season which was titled Scrubs: Med School when it originally aired. Season 9 moves the story from Sacred Heart Hospital to, not surprisingly, a medical school. Of the original ensemble, only J.D., Turk, and Dr. Cox return as regular cast members. 
And who do you have to thank for all those episodes being available on Hulu? Well, at least in part, you should thank a whole bunch of people on Twitter. In early 2018, it came to light that the sitcom was set to leave Hulu on February 7 because Hulu's rights to stream the show were expiring. But, as Decider reported, the dreaded date came and went with the medical misadventures of J.D., Turk, Elliot, and the rest still available on Hulu. What happened? Decider spoke to Lisa Holme, Hulu's vice president of content acquisitions, who gave credit to Scrubs fans on Twitter who offered "the loudest reaction" to news of the show's departure. Holme went on to say that Hulu renegotiated the rights for a "multi-year extension." At least part of the deal involved working things out with Disney — while most of the series aired on NBC, seasons 8 and 9 aired instead on ABC, which Disney owns.
You can also sate your Scrubs fix on Amazon Prime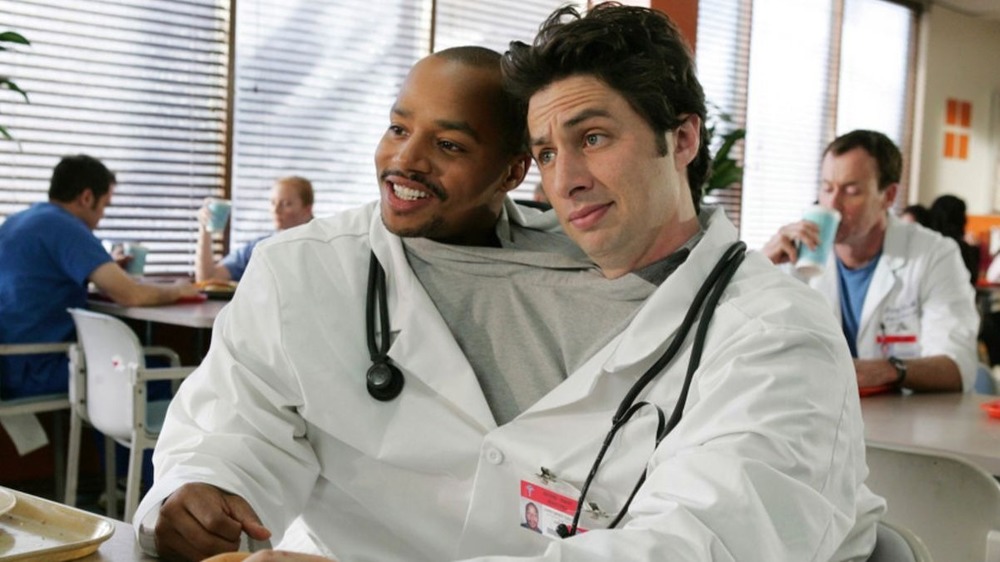 Not a Hulu subscriber but still want to watch Scrubs? You may be in luck. All nine seasons of the series that Slate called "the most accurate portrayal of the medical profession on TV" are also streaming an Amazon Prime Video, free to current Prime subscribers.
If you're not a Prime subscriber and don't feel like becoming one, that's okay, too. You can purchase Scrubs digitally from Amazon by the season or even by the episode. Every episode of Scrubs is available to buy individually for $0.99. Seasons 1-6 and 8 can be downloaded for $14.99 per season, while you can have seasons 7 and 9 for a little bit less at $9.99 per season. This makes sense, since seasons 7 and 9 offer the fewest episodes of the series each. While the other seasons range between 19 and 25 episodes in length, the ninth and final season is only 13 episodes long because of the series' cancellation, while season 7 could only give fans 11 episodes before the 2007-8 Writers Guild strike. 
If you choose to purchase, the bad news is that seasons 8 and 9 are the only ones Amazon offers in high definition. The good news is they offer it at the same price as standard definition, both by episode and by season.