Fans React To Mike Richards Hosting Jeopardy And It Isn't Pretty
Earl Gibson Iii/Getty Images
We'll take "Huge Disappointments" for $200.
Ever since legendary "Jeopardy!" host Alex Trebek passed away on November 8, 2020, fans of the quiz show have been mourning his loss, while simultaneously anticipating who might be next to step behind the podium.
In Trebek's place, several guest stars have hosted the show recently, and many strong candidates emerged to become Trebek's successor. The heavy favorite was former "Reading Rainbow" host and "Star Trek: The Next Generation" star LeVar Burton, supported by a massive grassroots campaign that included a petition that gathered more than 264,000 signatures (via Change.org). Current "Jeopardy!" record holder Ken Jennings was another popular option, and his episodes as the guest host earned the highest ratings among all the candidates (via Yahoo News). Even cerebral Green Bay Packers quarterback Aaron Rodgers was a sleeper candidate for a time.
So it was both a surprise and a letdown when Variety reported that "Jeopardy!" is on track to hire internally by promoting executive producer Mike Richards to the gig. While Richards did get the second-highest Nielsen ratings for his guest episodes, he was still a relative unknown outside game show circles. Here's how fans reacted to the news. 
Who is, "Some guy most people have never heard of"?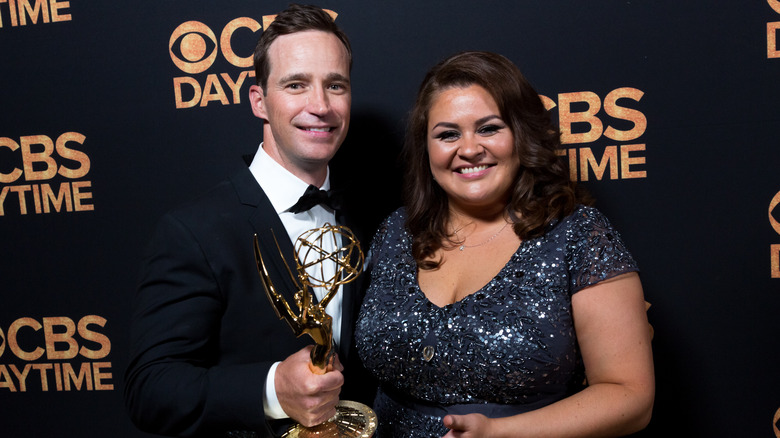 Greg Doherty/Getty Images
Fans were understandably disappointed to find out that a relative unknown was on track to get the job. Many of them were put off by the optics of the situation, in which it appeared that the show had solicited fans' feedback only to turn around and go with one of its own.
"'After an extensive and totally fair job search, I have decided to hire...myself' – Mike Richards," one fan Tweeted. Another wrote, "A: Eeny, Meeny, Miney, Me. Q: What is the process that Jeopardy Executive Producer Mike Richards used when choosing Mike Richards as the new host?" 
Some even compared the situation to the 2000 presidential race, when Dick Cheney led a team vetting potential vice presidential nominees for George W. Bush's ticket, only to pick himself. Otherwise, fans were just bummed that one of their favorites didn't get the gig, like Burton, Rodgers, or "Big Bang Theory" star Mayim Bialik.
Fans were also quick to notice the emerging reports about Richards' tenure as executive producer of "The Price Is Right," when multiple models sued the show for harassment and discrimination. 
Clearly, the post-Trebek era is off to a rocky start.