Shows To Watch If You Love Parks And Recreation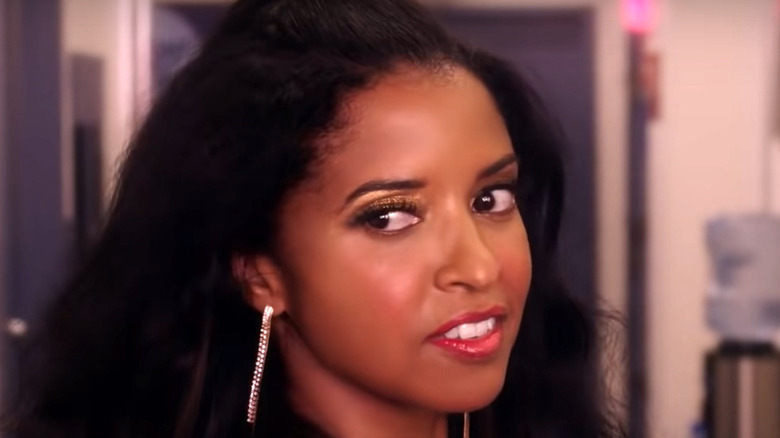 Peacock/YouTube
The beloved NBC sitcom "Parks and Recreation," which ended its run in 2015, is still sorely missed by many fans. Amy Poehler was already a comedic star when she took on the central role of Leslie Knope, Assistant Director of Parks and Recreation for the fictional town of Pawnee, Indiana. On the other hand, the series made new superstars of much of the rest of its cast, including Nick Offerman, Aziz Ansari, Aubrey Plaza, Chris Pratt, and Adam Scott. Co-created by Mike Schur, a former writer for "The Office" (and the actor behind Mose Schrute), and Greg Daniels, whose resume includes "The Office," "King of the Hill," and "Saturday Night Live," "Parks and Rec" became known not just for being quite funny, but also for its feel-good tone and hopeful attitude regarding the value of government.
Although there was a 2020 pandemic-themed reunion special recorded over Zoom, it seems likely that we've seen the last of Pawnee and its unique cast of characters. All is not lost for "Parks and Recreation" fans, however. Here are our recommendations for other series that might fill the Leslie Knope-shaped hole in your heart.
Rutherford Falls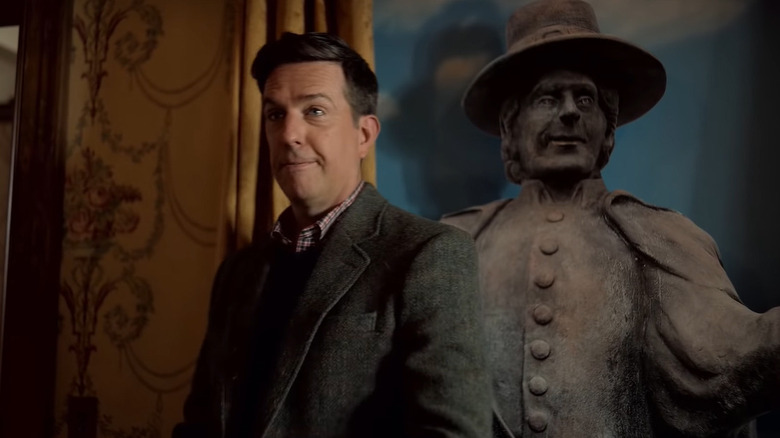 Peacock/YouTube
"Parks and Recreation" co-creator Mike Schur is also one of the creators of "Rutherford Falls," a sitcom available on Peacock. If you enjoyed the surprisingly complex comedic world-building around the ridiculous little midwestern town of Pawnee, you'll also like getting to know Rutherford Falls. And where "Parks and Rec" only occasionally brings up the city's relationship with local indigenous people, that's a major focus of "Rutherford Falls." It's also handled really well, since Sierra Teller Ornelas, a Navajo and American writer, co-created the show with Schur and star Ed Helms.
Helms plays Nathan Rutherford, a proud descendant of the town founder, who runs a museum dedicated to its history. His best friend is Reagan Wells (Jana Schmieding), a Native woman descended from the people who lived in the area before the first Rutherford got off the boat from Europe. When there's talk of moving a statue of the founder (mostly because it's in the middle of the street and cars keep hitting it), Nathan takes an ill-advised stand and things quickly get messy. But just because "Rutherford Falls" deals with race and politics doesn't mean it's some sort of educational slog — it's also very funny, and features the trademark warmth and positivity that Schur's shows are known for.
Ted Lasso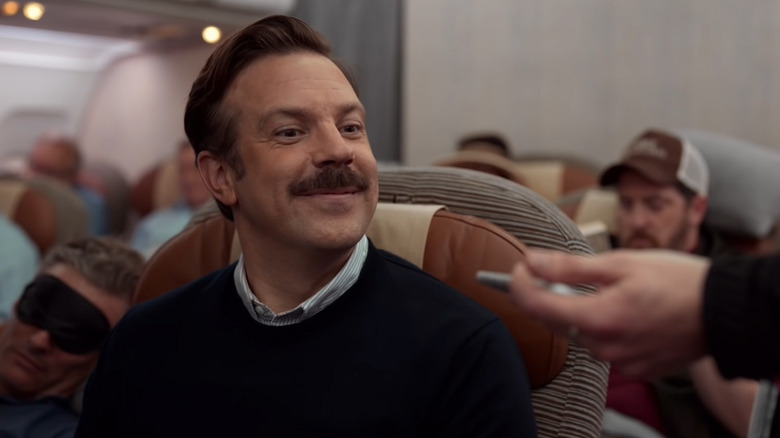 Apple TV+/YouTube
If you're looking for a sitcom with great characters and positive vibes, you have to check out "Ted Lasso" on Apple TV+. It stars Jason Sudeikis as the eponymous American football coach, who moves to London to manage a British football (aka soccer) team, even though he knows absolutely nothing about the sport. It turns out he's been hired as part of a deliberate plan to sabotage the team, but he's determined to give it his all regardless. While he doesn't exactly lead the team to victory after victory, his gregarious nature and constant optimism soon begin to win over everyone around him.
As the series goes on, it gradually becomes clear that Lasso's relentlessly positive attitude isn't entirely, well, positive. It's actually a defense mechanism that enables him to bottle up all of his negative emotions, and it's why his wife is leaving him. But even this revelation doesn't take the show to a dark place, just a more complex one. At the end of the day, "Ted Lasso" is a show that makes you feel good, just like "Parks and Recreation" does.
Duncanville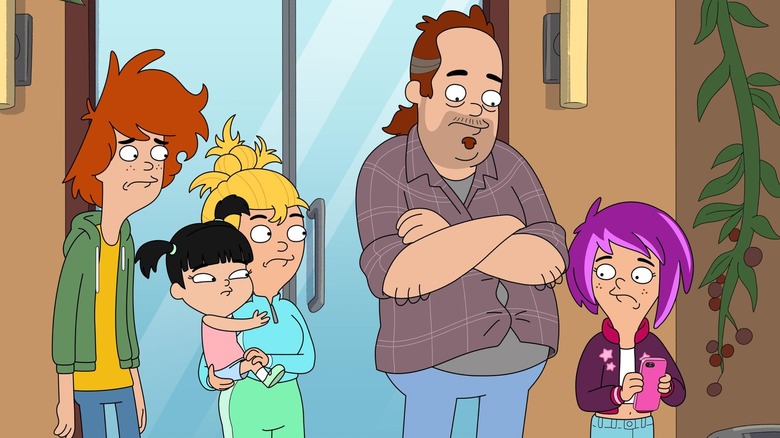 Fox
"Duncanville" is an animated show, but don't let that scare you away if it's not your usual thing. At heart, it's essentially a sitcom — and if you're a fan of Amy Poehler, it's definitely one you're going to want to check out. Poehler co-created "Duncanville" with "Simpsons" alumni Mike Scully and Julie Thacker Scully, and she also plays the teenage male protagonist Duncan Harris (a role she could never pull off in live-action), as well as his mother Annie Harris (a role she totally could pull off in live-action). Ty Burrell plays Jack, Duncan's dad and Annie's husband, who's so completely different from Phil Dunphy on "Modern Family" that you'll forget his voice sounds exactly the same. Riki Lindhome and Joy Osmanski complete the Harris family as Duncan's younger sisters. Another former "Parks and Rec" star, Rashida Jones, plays Duncan's friend and crush Mia.
A lot of the humor on "Duncanville" derives from teenagers figuring out what they can get away with, while their parents, who never thought they'd be the ones putting their foot down, try to figure out which boundaries they need to be strict about. As with most animated sitcoms, things can get pretty elevated and absurd (though this is also true of the live-action "Parks and Rec"), but, by the end of the episode, it always comes back to the love and affection that binds the family together.
Party Down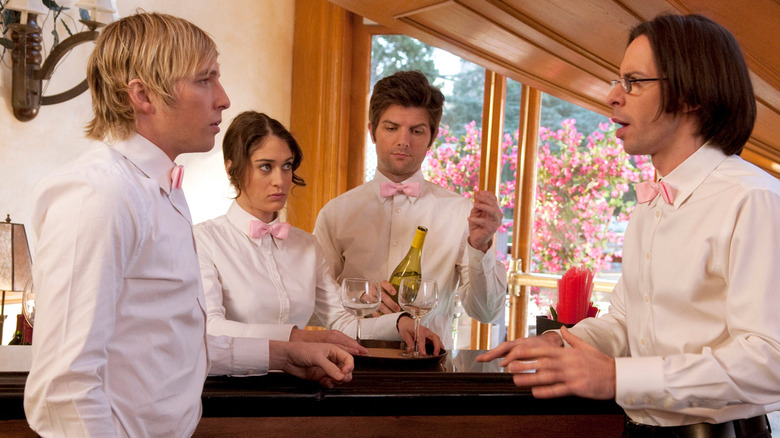 Starz
"Parks and Recreation" doesn't really feel complete until Adam Scott joins the cast at the tail end of Season 2 as Leslie Knope's eventual husband, Ben Wyatt. If you've ever wondered what Scott was doing during those first two seasons, your answer lies in "Party Down." It's a very different show from "Parks," and often a lot darker. But it's also very, very funny, and Adam Scott is great in it. He plays Henry Pollard, a struggling L.A. actor who everyone recognizes from a beer commercial, which has kept him from getting more significant work. Giving up on his acting career, Henry takes a job with a catering service where all of his coworkers have entertainment aspirations of their own. There's Casey (Lizzy Caplan), a cynical comedian, Kyle (Ryan Hansen), a vacuous actor, and Roman (Martin Starr), a pompous sci-fi writer. Running the crew is the dopey Ron Donald (Ken Marino), whose biggest ambition is settling down and running a franchise restaurant.
Each episode of "Party Down" features the crew in a different location, catering a different party. That allows for a wide variety of guest stars and wild situations, while the ongoing stories involve the relationships between the caterers themselves. It's a great premise for comedy, with a cast that absolutely makes the most of it. The series was canceled after two seasons, but by then, Adam Scott had already decided to leave to join "Parks and Recreation," so it's probably for the best.
Making It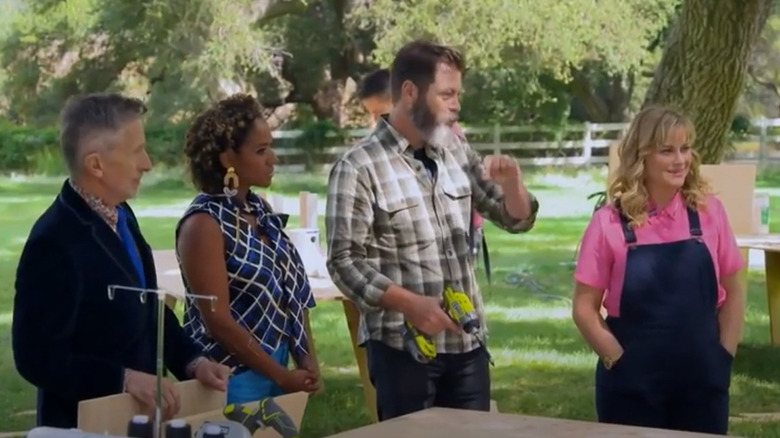 NBC/YouTube
"Making It" is the only TV show on this list that's not a scripted comedy. But what fan of "Parks and Rec" doesn't want to see more of Amy Poehler and Nick Offerman hanging out together? Also, as reality competitions go, this one is about as positive and affirming as it gets — at least outside of "The Great British Bake Off." "Making It" is all about arts and crafts, with Offerman bringing his woodworking expertise to the table as a host while Poehler brings her enthusiasm for watching other people do things she has no idea how to do herself. Dayna Isom Johnson and Simon Doonan act as judges, and each season brings its own set of crafters into the mix, with the standard one-elimination-per-episode reality show format.
If you're specifically a sitcom fan, this kind of show may not be exactly your thing. But if you miss those Leslie Knope and Ron Swanson vibes, you owe it to yourself to at least give it a chance.
Girls5Eva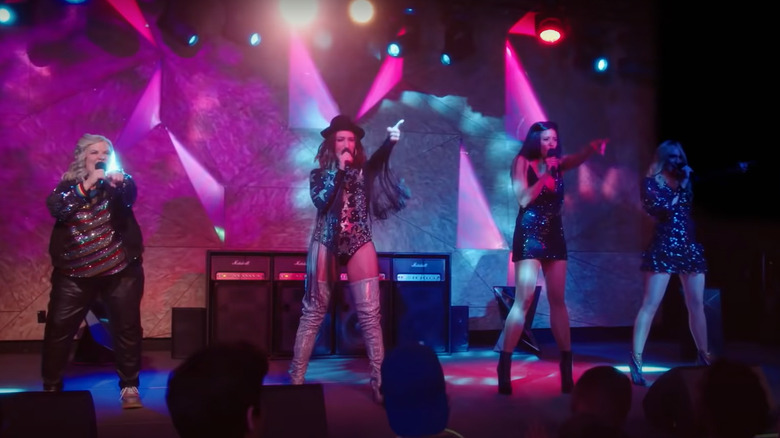 Peacock/YouTube
Peacock's musical sitcom "Girls5Eva" isn't quite like anything else on TV. But if you enjoy the balance of joke density, absurdist world-building, and good-heartedness of a show like "Parks and Rec," there's a good chance you'll like this show too. "Girls5Eva" is about a girl group, a bit like an American Spice Girls, who had one hit 20 years ago before they floundered and broke apart. In the present, they're reunited when a young hip hop artist samples their song, and decide to make another go at pop stardom. Of course, what was hard when they were clueless 20-year-olds is almost impossible for a quartet of 40-year-old women, despite their talent.
Actual pop star Sara Bareilles plays the lead, and she's a revelation as a comedic actress, as well as bringing the musical talent you'd expect from her. Renée Elise Goldsberry of "Hamilton" fame plays the diva of the group, who is also hilarious as well as musically gifted. The quartet is rounded out by Busy Philipps and Paula Pell, whose laugh-inducing abilities make up for what they lack in musical talent. In fact, Philipps' inability to actually sing becomes a running joke on the show, as her character is known for seductively delivering spoken lines in each song. Like many shows on this list, "Girls5Eva" follows characters who fail, and often seem a bit pathetic. But you grow to root for them regardless.
Great News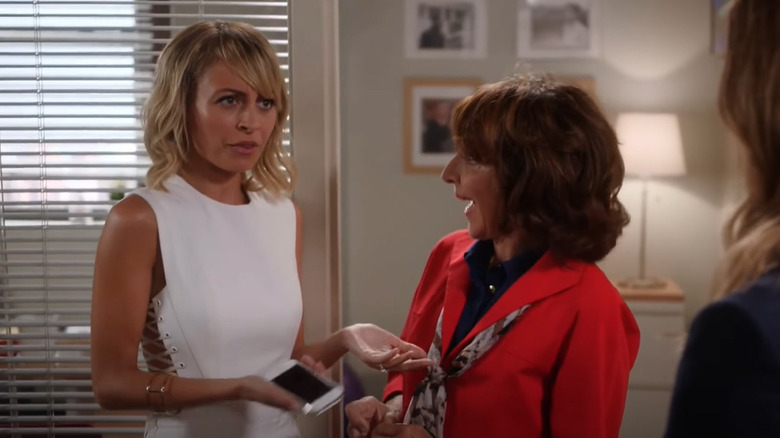 NBC/YouTube
"Great News" only ran for two seasons on NBC, but it's absolutely worth a binge watch if you're looking for a smart, funny, women-centered workplace comedy with family at its heart. Briga Heelan stars as Katie Wendelson, a segment producer on a news show called "The Breakdown." Just as Katie feels like she's advancing in her career, her mother Carol (Andrea Martin) gets an internship on the same show, putting Katie in the awkward position of being her mom's boss, with the added embarrassment of having her mother interacting with all her coworkers. Naturally, this situation almost falls apart by the end of the pilot episode, with Carol quitting when she realizes Katie clearly doesn't want her there. But then, of course, Katie feels bad and gets her mom to come back to work, even building a news story about previously retired baby boomers returning to the work force.
Nicole Richie and the always hilarious John Michael Higgins play the anchors on "The Breakdown," with Adam Campbell as the head producer and "SNL" alumnus Horatio Sanz filling out the main cast as a video editor. Tiny Fey, who's also a producer on the show, has a recurring role as a network executive during Season 2, and brings a lot to the show in only five episodes.
American Vandal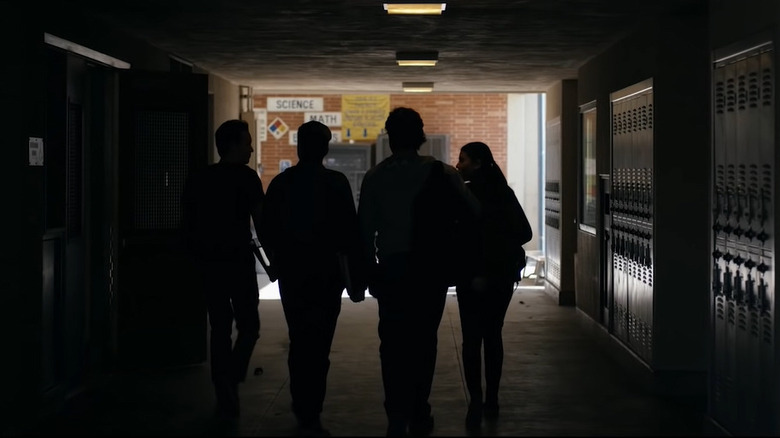 Netflix/YouTube
The mockumentary format of "Parks and Rec" is really just an excuse to have the characters directly interact with the camera. And that's fine. But if you want to see a TV comedy that really relishes the tropes and style of documentary series, you should check out "American Vandal" on Netflix. 
"American Vandal" parodies the true crime documentaries that have exploded in popularity in the streaming era. Tyler Alvarez plays Peter Maldonado, a teen who anchors his high school's morning news show. He takes it upon himself, alongside his best friend Sam Ecklund, played by Griffin Gluck, to make a documentary about the worst crime ever committed at their school: The vandalism of 27 cars in the teachers' parking lot with crude drawings of genitalia. Jimmy Tatro gives a breakout performance as Dylan Maxwell, the under-achieving prankster expelled for the vandalism, who Peter and Sam begin to suspect is innocent. The whole thing is played with the sort of gravity self-serious teenagers bring to any project, despite the complete ridiculousness of the crime. 
Season 1 is one of the funniest things to ever hit the small screen. Season 2, in which Peter and Sam investigate the spiking of another school's cafeteria lemonade with laxatives, isn't quite the masterpiece that Season 1 is. But it's still very funny, and definitely worth watching.
What We Do In The Shadows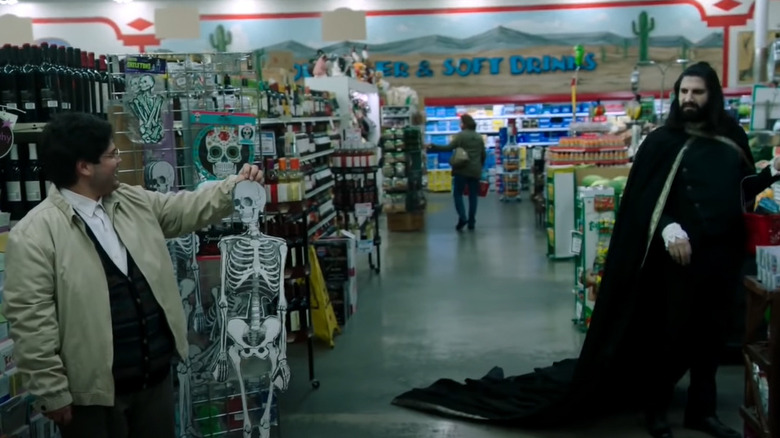 FX/YouTube
"What We Do in the Shadows" is one of the funniest shows currently on television. Adapted from the 2014 movie of the same name, the series focuses on four vampires who share a house on Staten Island. Three of them — Nandor (Kayvan Novak), Laszlo (Matt Berry), and Nadja (Natasia Demetriou) — are traditionally gothic vampires who drink blood. The fourth, Colin Robinson (Mark Proksch), is an energy vampire who looks like a modern-day nerd and feeds by making people feel bored and frustrated, thus sucking out their energy. The fifth main character is Guillermo (Harvey Guillén), Nandor's human familiar, who does the vampire's bidding in return for the promise of someday becoming a vampire himself.
The show follows the vampires through all sorts of misadventures, many of them surprisingly low-stakes (no pun intended). They host parties, go clubbing, get involved in local politics, and feud with werewolves. The even get brought to trial before a council of vampire elders (played by actors who've portrayed vampires in various movies) for accidentally killing an ancient vampire baron by opening the front door and letting sunlight in. Another memorable episode sees Laszlo go into hiding by posing as a human bartender named Jackie Daytona. "What We Do in the Shadows" takes the mockumentary format to some of the weirdest places it's ever gone, and what results is hilarious.
The Good Place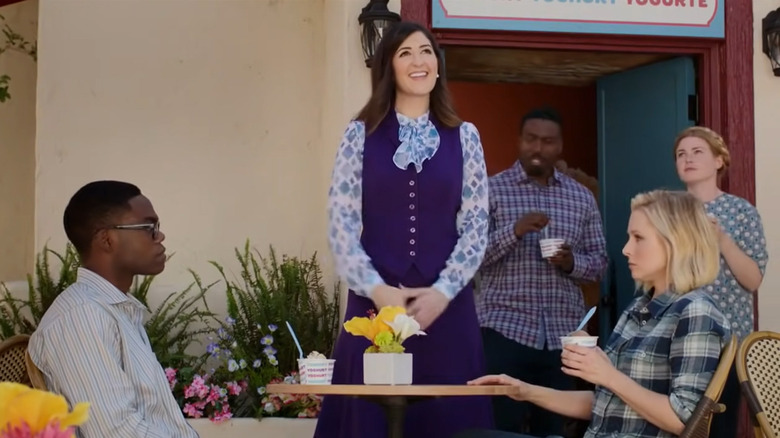 NBC/YouTube
"The Good Place" is another NBC comedy created by Mike Schur, and it's easily the most high-concept of all his series. This show is not only extremely funny, it also deals with morality and philosophy in a surprisingly smart and insightful manner. Kristen Bell stars as Eleanor Shellstrop, a self-described Arizona dirtbag who finds herself in the afterlife being praised for virtuous acts she never committed. Hoping to live up to the person she's been mistaken for, she seeks help from deceased moral philosopher Chidi Anagonye (William Jackson Harper). Soon enough, their afterlives become entangled with two other dead people, Tahani Al-Jamil (Jameela Jamil) and Jason Mendoza (Manny Jacinto). Ted Danson plays Michael, the "architect" overseeing their afterlife neighborhood, and D'Arcy Carden rounds out the cast as Janet, a sort of living database and all-purpose assistant.
In Season 1 of "The Good Place," basically every episode ends with a reveal that completely transforms the entire premise of the show. This leads up to the season finale, in which the entire production is upended. From there, each season escalates further, until it's not just a show about the afterlife, but about life and death unto themselves. If you haven't watched "The Good Place" yet, go binge it right now, before you learn any more of its secrets.
Veep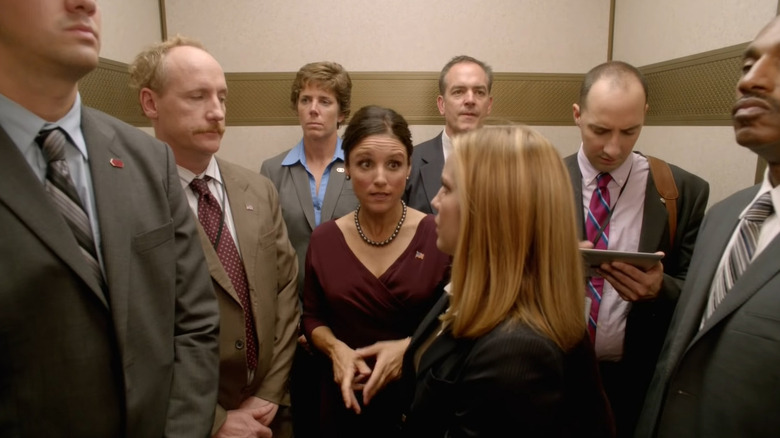 HBO/YouTube
Like "Parks and Rec," HBO's "Veep" is a series centered around an ambitious female politician. But unlike Leslie Knope, who's a well-meaning (if somewhat awkward) overachiever, Selina Meyer, the protagonist portrayed by Julia Louis-Dreyfus on "Veep," doesn't actually seem like a very good person at all. While "Parks and Rec" is a good-natured show with a rosy view of government, "Veep" is a deeply cynical show about the craven dishonesty and naked power-grubbing that constantly undermines the government's ability to truly work for the people. What both shows do have in common, however, is extremely sharp comedic writing and career-defining performances from their central stars (both "Saturday Night Live" vets) and the ensembles that surround them.
Anna Chlumsky plays Vice President Meyer's chief of staff, alongside Tony Hale as her body man, Sufe Bradshaw as her secretary, Matt Walsh as her director of communications, and Timothy Simons as their liaison to the President's office. Sarah Sutherland plays Selina's daughter Catherine, an idealist who clashes with her opportunistic mother. In addition to the strong central cast, other memorable performers move in and out of the series as Selina's career moves from vice president to president to private citizen to presidential candidate. Created by acclaimed Scottish satirist Armando Iannucci, "Veep" may not be a feel-good show, but it is smart, insightful, and very funny.
Mr. Mayor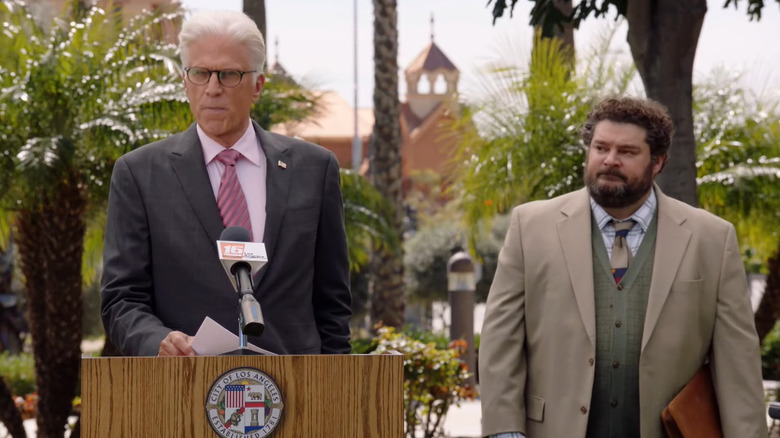 NBC/YouTube
"Mr. Mayor" is an NBC sitcom in which Ted Danson plays Neil Bremer, a wealthy businessman who runs for mayor of Los Angeles in a special election to prove to his teenage daughter (Kyla Kenedy) that he can do something worthwhile. Then, unexpectedly, he wins. Lacking political experience, Mayor Bremer has to figure out what he stands for and how to do the job he sought without really wanting to do. He finds a worthy rival in no-nonsense city councilwoman Arpi Meskimen (Holly Hunter), and appoints her to be his deputy mayor.
Obviously, the city hall of Los Angeles is much larger and busier (not to mention more real) than the one in Pawnee. But "Mr. Mayor" is still similar to "Parks and Recreation" in how it manages to portray the value of local government, even as it focuses on people who don't always seem to be the best at it. Ted Danson brings his immeasurable charm to the series, which is literally supernatural on "The Good Place" but is merely uncommon on this show. "Mr. Mayor" is also bursting with potential to develop in interesting ways, meaning it's worth getting caught up on now.