Why Keeley From Ted Lasso Looks So Familiar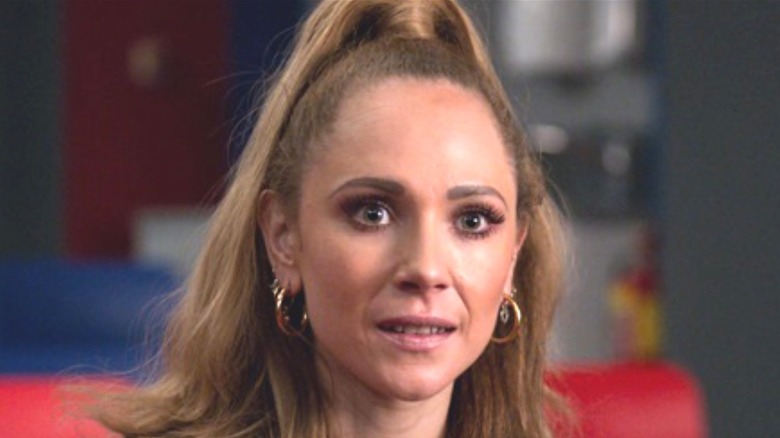 Apple TV+
On a good team, every player knows their role. There's only room for so many stars. Some people have to find different ways to contribute, whether it's filling in the gaps around those lead performers or propping them up to make sure they can perform their best. 
Keeley Jones is the glue that holds all the different components of Apple TV+'s heartwarming sports comedy "Ted Lasso" together. She has scenes with the players, the coaches, and the ownership, helping the show's wires cross in new and amusing ways. Her own struggles in the first season are largely centered around her relationships with two of AFC Richmond's players, the young, egocentric forward Jamie Tartt (Phil Dunster) and the aging midfielder Roy Kent (Brett Goldstein). Though she starts the series as Jamie's girlfriend, she breaks up with him and finds herself with growing feelings for Roy, even as she serves as a sounding board both for Ted (Jason Sudeikis) and the team's conniving owner Rebecca (Hannah Waddingham). 
Though she's only 32, the actress who plays Keeley, Juno Temple, had worked in film and television for more than 20 years before earning her Emmy nomination for "Ted Lasso."  Though she's played the star before, much of her experience involves playing those key supporting roles, bringing that crucial special-something to a production that helps elevate a film or series. Here are some examples you might recognize.
Juno Temple got the wrong man in Atonement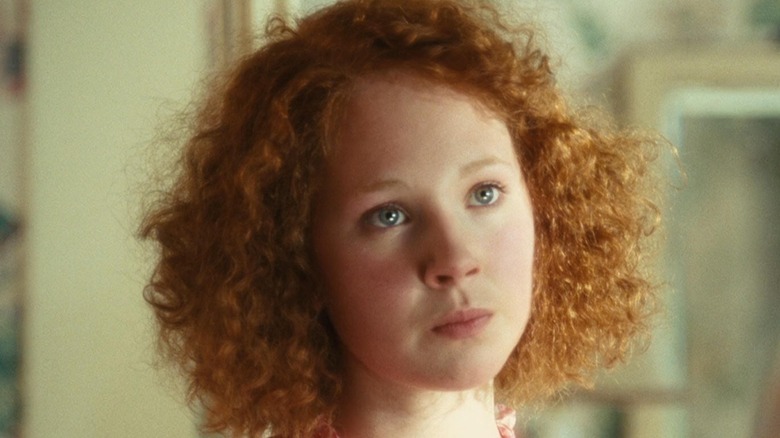 Universal Pictures
Temple's first major screen role came in 2007's period piece adaptation of the Ian McEwan novel "Atonement."
Temple plays Lola Quincey, a cousin of Cecilia (Keira Knightley) and Briony Tallis (Saoirse Ronan) visiting the pair at their home who gets wrapped up in Briony's mistaken campaign against the housekeeper's son, Robbie Turner (James McAvoy). Briony misinterprets a scene and a letter between Cecilia and Robbie and later discovers the two of them intertwined in the library and believes that Robbie is sexually assaulting her sister. Later, when a man attempts to rape Lola, Briony accuses Robbie, and he is tried and jailed for the crime.
Years later, Briony (now played by Romola Garai) is attending Lola's wedding to Paul Marshall (Benedict Cumberbatch), a family friend of the Tallis', when she realizes the man she actually saw attacking Lola that night was Paul. But Robbie has been freed from prison in order to fight the Nazis on the continent, and he dies of infection from wounds received on the battlefield before his name can be cleared and he can be reunited with Cecilia.
Juno Temple played a good fairy in Maleficent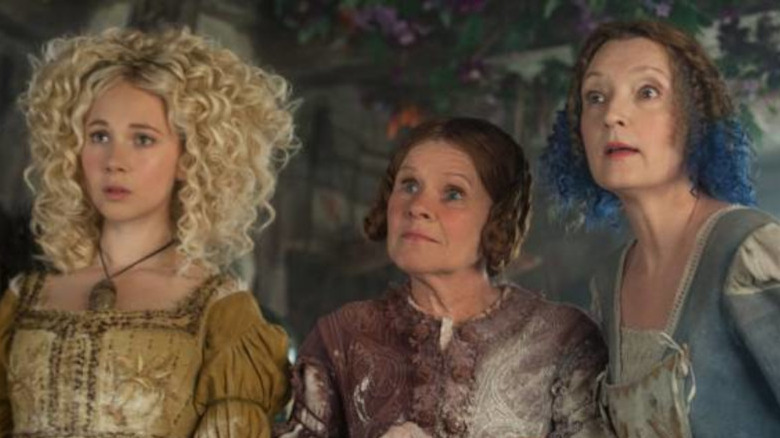 Disney
Temple stayed busy in the years after "Atonement," landing roles in independent films like "Little Birds" and "Killer Joe," as well as in blockbusters, including playing Queen Anne in Paul W.S. Anderson's much-derided "The Three Musketeers" film in 2011 and a small part as an accomplice of Selina Kyle in "The Dark Knight Rises."
In 2014, Temple took a role as the green fairy Thistlewit in Disney's reimagining of the "Sleeping Beauty" story, Maleficent. The part placed her in the middle of a curious mini-ensemble within the film made up of talented English actresses, with Imelda Staunton and Lesley Manville playing the red and blue fairies, respectively. The princess Aurora (Elle Fanning) is sent to live with the three pixies, but their incompetence leaves room in her life for Maleficent (Angelina Jolie), who, much to her surprise, soon finds that she cares for the girl, despite the curse she placed on her. But the fairies reveal the curse and Maleficent's role in it, inadvertently setting Aurora up to fulfill its terms.
Temple, Staunton, and Manville all played the fairies in human form and did the motion capture work necessary to portray them in fairy form. Temple returned to the role of Thistlewit, along with her partners, for Maleficent's sequel, "Maleficent: Mistress of Evil."
Juno Temple was unlucky in love in Far From the Madding Crowd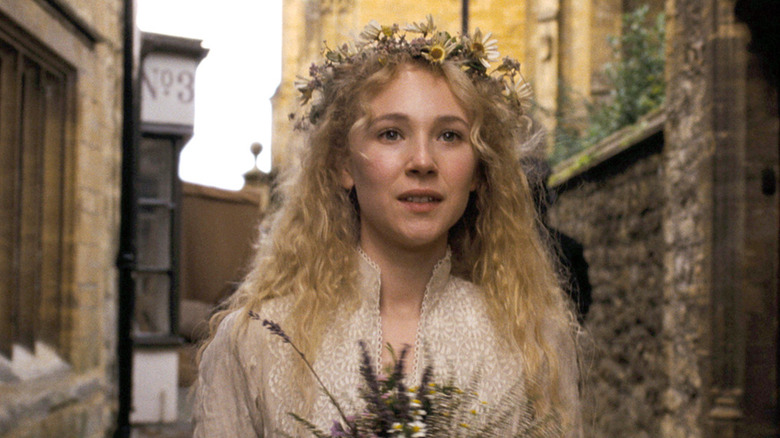 Fox Searchlight Pictures
In 2015, Temple went back to the historical romance well when she was cast in Thomas Vinterberg's movie based on Thomas Hardy's classic novel "Far From The Madding Crowd."
As in "Atonement," Temple here plays a supporting character who complicated the love life of the main heroine. Her Fanny Robin is due to marry the soldier Sergeant Frank Troy (Tom Sturridge), but a mix-up sends her first to the wrong church, and he, left at the altar, breaks off the engagement.
This leads Troy into a romance with Bathsheba Everdene (Carey Mulligan), who elopes with him against the advice of her former beau-turned-farmhand Gabriel (Matthias Schoenaerts). Gabriel's advice proves correct; Frank gambles too much and refuses to help Bathsheba and Gabriel with the farm. But one day in town he spots Fanny, begging and pregnant, and he promises to take care of her. Despite his attempts at care, she and the baby die during childbirth, and in his mourning for them he leaves Bathsheba and walks into the sea, apparently to his death.
Fanny's death, and Frank's apparent one, doesn't break up the book's love quadrangle. His surprise return weeks later catches Bathsheba in an awkward position, as now she's being courted both by Gabriel and her wealthy neighbor, William Boldwood (Michael Sheen). Frank appears at a party and accosts Bathsheba, but is killed in his ranting by Boldwood, freeing Bathsheba and from all the impediments to her relationship with Gabriel.
Juno Temple climbed the rock music ladder in Vinyl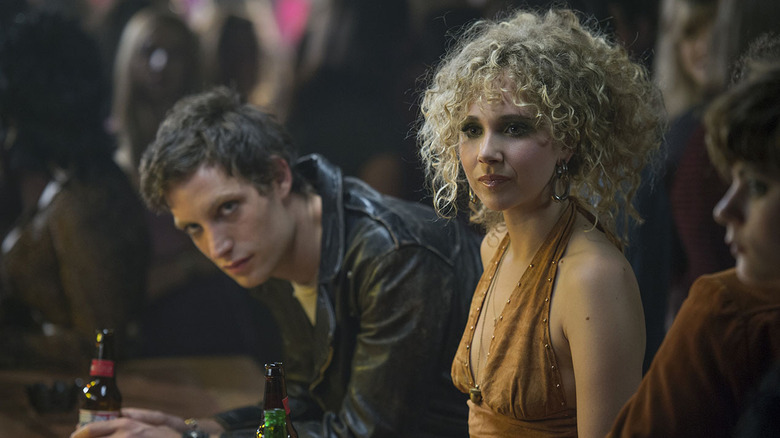 HBO
In 2016, Temple was cast in HBO's "Vinyl," the ambitious musical series from producers Martin Scorsese and Mick Jagger that charted the musical sea change of the 1970s caused by the introduction of disco, punk, and hip-hop.
Temple plays Jamie Vine, an assistant in the A&R department of the languishing music label American Century, who's desperate to climb the ladder. She finds her chance when the label's head Richie Finestra (Bobby Cannavale) issues an ultimatum to bring him cutting-edge talent. Her discovery is the proto-punk band Nasty Bits, led by sneering front man Kip (James Jagger — and to answer your question about his last name, yes: he is Mick Jagger's son.)
Jamie works throughout the course of the show's first season to mediate between the label and the band, getting Richie and the suits more accepting of the new sound and getting Kip and the band members more willing to throw themselves into their performance to provide the sort of energy their music needs behind it. She's not shy about using sex and drugs to get where she's going in the world of rock 'n' roll, but this ends up getting her in trouble with Richie, who worries she's a bad influence on Nasty Bits and removes her from working with them.
Presumably a second season of "Vinyl" would have given Jamie a chance to start climbing the ladder again, but exactly how that would have worked audiences will never know. HBO cancelled the expensive series after the conclusion of its first season.
Juno Temple tried to warn her mother about Dirty John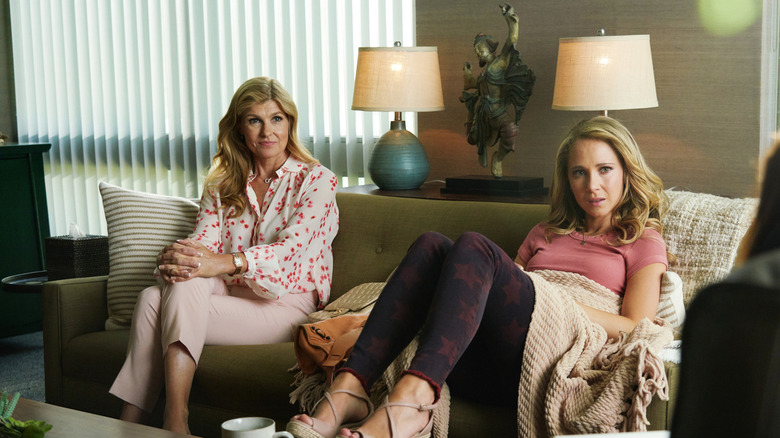 Bravo
Two years after "Vinyl," Temple was cast alongside TV powerhouses Connie Britton and Julia Garner on Bravo's true crime series "Dirty John."
Temple appeared as Veronica Newell in the first season of the anthology series, based on a popular podcast produced by the Los Angeles Times. Veronica is the daughter of Debra Newell (Britton), a successful interior designer who is conned into falling in love with John Meehan (Eric Bana). Veronica and her sister Terra (Garner) are suspicious of John, suspicions that their mother eventually comes to believe and understand, though not until after John and Debra's whirlwind romance culminates in their marriage.
Their post-marriage life reveals to Debra that perhaps her daughters had a point. She looks into John's past and discovers he's left behind a pattern of similar relationships. As their marriage begins to break down, John tries to retaliate against her daughters. He waits outside Veronica's apartment, but flees when she spots him as she comes home. Instead he turns his attention to Terra and attacks her in a parking lot with a knife. She fights him off, disarms him, and uses the knife to stab him, ultimately killing him.