The Forgotten Soap Opera Roles Jeopardy's Mike Richards Played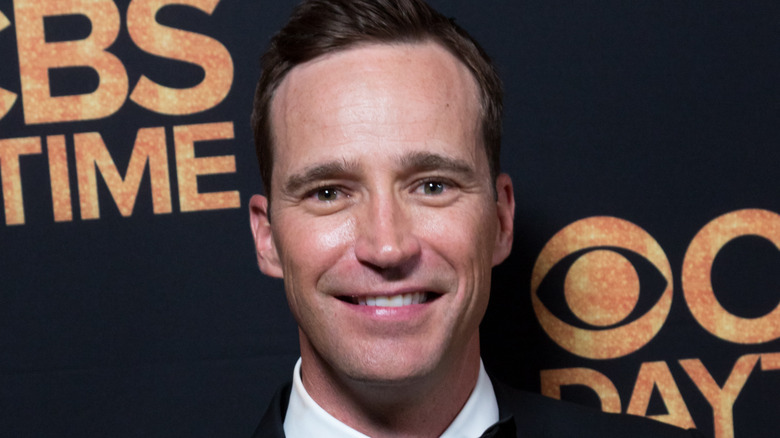 Greg Doherty/Getty Images
It's difficult to imagine a new host for "Jeopardy," following Alex Trebek's devastating death. Trebek was synonymous with the game show he hosted for 37 years. However, the game show's producers have continued in their search for a new permanent host. While fans initially thought that hosting duties might fall on some of its well-known string of guest hosts like Ken Jennings and LaVar Burton, it appears that the gig may go to someone who is used to working behind the scenes.
"Jeopardy" Executive Producer Mike Richards is apparently in final negotiations to permanently host the show. Although his name isn't particularly well known to fans, it's still essential given his work on "Jeopardy" and numerous other game shows. Richards, who is also an executive producer for "Wheel of Fortune," has won three Daytime Emmy awards. Before joining "Jeopardy" in 2020, he produced at least 4,000 hours of game show programming primarily due to his work on "The Price Is Right" and "Let's Make A Deal" (via Parade Magazine). As he showed when he also guest-hosted some episodes of "Jeopardy," Richards isn't afraid to be in front of the camera either. In fact, the producer once found himself guesting on a popular soap opera a few times.
Mike Richards appeared twice on The Bold and the Beautiful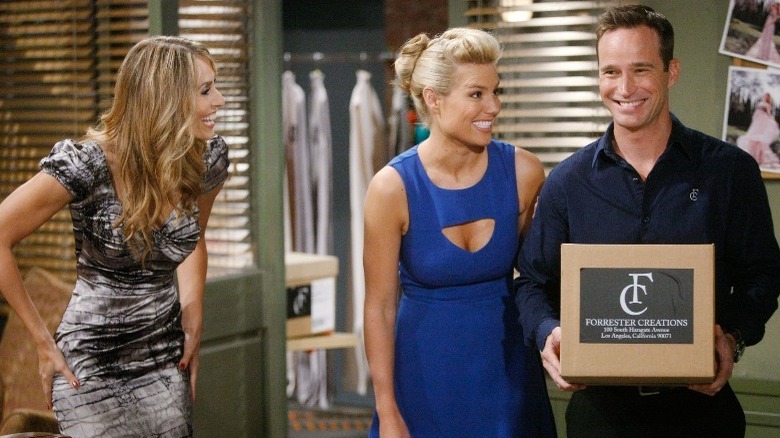 CBS
Mike Richards has done plenty of production work for CBS with "The Price is Right" and "Let's Make A Deal." His credits for the network also include a bit of acting, thanks to guesting on the soap opera "The Bold and the Beautiful." Via CBS, his last appearance occurred in 2013 along with "The Price Is Right" model Rachel Reynolds and "Let's Make A Deal" model Danielle Demski. The trio guest-starred as employees of Forrester Creations, which soap fans may know as a significant company with a lot of history within the story world of "The Bold and the Beautiful" thanks to the infamous Forrester family (per We Love Soaps). For the episode, Richards had the name, Thad.
Richards' guest appearance with Reynolds and Demski was minor, but the episode did have some fun callbacks to some of the game shows that featured the trio in their collective careers. It was also Richards' second time on the show, as he appeared in 2009 as an interviewer. The guest appearances are his only known acting credits, as Richards' other onscreen work includes numerous hosting gigs for shows like the CW's "Beauty And The Geek" and WB's "High School Reunion" (via Parade Magazine).