The Walking Dead's Josh McDermitt Reveals The Most Intense Scene He Ever Filmed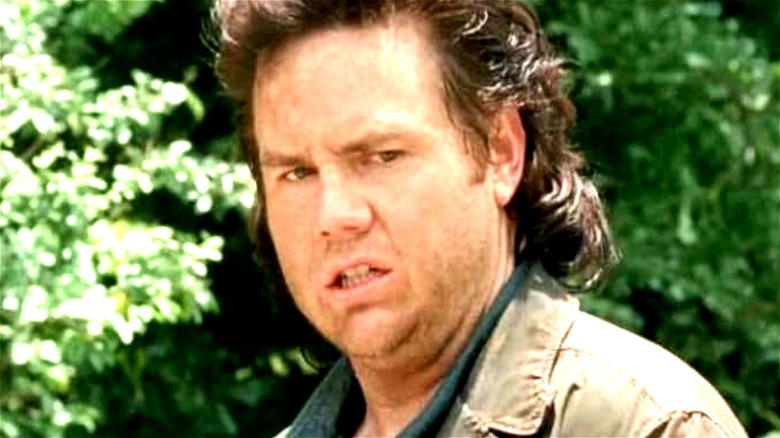 AMC
With the final season of "The Walking Dead" premiering on August 22, fans of the apocalyptic AMC show are feeling more nostalgic than ever. The series' 11th season will mark the end of an era that started more than a decade ago — one that helped usher in the zombie craze of the 2010s.
Over the years, fans have said goodbye to many "Walking Dead" characters but also welcomed new faces to the ever-changing franchise along the way. Eugene Porter (Josh McDermitt) joined the series' central survivors in Season 4 alongside his travel companions, Abraham Ford (Michael Cudlitz) and Rosita Espinosa (Christian Serratos). It didn't take long for the mullet-sporting, oft-misunderstood man to win fans over either, thanks to his quirky intelligence and deadpan one-liners.
In an interview with FanSided, McDermitt answered as many fan questions as possible in a 40-second, rapid-fire session. In between sharing his favorite line ("That's classified.") and expressing his desire for Eugene to get a perm, the actor also revealed what "Walking Dead" scene was "the worst" to shoot.
Josh McDermitt also had a hard time with The Walking Dead's Season 7 premiere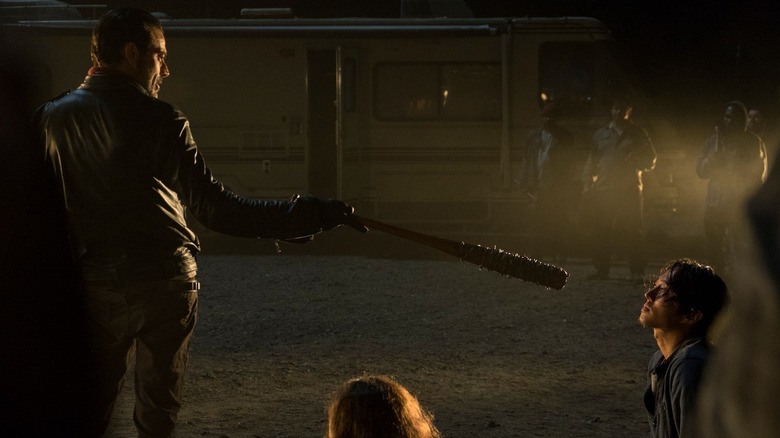 AMC
The Season 7 premiere of "The Walking Dead" was brutal from start to finish, but Josh McDermitt pointed to the episode's opening scene as the most intense to film. While some fans of the original "Walking Dead" comic series speculated that the AMC show would remain faithful to its source material and have Negan Smith (Jeffrey Dean Morgan) kill Glenn Rhee (Steven Yeun), others believed going into the episode that Glenn would be spared such a fate, given his status as a fan-favorite character.
However, following a brief fakeout where Negan kills Abraham with his dreaded barbed wire-wrapped baseball bat, the episode's opening sees Negan quickly turn his attention to beating Glenn to death as well. It's a violent sequence that, despite the addition of Abraham's death, closely follows issue #100 of the comic. The duo's allies are all stunned and horrified at Glenn and Abraham's deaths, and it's not surprising that McDermitt, whose character owed his life to Abraham, found it hard to film.
In a 2016 interview with GQ, Yeun echoed McDermitt's sentiment about the intensity of the episode. He admitted that it was an emotional scene to film, saying, "Part of it was crying for the character, and part of it was knowing that it was coming to an end."
The sequence remains one of the most disturbing and heartbreaking in all of "The Walking Dead." That said, there is always the chance that one (or several) of the upcoming final 24 episodes of the show could manage to top the emotional gut-punch of Abraham and Glenn's back-to-back deaths, but whether or not that actually happens remains to be seen. As of now, it's hard to imagine any sequence being quite as devastating as the one that opens "The Walking Dead" Season 7.