The Gossip Girl Reboot Episode 5 Moment That Made Fans Scream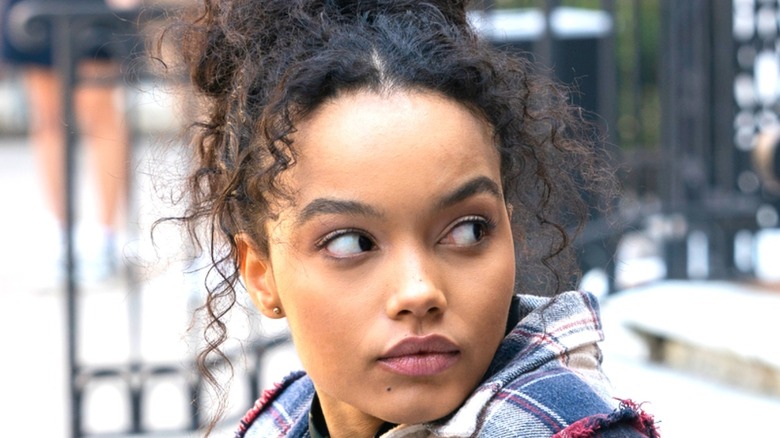 HBO Max
The first five episodes of HBO Max's "Gossip Girl" reboot have been focused on getting viewers invested in a brand-new Upper East Side generation. Although characters from the original TV series have been mentioned sparingly, none of them will pop up in Season 1. "There are some cameos in Season 1 from people in the original show, but not the series regulars," showrunner Joshua Safran told The Daily Beast in a July 1 interview. "We made a decision early on ... that the audience would never accept these characters if they were in the shadow of the original characters."
Even so, it's nodded to the original players multiple times. Episode 4 introduced Milo Sparks, the scammer son of the infamous original "Gossip Girl" character Georgina Sparks. Meanwhile, Episode 5 (titled "Hope Sinks") featured a cameo from Yin Chang, who played Constance Billard student Nelly Yuki in the show's predecessor. But fans were mostly shocked by one of the new characters' boldest references to the original "Gossip Girl" yet.
Julien and Zoya impulsively dressed as Dan and Chuck for Halloween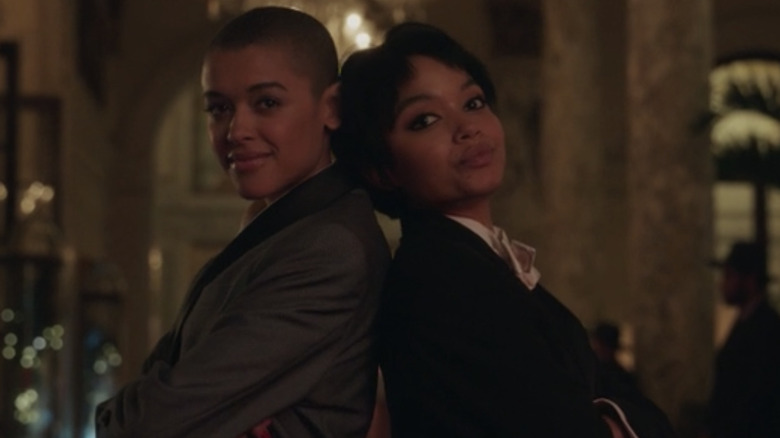 HBO Max
In "Gossip Girl" Episode 5, half-sisters Julien Calloway (Jordan Alexander) and Zoya Lott (Whitney Peak) were determined to convince the general public that they had reconciled following their disastrous joint party in Episode 4. They planned to show up at the prestigious "Hulaween" Halloween party in coordinated sister costumes — more specifically, they dressed as Beyoncé and her sister Solange as they appeared on the night of Solange's iconic Met Gala elevator fight with Jay-Z (via ABC News).
But mean girl Monet (Savannah Lee Smith) secretly leaked their costume idea, leading a panicked Julien and Zoya desperate to come up with a new look. So they borrowed some of the boys' suits and squeezed in between their Halloween costume contest rivals, Pippa and Bianca. The latter two were dressed as iconic "Gossip Girl" characters Blair Waldorf (Leighton Meester) and Serena van der Woodsen (Blake Lively), so Julien and Zoya respectively pretended they'd gotten in on the costume as love interests Dan Humphrey (Penn Badgley) and Chuck Bass (Ed Westwick).
Scores of fans have been talking about the Halloween party storyline on the "Gossip Girl" subreddit since Episode 5 aired. Redditor u/AnteaterPersonal3093 was one of many who got a kick out of Zoya's impression of Chuck, writing, "I didn't [know] I miss the line 'I'm Chuck Bass' so much until now." Meanwhile, u/CiceroTheCat quipped that Zoya might "have a future as an actress" based on the strength of that impression.
Dan has loomed large over the new Gossip Girl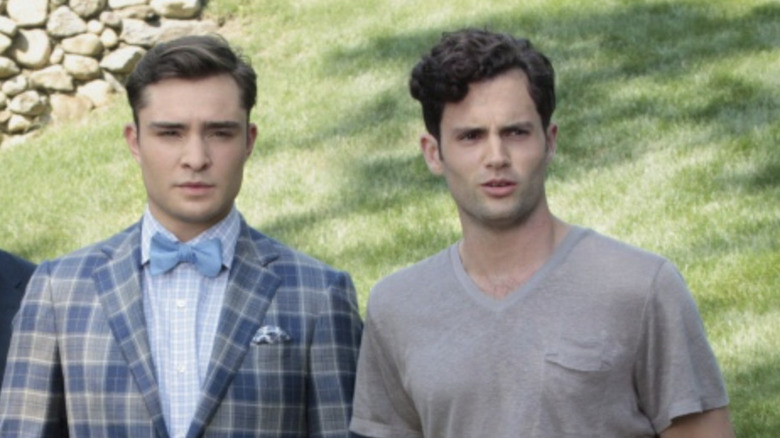 The CW
The aforementioned Episode 5 moment was a clever way to have the new "Gossip Girl" main characters reference the old ones without relying on distracting cameos. Since Chuck and Dan were major love interests for Blair and Serena throughout the original "Gossip Girl," Julien and Zoya's insistence that they were part of a group costume makes sense. That's especially true because the original main characters are so well-known in this world. "The universe still exists," showrunner Joshua Safran told Entertainment Tonight in a December 2019 interview. "The characters talk about Serena, Blair, Chuck, Dan."
Safran told The Daily Beast that he would consider bringing major OG characters into Season 2. If that happens, Badgley's return as Dan would be particularly notable, since he, a fish-out-of-water prep student, was revealed as the writer behind the first Gossip Girl. As such, he's mentioned more than any other original character — the Constance Billard St. Jude's teachers mention him when they decide to create a new Gossip Girl account. Later, Zoya's new friend Simon (Mason Versaw) assumes she's the new Gossip Girl because, like Dan, she's an outsider who gets literary references.
Hopefully, Dan will show the new "Gossip Girl" writers how it's done, and bring Chuck along with him.