The Suicide Squad: The Hardest Characters To Create According To James Gunn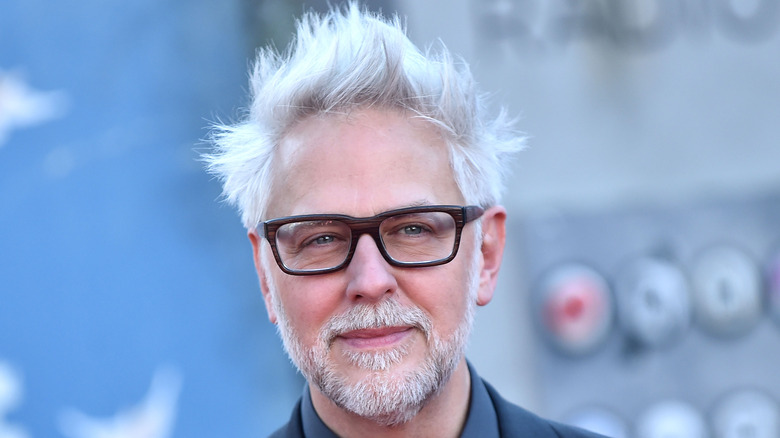 Shutterstock
The release of James Gunn's "The Suicide Squad" is nearly upon us. The film is born in some ways as the offspring of two very strange events: the release of David Ayer's critically panned 2016 "Suicide Squad" and James Gunn's temporary firing from "Guardians of the Galaxy 3," which created a scheduling opportunity to join the rival DCEU. The story's concept — one where a group of morally questionable comic book villains finds themselves forced to go on an almost impossibly dangerous mission — is by its very nature an exercise in contrasts and juxtapositions. Villains doing good. Good guys doing evil. One auteur director denied his creative vision, while another is given carte blanche. It all makes a strange kind of cohesive sense in the world of "The Suicide Squad."
This makes the "The Suicide Squad" creatively difficult to realize in live action. In the lead up to "The Suicide Squad" landing in theaters and on HBO Max, James Gunn talked about the most difficult characters to bring to life, and his answers are unsurprising.
King Shark and the challenging dad bod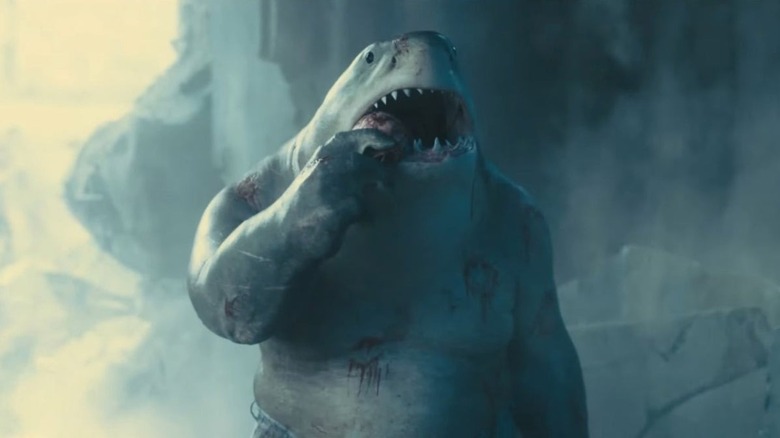 Warner Bros./DC Entertainment
There are a lot of characters in "The Suicide Squad" who we haven't seen in the DCEU before — Peacemaker (John Cena), Bloodsport (Idris Elba), T.D.K. (Nathan Fillion) and a ton of other flesh-and-blood human people.
There are also two entirely CGI characters we've seen in the trailers for "The Suicide Squad" — King Shark (who is a shark man) and Starro (who is basically a giant, alien, mind-controlling starfish). And while Gunn has worked effectively with CGI characters before (Rocket Raccoon and Groot, just to name the most obvious ones), there were still new challenges to overcome bringing these two characters to life for "The Suicide Squad."
"They were both really tough," Gunn said, while discussing King Shark and Starro in a roundtable for the film (via Den of Geek). "But I will say that King Shark was the toughest character I've ever had to design for numerous reasons."
What made it so hard to bring a man shark to life? "Number one, shark skin is much harder to get right than raccoon fur or wood," Gunn said. "And the other thing is, Rocket, for instance, is still a mammal. So transforming him a little bit into a more human character isn't that completely unnatural. But transforming a shark, who's made to swim flat, into something that walks around and has a head bent forward, took a lot of design work. In fact, we kept designing for a long time ... We finally caught the dad bod that I wanted."
Naturally, Gunn would imagine King Shark with a bit of middle-aged beer bloat. "I didn't think he would have a six-pack because he's not a mammal," Gunn explained. "So he doesn't have the same muscular structure as we do."
Starro is extremely pink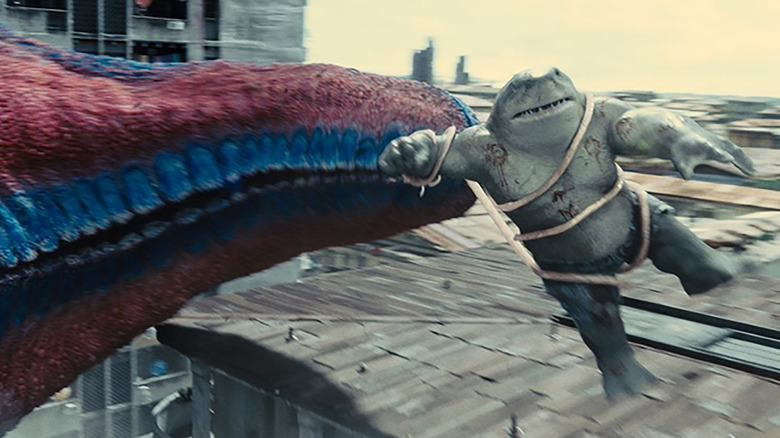 Warner Bros./DC Entertainment
And then there is Starro. At least King Shark is human-adjacent. The only thing Starro has in common with most humans is it has an eye (granted it's one huge eye in the middle of its body, but that's kind of human-ish, right?)
It turns out that Gunn had a very specific challenge when it came to bringing Starro to life. "With Starro, it was hard because I really liked the movie 'The Host,'" Gunn explained. "I like how the sea monster flops around like a giant puppy, even though he's kind of scary. I wanted the same sort of unwieldy feeling of a walking starfish who isn't made to walk, who floats around in space. So getting him to walk in a way that would at least somewhat put people in peril, but was also the goofy way a starfish would walk, was difficult."
Even the successes with Starro, like its coloring, brought challenges. "I love the pink and cerulean, totally bright colors that look completely different from the sort of really gritty, grimy streets of Colon, Panama that he's walking around in," said Gunn. "I liked that contrast a lot, although I knew it was risky to do something that pink. But we swung for the fences."
Whether or not King Shark and Starro prove to be a hit with audiences is something we'll know for sure when "The Suicide Squad" hits theaters and HBO Max on August 6.