Into The Spider-Verse's Jake Johnson Dishes On The Future Of Peter B. Parker - Exclusive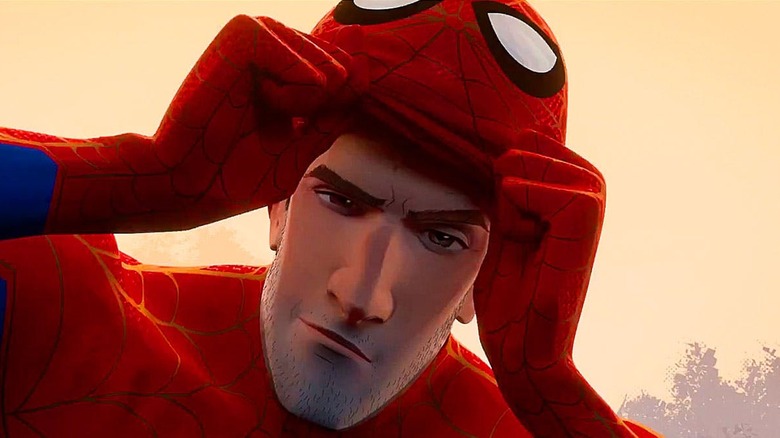 Sony Pictures
Ever since Tobey Maguire's 2002 "Spider-Man" movie, Hollywood has churned out a slew of Spidey content, frequently beginning each iteration of Peter Parker with that infamous spider bite and a tragic origin story. Then 2018's "Spider-Man: Into the Spider-Verse" took the story in a new direction: the multiverse. Honing in on Miles Morales (Shameik Moore), the animated movie has him team up with every Spider-Man variation you could possibly imagine — from Peter Porker the pig (John Mulaney) to the jaded Peter B. Parker (Jake Johnson). It's different, it's a little kooky, and most importantly, it says something.
Jake Johnson spoke to Looper for an exclusive interview about his new film "Ride the Eagle," during which he talked all things "Into the Spider-Verse" and the future of Peter B. Parker, including whether or not he will appear in the sequel. "Yeah, I believe I'm in it," he said. "We haven't started recording, but all signs are moving towards yes. And yes, I would be heartbroken if I wasn't in it. I loved playing Peter Parker, or Peter B. Parker." 
"I think the way that the character is written and the way that Peter B., with the stage of life he's in, is just a character that I'm very interested in" Johnson added. "And after that first movie, I would really like to know what happens next. I want to know what happens to him when he leaves to go with Mary. What happens? Is he done being Spider-Man, or does he know that in his universe? Is he a parent? So I'd be really sad if it doesn't come to be, but I believe it's happening." 
Two Spideys are better than one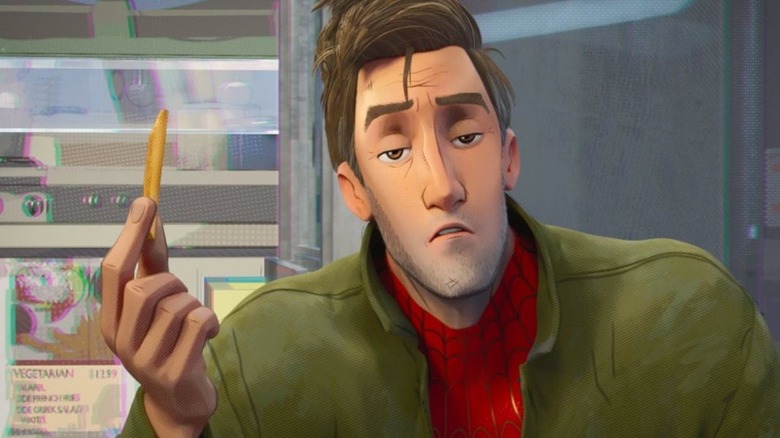 Sony Pictures
Despite not being a huge superhero guy, Jake Johnson was still pumped to be a part of "Into the Spider-Verse." "So the real exciting thing was when I got an email from Phil Lord, who I am a huge fan of. I think he is a ... It's not a term I use lightly, but I think he's a genius and he's brilliant, truly, and he had a part for me, and the movie at that time was called 'Cabin Fever,'" he said. "And he said he was writing an animated movie for me, but I wasn't famous enough for the studio just to give it to me, so would I be willing to meet and rehearse? And, he was trying to be respectful, and I wrote, like, 'Phil, anything you're ever in. Yes, I'll fight for it.' And then, as I got deeper in, I was like, 'Oh, I didn't even realize this was to play Peter B. Park... Yes, of course, I'm in.' So, it was working in something that is under his and Chris [Miller]'s passion."
As for the sequel, he really wants to work with Shameik Moore again. "One of the reasons I like to act is selfish. I like doing the work, and I liked being in the scenes," he said. "I would like to perform with Shameik again. Shameik as an actor I find really talented, and we really bonded making this movie and doing press together, and I miss the guy. I haven't seen him. We haven't talked. We texted a couple of times during the pandemic, but I miss that guy. I want to mix it up with him. I want to sit in the booth for a bunch of hours, stare at each other and say these words, and feel Miles because Miles is a real character. I can feel him."
Fans can check out Johnson's new film, "Ride the Eagle" in select theaters, on demand, and Digital now.