The Jim Character Break You Probably Didn't Notice On The Office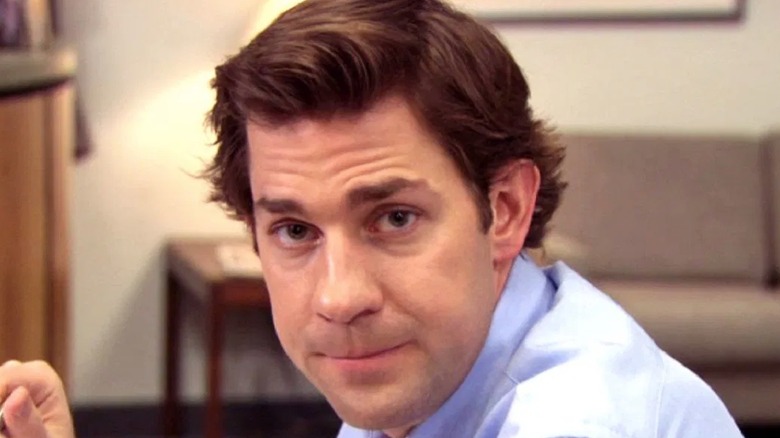 NBCUniversal
As far as small screen legacies go, that of NBC's groundbreaking work-a-day comedy "The Office" is one that only seems to grow as time goes on. Likewise, even as "The Office" has now been off the air almost as long as it was on, the series fanbase only seems to get bigger, too, with waves of new viewers continuing to tune in for kooky Dunder Mifflin shenanigans via streaming and/or syndication.
Part of the show's continued popularity is due to the fierce connections viewers make to its central players, with the likes of Jim Halpert (John Krasinski), Pam Beesly (Jenna Fischer), Michael Scott (Steve Carell), Dwight Schrute (Rainn Wilson), and Angela Martin (Angela Kinsey) regularly ranked among the best-loved characters of the modern television era. Fans also clearly get a kick in spotting the show's long list of guest stars, which includes the likes of Jim Carrey, Will Ferrell, Idris Elba, Dakota Johnson, and Ken Jeong, among others.
Of course, the real secret behind the ongoing popularity of "The Office" is that you can watch virtually every episode of the series multiple times and still find new jokes and/or gaffes to behold. That includes an unexpected break from character by John Krasinski you likely never even noticed. 
John Krasinski laughably signed his own name in one of The Office's funnier Jim moments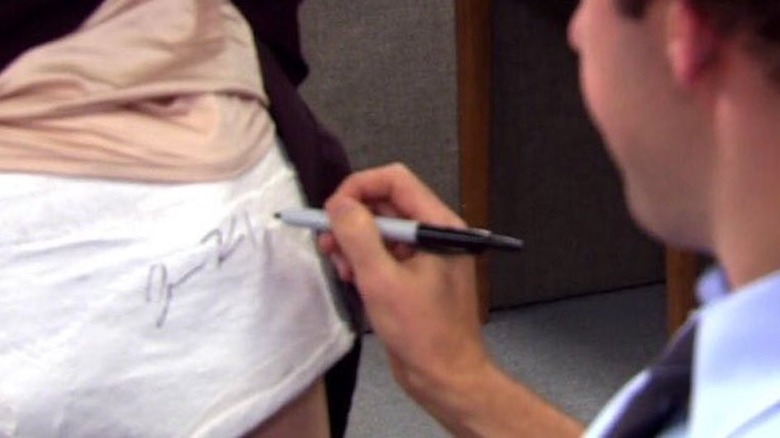 NBCUniversal
That brilliant little blunder on "The Office" occurred in a truly cringe-worthy season 4 moment via the episode titled "Launch Party," which aired just a couple of weeks after the series' infamous "Fun Run." As a reminder, the opening moments of "Fun Run" found Michael inadvertently running over Meredith (Kate Flannery) with his car, an accident that left her with a fractured pelvis.
Fast forward a couple of episodes, and the still-recovering Meredith finally makes her return to the hallowed halls of Dunder Mifflin's Scranton Branch, doing so with a cast encasing her entire pelvic region. In a truly vintage bit of Meredith crassness, she stops by Jim's desk, hikes her dress up, and asks him to sign her cast, with the befuddled Jim warily scribbling his name.
Only it wasn't the name Jim Halpert that the actor scribbled — a few "The Office" superfans have noted that the signature is indeed John Krasinski's own name. It's unclear if Krasinski signing his own name is a chuckle-worthy blooper made by an actor who might've been a touch uncomfortable at the moment, or if it was a winking in-joke pulled by the actor himself. Whatever the case, it's an absolutely hilarious discovery that should have "The Office" diehards searching back to witness for themselves. And yes, one has to imagine that cast would make for a choice bit of memorabilia to boot.