What Happened To Jimmy Kimmel?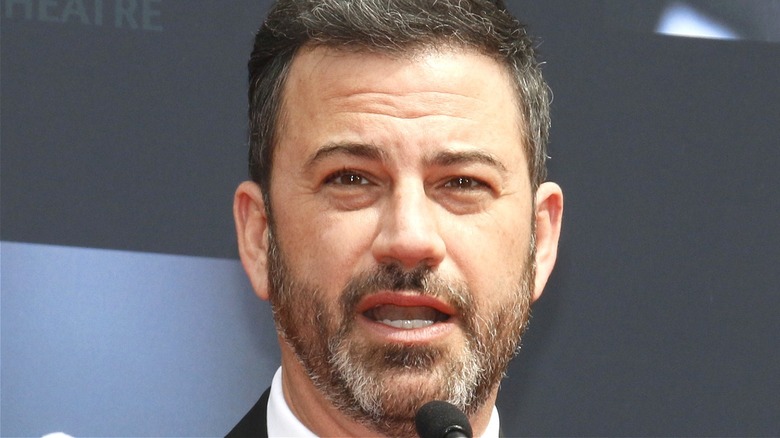 Shutterstock
Many fans of the late night talk show "Jimmy Kimmel Live!" have been left wondering the past few weeks where the show's main host has disappeared to. Kimmel has apparently gone off the grid, not having hosted the show since July 5, 2021. In the past, Kimmel has taken hosting breaks from his show, the first being in 2017 after the birth of his son Billy and subsequent health issues that occurred as a result of a rare congenital heart defect. Following a flurry of guest hosts that included Kristen Bell, David Spade, Shaquille O'Neal, and Melissa McCarthy, Kimmel returned in full form in December 2017. 
But don't worry, the reason for Kimmel's absence has nothing to do with any health issues regarding Kimmel or his family, and instead, it's simply his personal decision to take a much-needed vacation. In fact, Kimmel did the same thing last year, taking a break for the summer of 2020 while a bunch of guest hosts filled in. In a memorable video, he made the announcement of 2020's break with an appearance from Matt Damon as part of the long-running bit that the two have on the show. 
This time around, Kimmel stayed a bit more under the radar, but rest assured that his current break for "Jimmy Kimmel Live!" is a good thing for the host. 
Jimmy Kimmel is taking the summer off for family time
During one of his last few episodes hosting in 2021, Kimmel made a statement explaining the upcoming shift, stating that "I'm taking this summer off to spend even more time with my family." He made sure to clarify that "There's nothing wrong, I'm healthy, my family's healthy, I just need a couple of months off." Honestly, looking at the past year or so that we've all had, who can blame him?
Considering that this is the second year that Kimmel is taking a summer vacation from hosting, it looks like it might become something to expect each summer going forward. But this doesn't mean that Kimmel isn't still engaging with audiences, as his Twitter is filled with hilarious photoshopped pictures and videos of the host on vacation with Magic Johnson, pretending to fulfill his personal wish to travel with the famous basketball player. In reality, Kimmel is spending time at home with his wife and two kids, who seem healthy and happy.
In his absence, "Jimmy Kimmel Live!" has an outstanding list of guest hosts that includes Anthony Anderson, Wanda Sykes, Arsenio Hall, Nick Kroll, Phoebe Robinson, and more. It's currently unclear when Kimmel will be returning to his regular hosting schedule, but last year Kimmel returned to the show in late September, so we should likely expect to see him again around the same time.