The Hilarious Title Taika Waititi Suggested For The Free Guy Sequel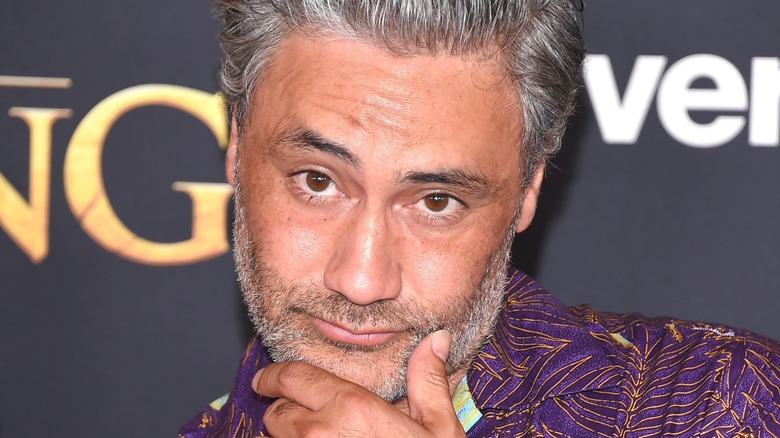 Shutterstock
The ultra-meta video game action-comedy "Free Guy" isn't set to hit theaters until August 13, 2021. However, considering the film has an intriguing premise and a cast that includes Ryan Reynolds, "Killing Eve" star Jodie Comer, and "Thor: Love and Thunder" director Taika Waititi, it's really never too soon to start talking about a sequel (and the strong early buzz certainly doesn't hurt).
In the film, Reynolds plays Guy, a chipper bank employee who spends his life dutifully going about his tasks and trying to avoid the non-stop chaos of the world around him. That is, until one day he breaks out of his regular patterns of behavior and discovers that he's actually been living in a massive open-world video game. With his newfound sentience and the help of game developer Millie (Comer), Guy realizes he has the opportunity to leave his role as ray-gun fodder behind and make himself the hero for a change.
On August 3, Looper attended a press event for the upcoming film, where chatter about a possible sequel was already happening. And thanks to some playful improv by Waititi, the follow-up to "Free Guy" may already have a title.
The wonderfully absurd sequel title that Free Guy director Shawn Levy is committed to
When it comes to sequel titles, sometimes a simple "Movie Title 2" does the trick, while other times, you want to give it a little extra oomph. Think about the fun-loving power that "Sister Act 2: Back in the Habit" or "2 Fast 2 Furious" has. "Free Guy" director Shawn Levy already has one such idea on deck should his movie get its own sequel.
When asked about whether he was already thinking about a sequel, Levy replied, "The short answer is: yes." The director spoke both about the possibility of a follow-up film, as well as the meta-conversation about sequels that happens in the movie courtesy of Waititi's game publisher character Antoine.
As for the potential sequel's title, Levy revealed, "If we make 'Free Guy 2,' it will be titled 'Albuquerque Boiled Turkey' ... it is 100% 'Free Guy 2: Albuquerque Boiled Turkey,' based on one of seven million improv lines by Taika Waititi."
It remains to be seen if audiences will get the opportunity to buy tickets for "Free Guy 2: Albuquerque Boiled Turkey" at some point down the road. In the meantime, though, you can increase the chances of that happening by seeing "Free Guy" when it hits theaters on August 13, 2021.