See Thomas Jane In New Predator Photo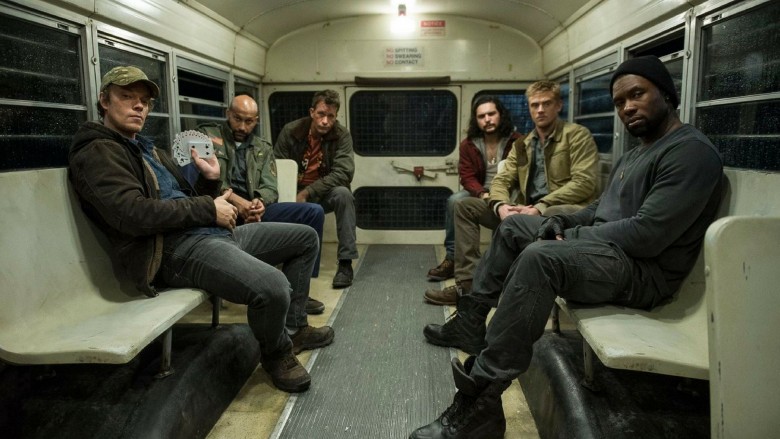 Twitter
Thomas Jane is gearing up for a war in the newest photo from Shane Black's Predator reboot. The pic, which the director released on Twitter Wednesday night, shows Jane and fellow cast members Alfie Allen, Keegan Michael-Key, Augusto Aguilera, Boyd Holbrook, and Trevante Rhodes sitting on a bus, mean mugging at the camera. "Stone killers with serious acting chops— but which of them will be chopped... by THE PREDATOR?" Black captioned the pic.
While the photo doesn't reveal much about the secretive reboot, it does confirm the involvement of Jane, who was missing from the partial cast photo that Black released a few weeks ago. Jane's role hasn't been revealed yet, but we can only guess that it will be badass.
The original Predator, released in 1987, starred Arnold Schwarzenegger as the leader of a team of commandos fighting against aliens in a Central American jungle. The remake will feature Holbrook as a soldier and the group's leader. Room breakout Jacob Tremblay will play his son, while Chuck's Yvonne Strahovski will play his ex-wife. Rhodes, Key, and Allen will all play ex-Marines, and X-Men: Apocalypse star Olivia Munn will play a scientist. No information has been released on Aguilera's character. This Is Us star Sterling K. Brown fills out the cast as a government agent who jails Holbrook's character before realizing that he needs his help fighting the Predator.
Black (Iron Man 3) will direct the reboot, which he confirmed on Twitter will be rated R. He also co-wrote the script with Fred Dekker (RoboCop 3). The film is produced by John Davis (I, Robot) and Joel Silver (The Matrix) alongside Lawrence Gordon, who produced the original. The Predator will be released on Feb. 9, 2018; see the other movies that are going to blow everyone away that year.