Ms. Marvel Fans May Have Some Sad News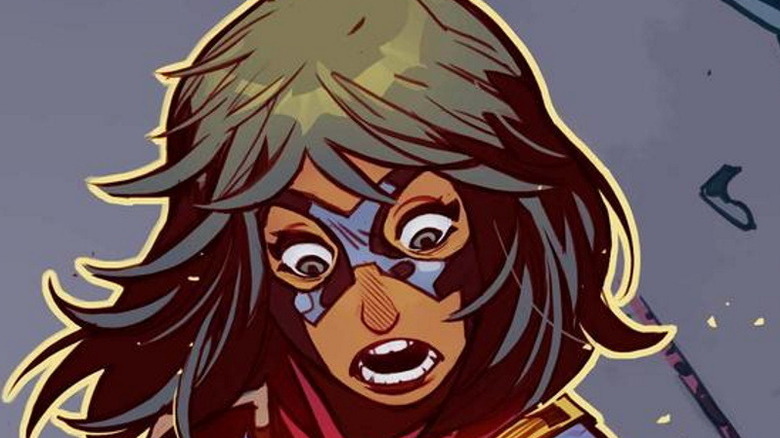 Eduard Petrovich/Marvel Comics
As the next phase of the Marvel Cinematic Universe begins to gear up, fans are learning more and more about which upcoming movies and TV shows which will comprise the next wave of worldbuilding. By far one of the most anticipated projects has been "Ms. Marvel," the live-action adaption of Kamala Khan's adventures, which was greenlit for a series on Disney+ back in 2019 (via The Hollywood Reporter). Newcomer Iman Vellani is set to play the teenager, who in the Marvel comics-verse is inspired to heroism by the example of Carol Danvers aka Captain Marvel, before discovering her own might in a series of world-shaking adventures and crossovers ... while, in classic Marvel style, trying to balance her life as a typical Muslim teen. 
Originally, the show was slated to air earlier on in 2021, but COVID-19 shifted the show's airdate to, presumably, the end of this year. Unfortunately for fans who feel like they can't wait a second longer to find out how Kamala fits into the Marvel Cinematic Universe, it looks like they might just have to stay patient and keep the faith.
Same heroine, next year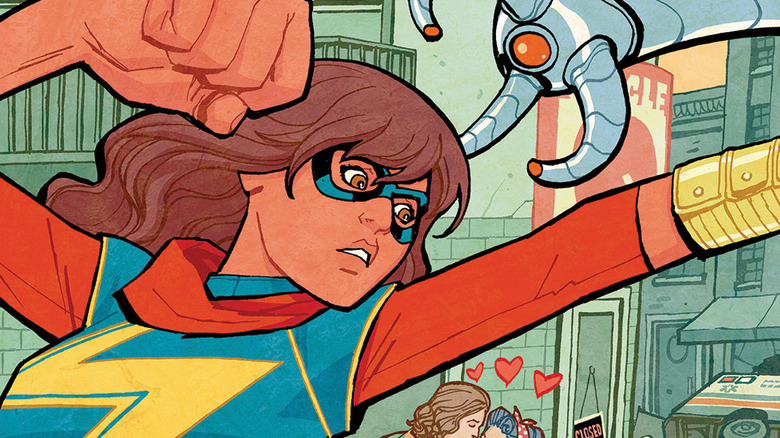 Cliff Chiang/Marvel Comics
According to TV Line's Matt Webb Mitovich, he has "asked around" and — considering that "Hawkeye" is now schedule for November 24, 2021 — it appears that the series has been shifted to early 2022. That means fans won't get to partake in Kamala's adventures until the new year arrives.
This perhaps isn't surprising, since Marvel Studios has released a series of goodies in a row. "WandaVision" came first, then "Falcon and the Winter Soldier," and "Loki" have each dropped back-to-back throughout the first half of 2021, and the animated series "What If..?" is scheduled to begin airing on August 11. With "Hawkeye" confirmed for a November, that didn't leave much room on the schedule for "Ms. Marvel" without episodes of it and "Hawkeye" overlapping. 
On the other hand, leading off the year 2022 does put "Ms. Marvel" in the enviable position of opening the entire Marvel Studios slate for the year, which means all eyes will be on it during those long winter months. So, while this might not be the news Ms. Marvel fans were hoping for, at least now they have a better idea of when they'll finally get to watch the show.