Get Your Best Look Yet At The MCU's Ms. Marvel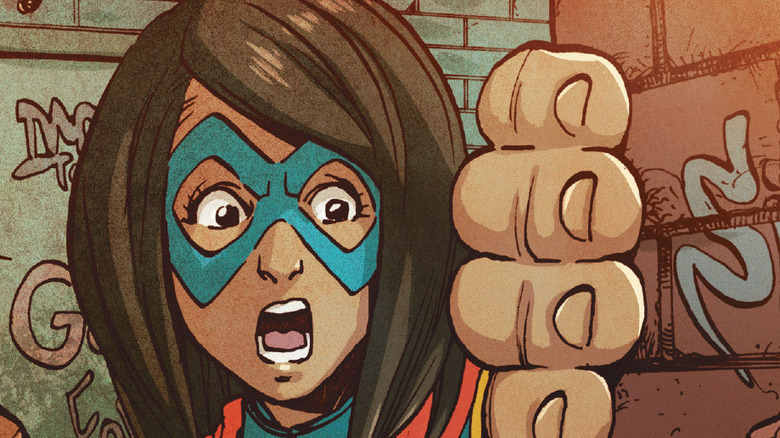 Marvel Comics/Takeshi Miyazawa
Between the Carol Danvers Captain Marvel, the Monica Rambeau Captain Marvel, and the as-yet-unseen on-screen iteration of Kamala Khan's Ms. Marvel, the Marvel Cinematic Universe is all lined up to really remind its audience that Marvel Marvel Marvel Marvel. The trio of Marvels is set to appear together in the 2022 motion picture "The Marvels," with Ms. Marvel marveling into the Marvelverse in her self-titled Disney+ series in late-2021.
Played by Iman Vellani, Kamala Khan has been a fan favorite character since she debuted in the comics back in 2013 thanks to her persistent optimism and entirely relatable stanning of superhero culture. In less than a decade, the character has become a mainstay of the Marvel universe.So it only makes sense that fans have been clawing at the door for a look at the Eisner Award-winning character brought to life. Today, they got their first chance, thanks to a leaked sliver of promotional artwork from her upcoming series. The costume? On point. The superpowers? Boss-level confusing.
Ms. Marvel has a whole new deal in the MCU
The leaked promo art, posted by Twitter user MCU Facility, shows Kamala in her iconic Carol Danvers-inspired getup, complete with the red, blue, and gold color combo, domino mask, and scarf. It's a familiar look. What's less familiar is the power set she seems to be boasting.
In the comics, Ms. Marvel is an Inhuman, granted abilities courtesy of a terrigen bomb and capable of polymorphic feats of weirdness. She can stretch, grow, shrink, and shapeshift. It's a classic for a reason. All of that makes it a little peculiar that in the first piece of promo art for the series, Kamala Khan is seen sporting entirely proportional limbs and an out-of-left-field crystalline purple fist thingy.
Rumors have been making the rounds on the internet that the MCU version of Ms. Marvel would be rocking a new set of abilities, but it's safe to say that nobody expected whatever's going on here — crystal armor? Green Lantern-style energy constructs? Adding to the frustration: Marvel has yet to announce an official release date for "Ms. Marvel." Answers could still be a long way off.