Black Monday Season 4 - What We Know So Far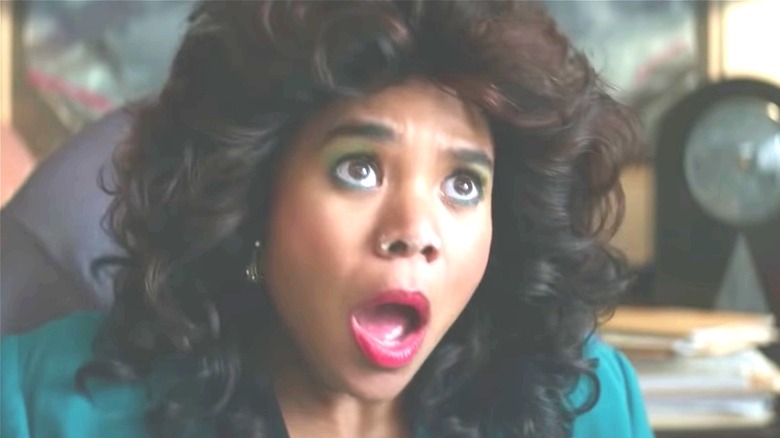 Showtime
Taking on the terrible stock market crash of 1987 often referred to as "Black Monday," the Showtime dark comedy of the same name stars Don Cheadle as Maurice "Mo" Monroe, the founder of the Jammer Group, a small Wall Street firm of stockbrokers on the rise during the year leading up to the historic disaster. The first season of "Black Monday" premiered on January 20, 2019, and Cheadle received an Emmy nomination for his performance. Since then, the show has gone on to have two more seasons, the most recent of which premiered on Showtime on May 23, 2021. 
While the pilot episode starts off by showing the stock market crash, it quickly backs up to a year earlier, where the story really starts, leading up to the reveal of what — or who — is really behind Black Monday. Set in the 1980s, the series fully embraces the setting, along with its fashion, technology, and the period's casual attitude on issues like drugs, sexual harassment, blackmail and so on. With sharp writing and an extremely talented cast, "Black Monday" has become a favorite comedy over the years, and fans of the series hope to see more episodes soon with a fourth season. 
Here's everything we know so far about "Black Monday" Season 4. 
When will Black Monday Season 4 come out?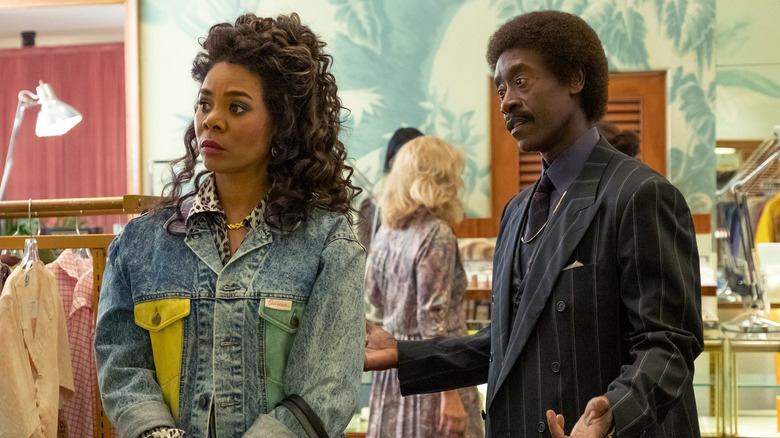 Showtime
As of right now, Showtime has not announced whether "Black Monday" has been renewed or cancelled following Season 3. The show has steadily gone down in ratings over the years, with Season 3 varying between the same or less than Season 2's ratings within the ideal 18-49 demographic over the course of the season's 10 episodes (via TV Series Finale). Despite that, the show still has a solid fanbase, so it's hard to say whether or not it might be renewed for Season 4. 
Previously, "Black Monday" was renewed for Season 3 in October 2020, so we can likely expect an announcement from Showtime by the same time this year (Variety). If fans are lucky, Showtime will make a decision earlier. Considering the possibility that "Black Monday" does get renewed for another batch of episodes, we will likely see it premiere within 12-14 months of Season 3's premiere date of May 23, 2021, based on the timelines of the previous seasons. 
Who is in the cast of Black Monday Season 4?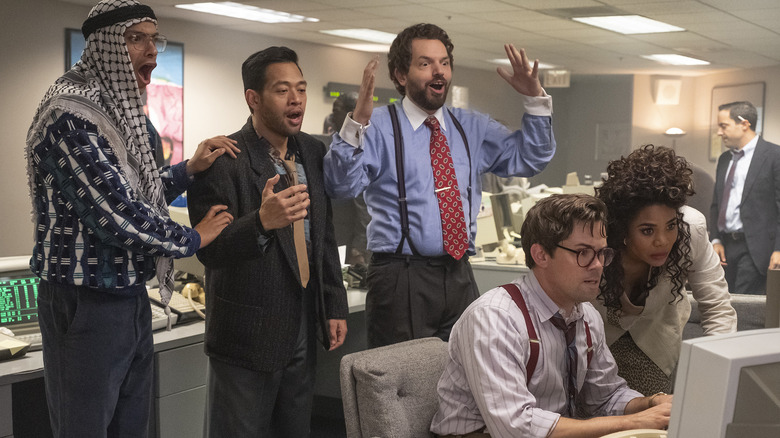 Showtime
"Black Monday" has a solid main cast of characters, led by Cheadle as Mo. The show also stars Andrew Rannells as Blair Pfaff, an awkward, aspiring stockbroker who Mo takes under his wing, Regina Hall as Dawn Darcy, the only woman at the company who fights against Mo, her husband, and the business culture to get what she wants, and Paul Scheer as Keith Shankar, another coworker who enjoys bullying Blair. Casey Wilson appears in Seasons 1 and 2 of "Black Monday" as Tiffany Georgina, a rich heiress whose family owns a company called Georgina Jeans that Mo targets, before being promoted to series regular in Season 3. 
Some notable supporting characters who are likely to appear again in a possible fourth season include Ken Marino as twins Larry and Lenny Leighman, Yassir Lester as stockbroker Yassir, and Sam Asghari as Giancarlo. Season 3 also added two notable new characters with Thomas Barbusca as Werner, a Young Republican who works as an aide for Blair's campaign team as he shifts from stockbroking to a career as a politician, as well as Adrienne Wells as Nomi, a bold, smart young woman who becomes the center of Mo's next big business venture. 
What is the plot of Black Monday Season 4?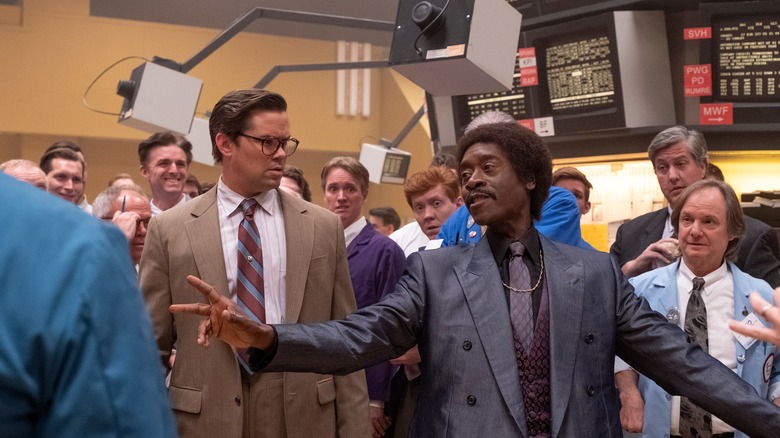 Showtime
Season 3 of "Black Monday" ends on quite the climax, with multiple dead bodies, big reveals, and guns blazing. Mo and the crew are being hunted by a serial killer, and so they put on a sham (but possibly also real?) wedding to lure the killer out. As always, they are high on cocaine and other drugs, but this appears to open their hearts up, as Mo and Dawn's fake wedding leads the couple to admit their real romantic feelings for one another. 
At the same time, their plan to find the killer has Keith facing off with Lenny, who they believe is the culprit, but instead Corky Harris (June Diane Raphael) reveals herself to be the killer. Corky is the wife of the late Congressman Roger Harris (Tuc Watkins), who dies by suicide in Season 2 after his affair with Blair is outed. This in turn ruins Corky's life, so she vows revenge on Blair and tries to shoot him. Then she shoots at Dawn, but Mo jumps in front of the bullet. Don't worry though, he's fine. Still, the group is cornered and without options, until a sword appears out of nowhere and kills Corky, wielded by Tiffany, who everyone thought was dead. 
All in all, the day is saved, Mo and Dawn are in love, and the future is uncertain. If "Black Monday" gets a fourth season, expect the show to explore the ramifications of these events and the next crazy business scheme that Mo's got up his sleeve, as well as further develop the love story between the two leads. It looks like even almost getting killed can't keep Mo, Dawn, and the rest of the crew out of the business.