What Is The Song In The New Venom: Let There Be Carnage Trailer?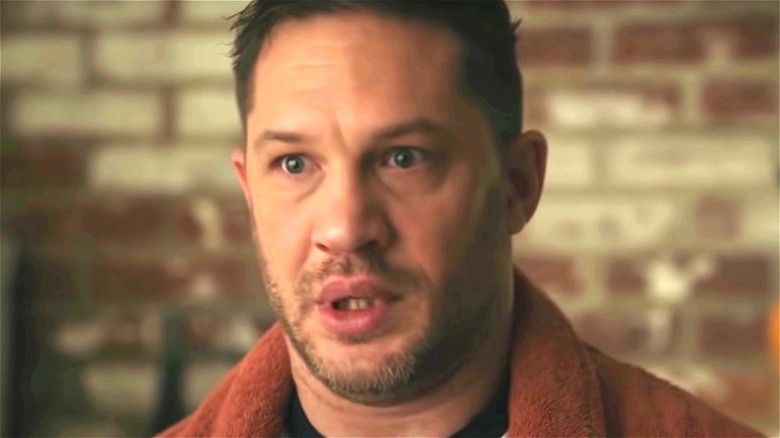 Sony Pictures Releasing
The second official trailer for "Venom: Let There Be Carnage" is out in the world, and like the one before, it features plenty of banter between Eddie Brock (Tom Hardy) and his carnivorous symbiote friend. This trailer also offers a deeper look into the bad guy, Cletus Kasady (Woody Harrelson), otherwise known as Carnage. And both trailers have one other thing in common — a song called "One" which you've no doubt heard many, many times before.
The first trailer focused on a recent orchestral version by L'Orchestra Cinématique, but the song dates back to 1968 when it was first released on the album Aerial Ballet, by the song's composer Harry Nilsson. Nilsson, in addition to being a legendary songwriter (does a tune about limes and coconuts ring a bell?), has seen his work featured in countless film and television soundtracks. Songs like "Jump into the Fire," "Everybody's Talkin'," and "Without You" appear again and again in the decades since they were first released. You most certainly recognize "Gotta Get Up," for instance, as the song repeatedly heard through Natasha Lyonne's Netflix series "Russian Doll."
"One," though, is a song that probably gets used more than the rest of his songs combined. The song has appeared in "How to Lose a Guy in 10 Days," "The Blacklist," and "The LEGO Batman Movie," as well as "The Boss Baby: Family Business," and it was covered by the cast of "Zoey's Extraordinary Playlist." It's worth noting that the most famous version of "One" is not Nilsson's, but rather, a cover by Three Dog Night from 1969, and when it comes to movie versions, it's probably best known for Aimee Mann's version is the Tom Cruise movie "Magnolia."
And now, a newer version of the song is poised to be find popularity again, thanks to Venom: Let There Be Carnage."
Why "One" is the perfect song for Venom and Carnage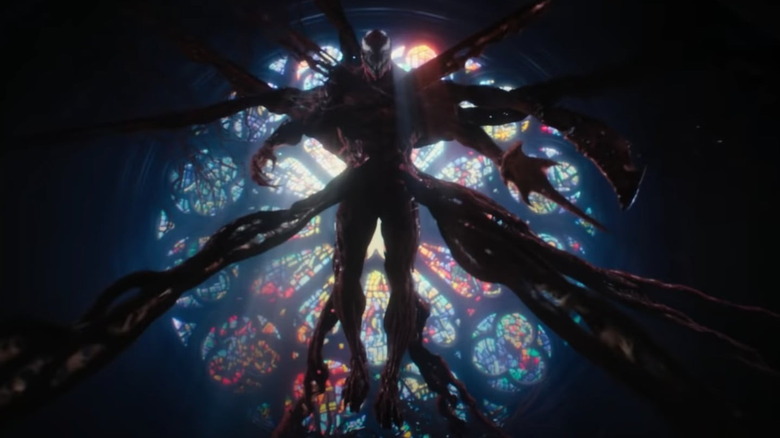 Sony Pictures Releasing
The latest version of "One" is performed by Baltic House Orchestra, a UK-based group who is no stranger to movie soundtracks and trailers. Their version of "Blue Monday" appears in the trailer for "Wonder Woman 1984," while "Kickstart My Heart" is in the "Battlefield 2042" trailer, and "Rain" turns up in "The Suicide Squad."
Baltic House Orchestra's "One" is about the most perfect symbiote anthem you could have, without writing something specifically tailored to Eddie Brock and Venom's many quirks. Just listen to the opening lyrics with Eddie and Venom in mind: "One is the loneliest number that you'll ever do. Two can be as bad as one. It's the loneliest number since the number one." 
That's basically Venom's story in a nutshell. Eddie is estranged from the woman he loves, Anne Weying (Michelle Williams), and his only companion is an alien symbiote that wants to murder and devour everyone around them. And the song is even more perfect for "Venom: Let There Be Carnage," because now that Cletus Kasady aka Carnage has been added to the mix, once again Eddie Brock is technically not alone in the experience of being attached to an alien symbiote. The problem, of course, is that the only other person who really "gets it" is a serial killer. Two is just as bad as one, indeed.
"Venom: Let There Be Carnage" hits theaters on September 24, 2021.