The New Trailer For Venom: Let There Be Carnage Is Finally Here
We finally have a second trailer for the highly-anticipated film "Venom: Let There Be Carnage." We got our first taste of the movie when the first trailer dropped back in May, and it's been a long few months with no new content. This brand new trailer teases more of what's to come between Eddie Brock (Tom Hardy) and Cletus Kasady (Woody Harrelson). Both men are hosts to alien symbiotes — Venom and Carnage, respectively — who like to come out and play occasionally, and we expect some gruesome battles between the two.
Little is known about the plot for "Venom: Let There Be Carnage," but we do know Eddie will be getting back into the swing of things as a journalist as he gets used to his new life with Venom. He goes to see career criminal Cletus in jail when he approaches him for an interview before he's put to death for his crimes. However, the lethal injection goes awry when the symbiote Carnage living inside him fights back, and Cletus escapes prison. While the new trailer showed us a few things we've already seen, there is plenty of new content that needs to be broken down. Check out these small details you might have missed in the second trailer for "Venom: Let There Be Carnage."
The second Venom: Let There Be Carange trailer teases more of what's to come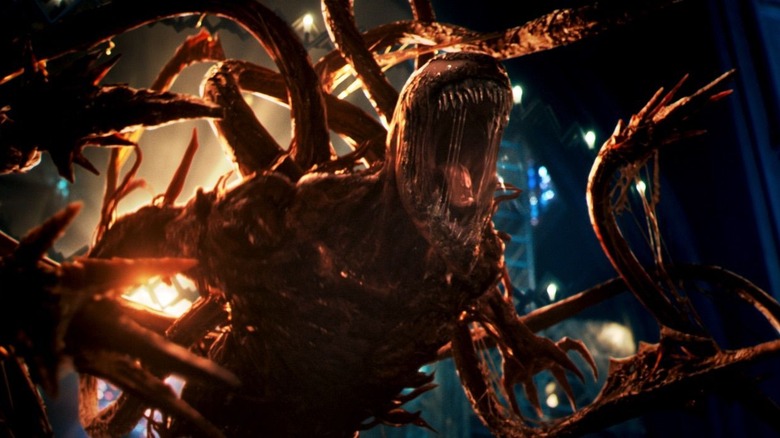 Sony Pictures
There was a lot to unpack in the second trailer for "Venom: Let There Be Carnage," but this is promising to be a film full of bloody mayhem. The new video teased a lot more interaction between Cletus Kasady and Eddie Brock, and it looks like we finally know how the former becomes infected with a symbiote. Cletus bites Eddie through the bars of his prison cell, and the former immediately realzies that something is different about the reporter. Additionally, there was a lot more one-on-one time with Eddie and Venom for us to mull over. Their playful relationship definitely hasn't gone anywhere, as a good portion of the trailer shows the two characters going back and forth with one another. Venom even breaks his host's nose with a head butt and then a second time to fix it.
One of the most significant takeaways from this trailer, however, is the full reveal of Carnage. We get to see the villain symbiote in all its glory and just how dangerous he is. Venom himself even lets us know that this is a symbiote even he doesn't want to mess with. He retreats into Eddie's body at one point and refuses to fight his adversary, who he calls "a red one." Also, in the trailer's finale, we get the big reveal that Eddie's ex-girlfriend Anne (Michelle Williams) is engaged to Dr. Dan Lewis (Reid Scott), who we met in the first film. Venom seems to be taking that loss harder than Eddie, who forces his host to punch Dan.
We can't wait to see the battle between these two lethal symbiotes when "Venom: Let There Be Carnage" lands in theaters on September 24.