Small Details You Missed In The Newest Venom: Let There Be Carnage Trailer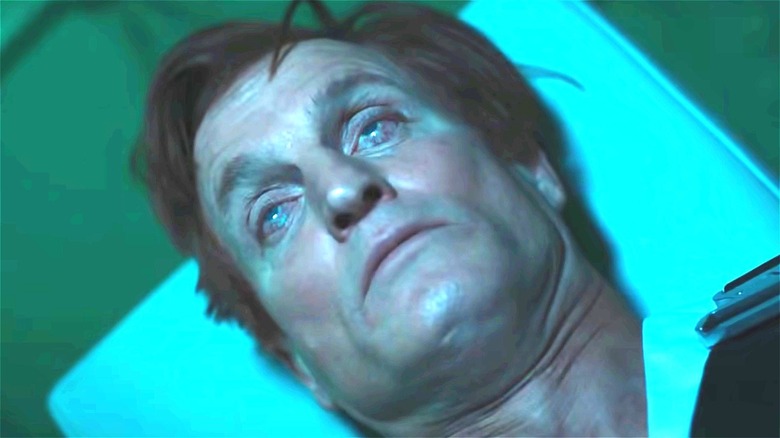 Sony Pictures
The second official trailer for "Venom: Let There Be Carnage" has finally landed, and we've been treated to a heaping serving of new content. Sometimes second trailers can just be a regurgitation of old clips from the first, but thankfully that's not the case with the latest glimpse of "Let There Be Carnage." Rather, this new trailer gives us deeper insight into the relationship between Cletus Kasady (Woody Harrelson) and Eddie Brock (Tom Hardy), the former of which serves as the film's main antagonist. More importantly, we are given more than a few glimpses at Cletus's symbiote Carnage, one of the most notorious villains from the "Venom" comics.
Carnage proves to be a worthy adversary to Venom, who is possibly stronger than Eddie's symbiote that we grew to love in the first film. Beyond that, there are other glimpses at Eddie's ex-girlfriend Anne (Michelle Williams), and we get a sense of the status of their relationship today. There are also a few hidden easter eggs that are fun to dissect, so scroll through this selection of small details you may have missed in the second "Venom: Let There Be Carnage" trailer.
Lord Byron makes an unexpected appearance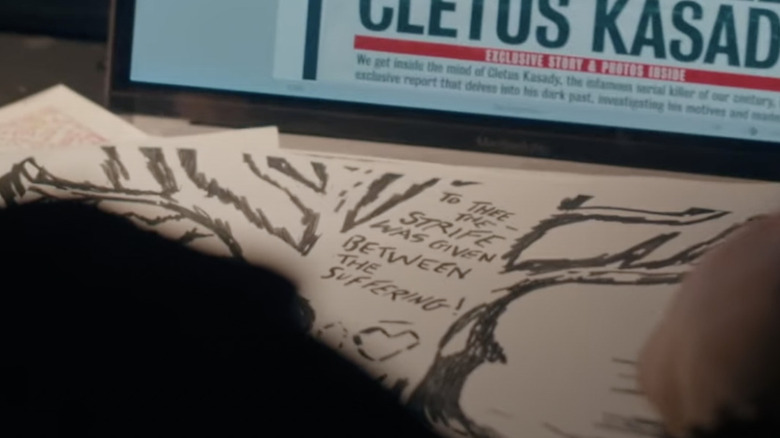 Sony Pictures
During the trailer, Eddie Brock sits down at his desk and looks at a Daily Bugle article on his computer, where Cletus Kasady is making headlines for his crimes. While he looks over the report, some drawings are scattered in front of him on his desk. We suspect these connect to Cletus as well, but the words written on one of these drawings are very telling. Written inside the trunk of a large tree are the words "to thee the strife was given between the suffering." Poets and literary enthusiasts will recognize this as a part of a stanza in Lord Byron's "Prometheus." There is also a heart drawn on the tree, which would match the poem as Byron was an English romantic writer.
"Prometheus" is about the Greek Titan of the same name. Known as the God of Fire and a trickster, he often helped humanity by stealing fire and giving it to humans. A traitor to the gods, and a friend of humans, Prometheus was punished by Zeus for his "crimes." The poem primarily focuses on what happens when one resists tyranny and how powerful that is. It'll be quite interesting to see how this quote directly connects to Cletus, as well as why it's something that Eddie appears to be analyzing.
The Daily Bugle looks a little different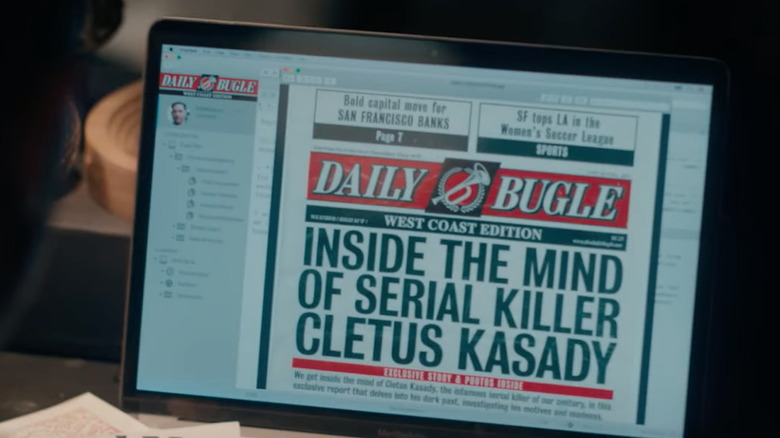 Sony Pictures
The new trailer also references The Daily Bugle, Marvel's most famous in-universe newspaper. Since Peter Parker and Eddie Brock both worked for the company in the comics, it isn't surprising that the sequel calls back to the publication. Detective Mulligan (Stephen Graham) is reading a copy of the paper in the first trailer, and the new footage shows Eddie working on his exclusive interview with Cletus Kassady (Woody Harrelson) for the Bugle.
The layout of the paper's next edition is shown on Eddie's laptop, using the same logo design as the Sam Raimi "Spider-Man" trilogy. But the paper's masthead also reads "West Coast Edition," so clearly the New York-based outlet has expanded across the U.S. This honors Eddie's comics backstory while also keeping him away from New York so that Sony doesn't have to answer why he hasn't met a certain Web-Slinger yet. But should Sony and Marvel Studios ever decide to pit Venom against Tom Holland's Spider-Man, Brock working for The Daily Bugle would be an easy way for them to collide.
A stunning first look at Shriek's powers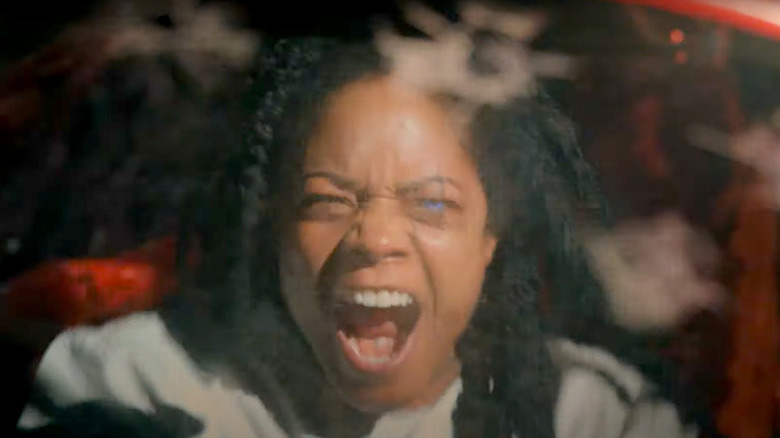 Sony Pictures
Aside from all the Symbiote shenanigans, the trailer also gives fans a better look at Naomie Harris as Shriek, locked up in the Ravencroft Institute for the Criminally Insane but Woody Harrelson's Carnage (presumably) breaks her out. Harris briefly appeared in the first trailer for the sequel, which showed Shriek's glowing eye as she's curled up in her Ravencroft cell, but this new footage finally revealed her ear-piercing powers. The villain unleashes a devastating scream in a car, smashing the windshield. This is probably after her escape from the institute since she's still dressed in the same white detention outfit.
Shriek is a mutant in the comics, but it's not clear if this version of the character will have the Mutant Gene/X-Gene in the "Venom" sequel because Marvel Studios holds the rights to mutants and the X-Men. Per Fandom, Shriek is abused by her mother growing up, pushing her into a life of crime. Her mutant powers emerge after Cloak, another Marvel hero, briefly traps her in the Darkforce Dimension.
Shriek's eye is also glowing bright blue as she's screaming in the new trailer, which could actually be a nod to another surprising ability she has. Not only can she unleash a sonic scream, she can draw out someone's inner darkness using her "Dark Empathy" which causes her victims to commit unspeakable acts. Since she'll be partnering up with Woody Harrelson's Carnage, it wouldn't be surprising if she helps turn San Francisco upside down using her manipulative skills.
A shoutout to Axel Foley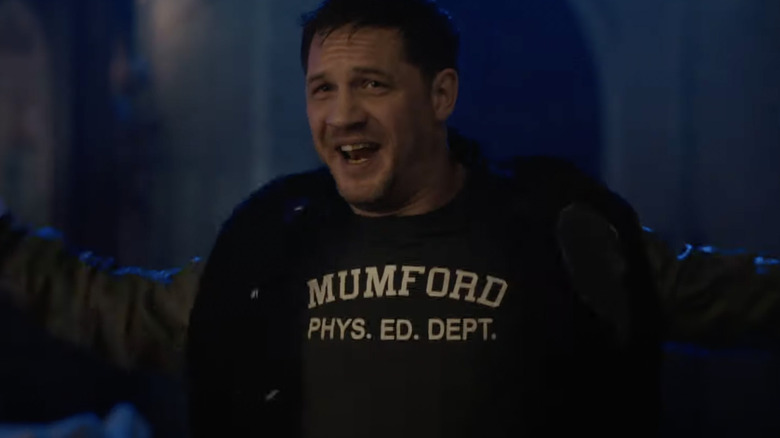 Sony Pictures
In several trailer scenes, Eddie Brock is seen wearing a tee-shirt underneath his leather jacket that reads "Mumford Phys. Ed. Dept." This isn't just some random shirt the wardrobe department decided to throw on Tom Hardy, and it's one of the more fun easter eggs from the trailer. Fans of "Beverly Hills Cop" should recognize this shirt immediately, as Eddie Murphy wears it in the R-rated '80s film. Murphy's character Axel Foley is an alumnus of the real-life Detroit high school, and he wears a white and grey version of the shirt in the film. In fact, "Beverly Hills Cop" producer Jerry Bruckheimer graduated from the school as well.
The directors of "Beverly Hills Cop 4" — which seems to be stuck in developmental limbo — revealed in 2017 that they would love to have either Hardy or Channing Tatum as the sequel's main antagonist. According to JoBlo, directors Adil El Arbi and Bilall Fallah mentioned on the Holland television show "The World Turns" that either actor would be a great contender to go up against Axel, but nothing has since been confirmed. Is this Hardy's way of telling us he's been cast or is interested in the film? Probably not, but here's hoping.