Why The Polka-Dot Man In The Suicide Squad Looks So Familiar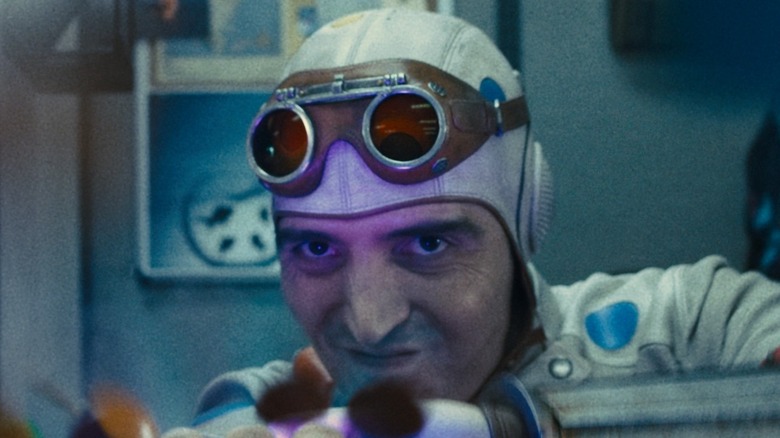 Warner Bros.
Following the smashing success of his "Guardians of the Galaxy" movies in the Marvel Cinematic Universe, writer-director James Gunn has hopped over to DC superhero movie realm with "The Suicide Squad." The film — which is technically more about antiheroes than it is about superheroes — features a massive ensemble of talented actors, some of which have worked with the filmmaker before, and others are entirely new to the Gunn experience.
Among those working with Gunn for the first time, at least in the directorial realm, is acclaimed actor David Dastmalchian, who was featured in the Gunn-penned horror thriller "The Belko Experiment" in 2016. Gunn is doing double-duty again as the writer and director of "The Suicide Squad," which stars Dastmalchian as the Polka-Dot Man. The inclusion of the obscure character in the film came in a serendipitous turn of events, after Gunn said at a press event for the film that he searched Google for the "dumbest supervillain of all time," an inquiry that yielded the Polka-Dot Man, aka Abner Krill.
As such, Gunn said it was fun to "take a character like that and then give him heart" and Dastmalchian, a lifelong comic book fan, dove at the unique opportunity to play him. Even so Dastmalchian said that he was embarrassed to admit hadn't heard of the Polka-Dot Man before Gunn unearthed the character for the screenplay. The Polka-Dot Man's footnote status in popular culture will no doubt change when Gunn and Dastmalchian unleash "The Suicide Squad" to the masses. And while you might not have heard of the Polka-Dot Man either, you certainly know the face of the actor who plays him. Here's why David Dastmalchian looks so familiar.
David Dastmalchian was the Joker's henchman who taunted Harvey Dent in The Dark Knight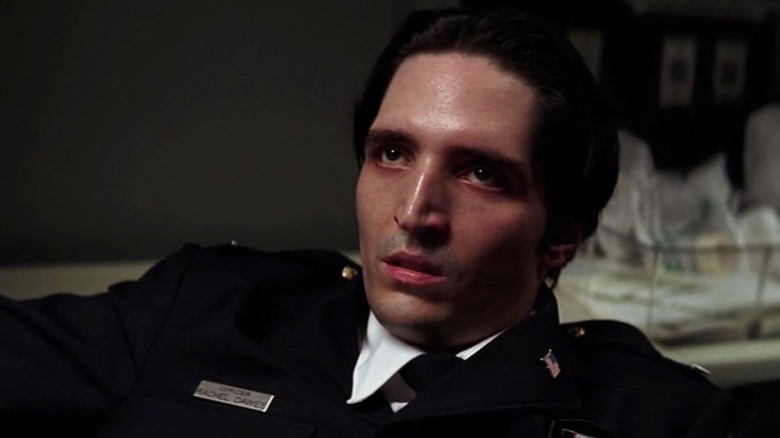 Warner Bros.
Dastmalchian's first big film break came with a small but impressionable supporting role in Christopher Nolan's 2008 blockbuster "The Dark Knight." Dastmalchian plays The Joker's (Heath Ledger) henchman Thomas Schiff, who was part of the fake memorial honor guard at the funeral of slain Police Commissioner Loeb (Colin McFarlane). The Joker's plot at the memorial was to assassinate Gotham City Mayor Anthony Garcia (Nestor Carbonell), which was failed since Lt. James Gordon (Gary Oldman) shielded the mayor and seemingly gave his life doing so.
After the thwarted assassination attempt, District Attorney Harvey Dent (Aaron Eckhart) captures Schiff and brings him to an isolated location to interrogate him. Since Schiff isn't giving up any information, Dent a gun to his head and mulls whether to shot him depending on the outcome of a (secretly double-headed) coin flip, which interrupted by Batman (Christian Bale). Dastmalchian's scenes opposite Eckhart were easily among the most haunting in the film, punctuated by his maniacal laugh when Dent discovers Schiff is wearing a Rachel Dawes (Maggie Gyllenhaal) name plate.
David Dastmalchian played one of Paul Rudd's crew members in the Ant-Man movies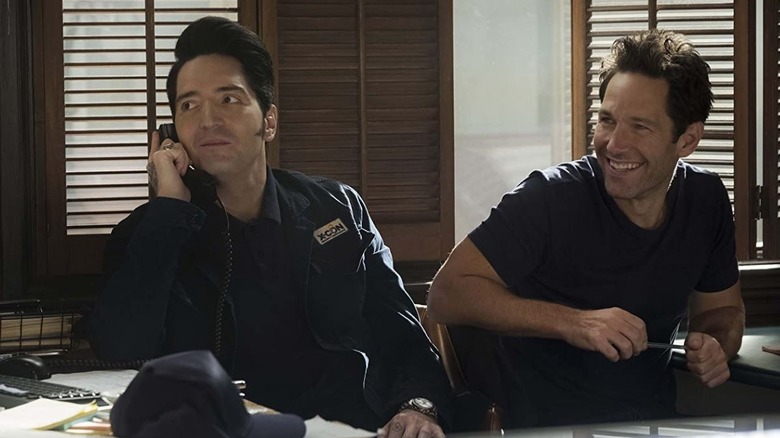 Disney/Marvel Studios
Making a shift from a DC film to the MCU, Dastmalchian played Kurt, one of Scott Lang's (Paul Rudd) three ex-convict buddies (along with Michael Peña as Luis, and T.I. Harris as Dave) and partners in crime in the 2015 hit "Ant-Man." Sporting an Elvis Presley-like pompadour, Dastmalchian was so memorable in "Ant-Man" that he, Peña and Harrs reprised their roles in "Ant-Man and the Wasp."
In the 2018 superhero sequel, Scott, Kurt, Luis and Dave now have a company called X-Con Security Consultants, putting their experience on the wrong side of the law to do good. Like they did in the first film, Dastmalchian and company put their comedic gifts to work. One of the laugh-out-loud highlights came when Kurt — spooked by the sudden appearance and disappearance by the villain Ghost (Hannah John Kamen) — bursts into singing "Baba Yaga Lullaby." And for the record, so to speak, Dastmalchian's short but hilarious tune is featured on the official "Ant-Man and the Wasp" soundtrack.
Two DC TV series featured Dastmalchian as a guest star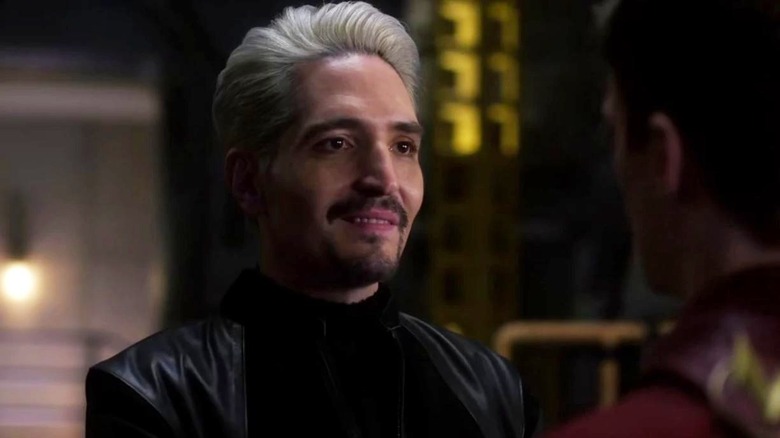 The CW
In between his "Ant-Man" gigs, Dastmalchian hopped back into the DC realm with guest turns in two different series based on the comic book publisher's legendary properties. The first came in a two-episode appearance in Season 3 of the Batman origin series "Gotham" in January 2017. Dastmalchian plays Dwight Pollard, an ardent follower of the deranged mass murderer Jerome Valeska (Cameron Monaghan). Having partially learned to raise the dead while working at the Indian Hill research facility beneath Arkham Asylum — and honing his craft as while working at the Gotham City Morgue — Pollard is responsible for resurrecting Valeska to continue his reign of terror.
Dastmalchian's next appearance in the DC TV universe came in March 2013 in Season 3 of "The Flash." He plays Philippe, aka Abra Kadabra, whose technologically advanced "magical" gifts resemble 21st century sorcery. A time-traveling menace from the 64th century, Abra Kadabra reveals that he's been enemies for years with Barry Allen, aka The Flash (Grant Gustin), in the future. As for future episodes for Dastmalchian in "The Flash," he reprises Abra Kadabra — who is back with a vengeance — in Season 7 of the series in March 2021.
Dastmalchian and MCU star Karen Gillan were in the indie thriller All Creatures Here Below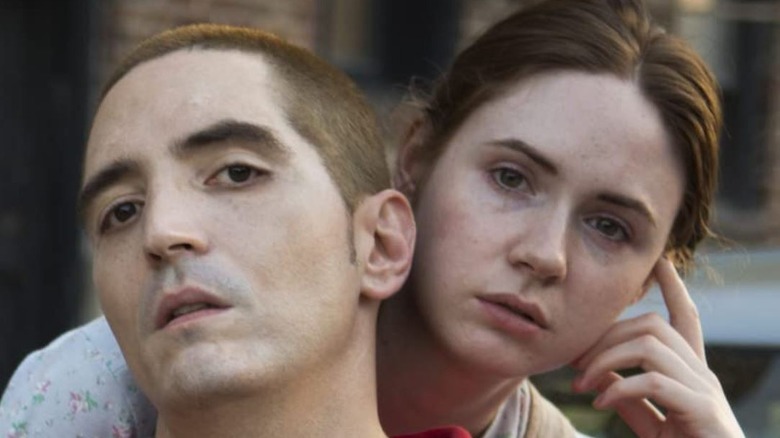 Samuel Goldwyn Films
While Dastmalchian has found great success in studio film and television projects, he hasn't forgotten about the independent film roots. As such, in 2018 he completed his indie passion project "All Creatures Here Below," which he starred in and wrote the screenplay for. The film has a big connection to the MCU for Dastmalchian: he stars opposite "Guardians of the Galaxy" Nebula actor Karen Gillan. Dastmalchian and Gillan play Gensan and Ruby, a struggling couple on the run from authorities after Gensan kills a man; and Ruby, who has a diminished mental capacity, kidnaps a neighbor's baby.
"All Creatures Here Below" marked Dastmalchian's second feature film as the scribe and the star. In 2014 he wrote and starred in the acclaimed film festival hit "Animals," about a couple, Jude (Dastmalchian) and Bobbie (Kim Shaw), struggling to survive while they each battle addiction. The film is partially based on Dastmalchian's own struggles with addiction before he made his recovery. "Animals" was directed by Collin Schiffli, who also collaborated with Dastmalchian in "All Creatures Here Below."
MacGyver's adversary Murdoc was played by Dastmalchian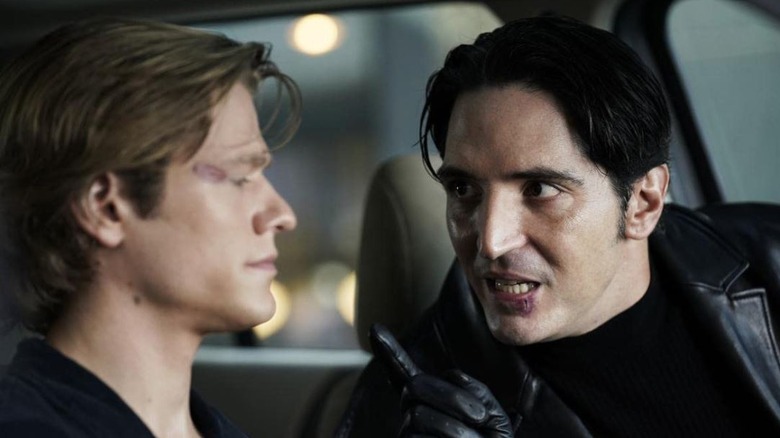 CBS
On top of his film work, Dastmalchian has found time for plenty of roles on TV, including a recurring gig on the 2016 reboot of the series "MacGyver." Lucas Till assumed the role of Angus "Mac" MacGyver (first made famous by Richard Dean Anderson), a resourceful operative of the covert government organization that operates that is fronted by a company called the Phoenix Foundation. One of his foes throughout the series' five-season run is the assassin Murdoc (Dastmalchian), who always has Mac or other members of the Phoenix Foundation in his crosshairs.
In addition to "MacGyver," Dastmalchian's TV appearances include a three-episode run on the revival of David Lynch's esoteric series "Twin Peaks." Dastmalchian also starred in the stylish crime series "Reprisal," about Katherine Harlow (Abigail Spencer), a woman seeking revenge on gang of gearheads called the Banished Brawlers that attempted to kill her and left her for dead years before. Dastmalchian plays Johnson, a member of the 3 River Phoenixes, a gang within the Banished Brawlers gang.
David Dastmalchian is a favorite of director Denis Villeneuve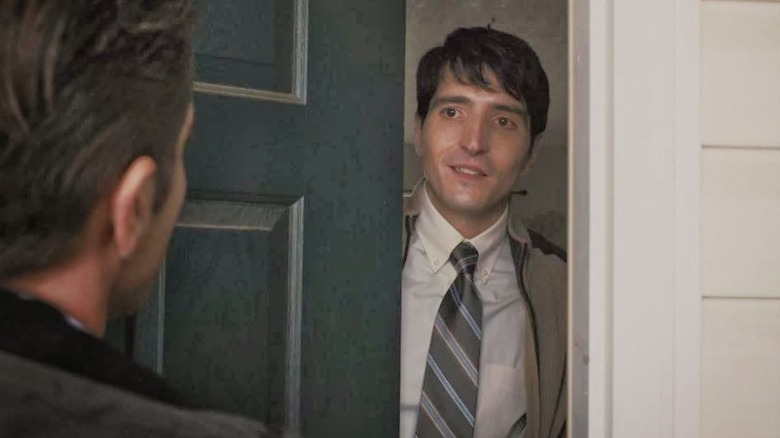 Warner Bros.
In a role as haunting as his appearance in "The Dark Knight," esteemed director Denis Villeneuve cast Dastmalchian in the pivotal role of Bob Taylor in his 2013 crime thriller "Prisoners." The film stars Hugh Jackman, Viola Davis, Maria Bello, and Terrance Howard as a pair of parents whose children go missing while playing outside and are presumed kidnapped. A detective on the case, played by Jake Gyllenhaal, tries to narrow down potential suspects, including Taylor, a reclusive loner who seems to fit the profile. However, it turns out that Taylor is innocent of any wrongdoing; but as it is revealed that he's a victim of a horrible crime himself, his life comes to a tragic end.
Since his impactful appearance in "Prisoners," Dastmalchian has become a mainstay in Villeneuve's movies, including a supporting role in the "Blade Runner" 2017 sequel "Blade Runner 2049." Harrison Ford reprises his role of Blade Runner Rick Deckard from the 1982 original, while Dastmalchian plays Coco, a lab technician with the LA Police Department. Dastmalchian's third film with Villeneuve is the long-awaited sci-fi epic "Dune," set for an October 22 release. As part of an all-star cast that includes Timothée Chalamet, Jason Momoa, Rebecca Ferguson, Oscar Issac, and Zendaya, Dastmalchian plays Piter De Vries — a twisted Mentat who serves the evil Baron Vladimir Harkonnen (Stellan Skarsgård).
David Dastmalchian plays the horror TV host promoting his Count Crowley comic book series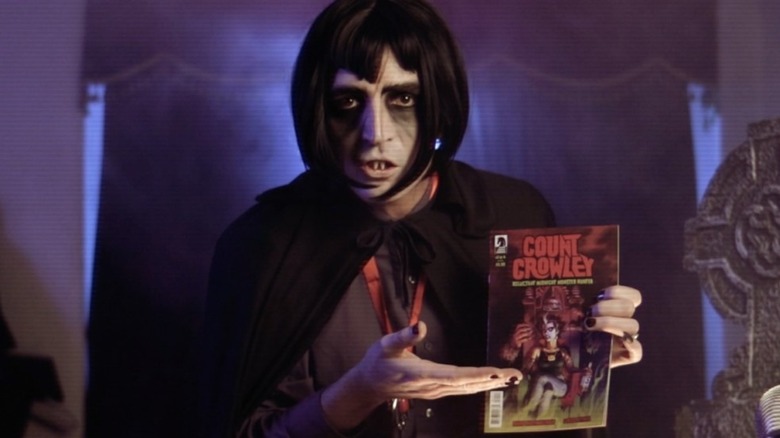 Dark Horse Comics
As a diehard comic book fan, Dastmalchian got to realize a lifelong dream of creating his own comic book series with "Count Crowley: Reluctant Midnight Monster Hunter" in 2019. Published by Dark Horse Comics, the story follows Jerri Bartman, a disgraced journalist who takes a job at a small TV station in her hometown. But this isn't an ordinary TV job. As it turns out, Jerri has been hired to play "Count Crowley," the host of a late-night horror show at the station who finds out monsters are real — and she's one of the few people that can stop them. But in order to do that, Jerri, who struggles with addiction, must get sober.
While it's Dastmalchian's words that are predominantly featured in "Count Crowley: Midnight Monster Hunter" (Lukas Kentner did the artwork), the actor has put his on-camera skills to work to promote the comic book series. In a trailer from Dark Horse to promote the first issue of "Count Crowley," Dastmalchian stars as Dr. Fearless, the late of late-night TV horror show.