The Surprising Movie Arnold Schwarzenegger Calls His Best Film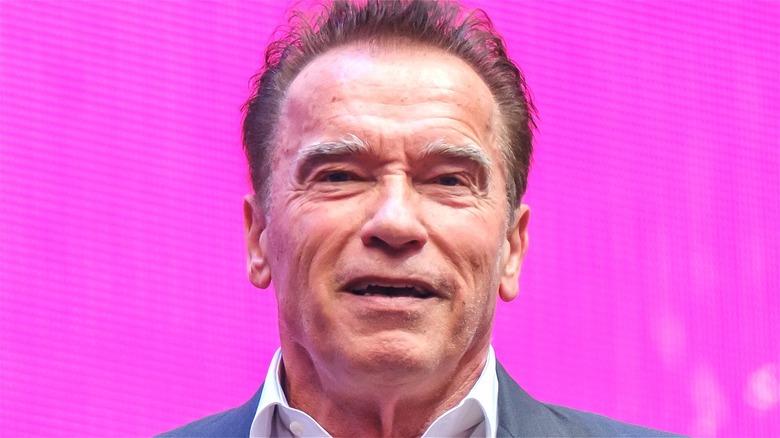 Shutterstock
In late 1968, a 21-year-old kid by the name of Arnold Schwarzenegger departed his native Austria for the United States. With dreams of reaching his fullest potential in life, his hard work and perseverance helped him to accomplish everything he set his mind to and then some. In no time at all, he conquered powerlifting, was crowned Mr. Olympia and Mr. Universe on several occasions, and became one of the most notable and influential athletes in the bodybuilding game. Never one to rest on his laurels, Schwarzenegger soon set his sights on another professional venture: acting.
Arnie's first gig — credited as "Arnold Strong" — came in the 1970 fantasy-comedy "Hercules in New York," thus beginning his love affair with the silver screen. From that point on, he gained further notoriety in Hollywood through projects such as "Conan the Barbarian," "The Terminator," and "Predator," eventually achieving superstardom by the time the 1980s came to a close. In the decades that followed, Schwarzenegger continued his reign atop the cinematic heap and added even more beloved titles to his impressive filmography — cementing his legacy as an entertainment icon.
Arnold Schwarzenegger's countless fans have never been shy about sharing which of his movies stand among their favorites, but one has to wonder which one he believes was his best. Here's the surprising film that the man himself chose and why it's so important to him.
Kindergarten Cop holds a special place in Arnold Schwarzenegger's heart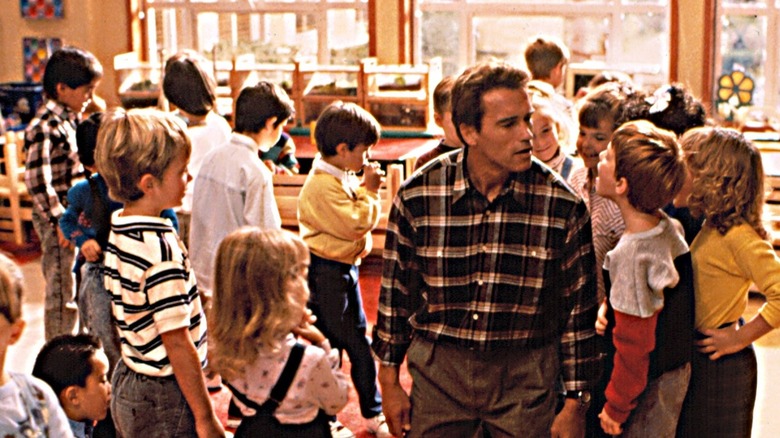 Universal Pictures
Of the numerous credits to Arnold Schwarzenegger's name, which one holds the prestigious title of his absolute favorite? Could it be 1988's "Twins" where he had the chance to work with big-screen legend Danny Devito? Or perhaps one of the "Expendables" films that he starred in throughout the 2010s alongside his former rival Sylvester Stallone? Well, according to the once governor of California, the project that stands out to him above all others is the 1990 action-comedy "Kindergarten Cop."
"I think Kindergarten Cop is my favorite," Schwarzenegger told James Corden in 2015 (via Digital Spy), mentioning that it meant so much to him because it gave him the chance to break free of his action hero stigma. Studios had typecast him for years, but "Ghostbusters" director Ivan Reitman took a chance on Arnie in a comedic role, granting him the opportunity he'd desired. "Then, when I finally met Ivan Reitman and when we did 'Twins,' and then we did 'Kindergarten Cop,' I was in heaven. It was such a great director and working with Danny DeVito. It was really great."
"Kindergarten Cop" features Arnold Schwarzenegger as Detective John Kimble, who goes undercover as a kindergarten teacher to stop a slippery drug dealer named Cullen Crisp (Richard Tyson). Along the way, he winds up realizing a dormant love for education and ultimately chooses to retire and become a teacher full-time once the case was solved. It's far from a critical favorite, but we have it to thank for such famous lines as "It's not a tumor!" and "I'm Not A Policeman, I'm A Princess!" that are quoted to this day.
All in all, "Kindergarten Cop" is far from a perfect movie, but between its high praise from Arnold Schwarzenegger himself and its enduring legacy, it's a memorable piece of cinema nonetheless.