Jay Garrick's Stargirl Crossover Is More Important Than You Might Think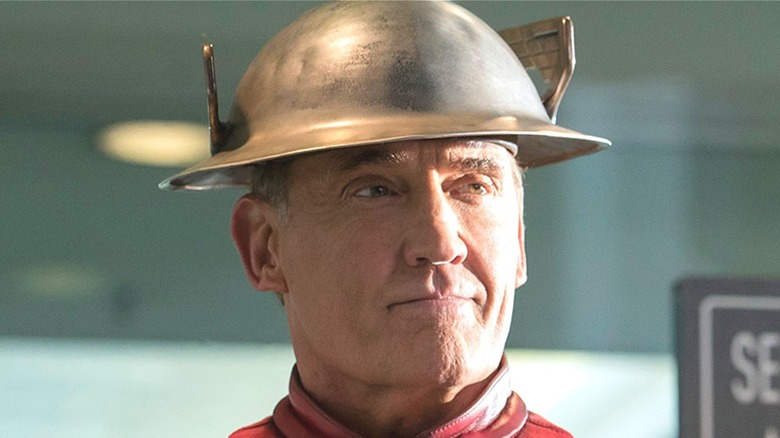 The CW
In the lead-up to the premiere of Season 2 of "Stargirl" on The CW, fans have already seen teasers for major DC characters arriving on the show, such as Jade, the daughter of Green Lantern. Fans have had to wait to understand what those new connections might mean, but it seems that one of those crossovers, featuring the original version of The Flash, could have some wide-ranging implications for "Stargirl" and the entire DC Universe of TV shows.
Fans have had some idea that actor John Wesley Shipp would appear as Jay Garrick in "Stargirl" Season 2 ever since promo images revealed the new cast members joining the show. While fans knew that the actor would represent the Golden Age edition of the famously fast superhero, it was not immediately clear how it might connect to the multiple versions of Earth set up by the DCEU.
However, thanks to a new explanation offered by show creator Geoff Johns, fans now know what John Wesley Shipp's brief appearance on The CW show might indicate. Here is what Jay Garrick's crossover on "Stargirl" really means.
Having Jay Garrick appear on Stargirl places the show in 'a grander universe'
In an interview with Entertainment Weekly, Johns spoke at length of his admiration for Shipp, who first portrayed the Barry Allen version of The Flash on the 1990 CBS series of the same name. Barry Allen is also the version portrayed by Grant Gustin on The CW's "The Flash," which premiered in 2014, and John Wesley Shipp has appeared in various roles on that show. However, the most important role he played in terms of "Stargirl" is Jay Garrick, a veteran superhero from the Golden Era.
Having Jay Garrick appear on "Stargirl," Johns says, "connects our universe directly with the other shows and also shows that we're part of a grander universe." Beyond that, Johns continued, Garrick's addition "opens up the door to opportunities for us to, eventually, interact with those characters."
Considering that the Arrowverse timeline now consists of 11 different TV series and nearly 40 seasons of television, forging this connection gives "Stargirl" an entirely new dimension to explore. Bringing in an experienced actor like John Wesley Shipp to portray the veteran superhero Jay Garrick will hopefully help provide a smooth transition for "Supergirl" to incorporate this universe while still maintaining its own identity.