Frank Fritz From American Pickers Has Way More Tattoos Than You Realize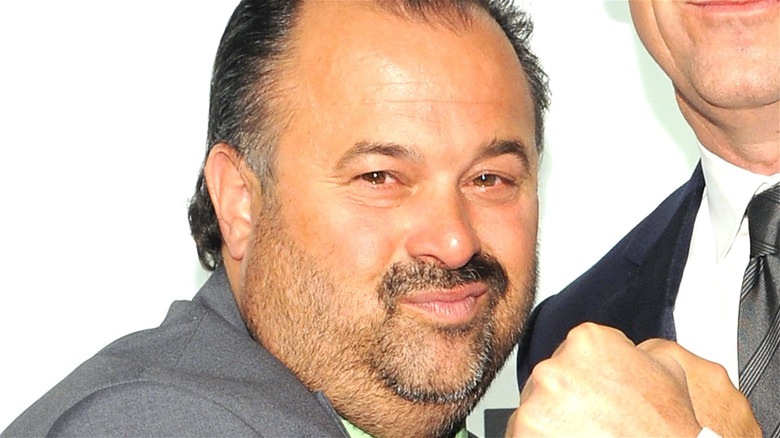 Brad Barket/Getty Images for A+E
Frank Fritz has been in the news a lot lately, and it's not for his picking acumen.
The former "American Pickers" star has been absent from the show since the middle of Season 21. Reports indicated he took some time off to focus on his health after recovering from surgery, but fans naturally assumed he'd be back on the road with his partner, Mike Wolfe, in no time. That was before the last couple of months when details emerged about an ongoing feud between Fritz and Wolfe. Apparently, Wolfe never reached out to Fritz in the aftermath of his medical procedure, and the two supposedly haven't spoken to one another in the last two years.
Many details have emerged about Fritz's life in the aftermath of all the drama, and out of everything, some fans may be most surprised to learn that Frank Fritz has tattoos for days. You can see some of the artwork on his arms throughout the series when he wasn't wearing one of his signature jackets. However, it does seem like he's received some new ink, complete with full sleeves across both arms. 
Frank Fritz has tattoos across his chest and arms now
Frank Fritz tends to keep a low profile. Even in the aftermath of the History drama, Fritz has kept details sparse, preferring to fly under the radar and focus on his health. However, if you have the patience to look across social media, you may come across a few pictures that show Fritz in all of his tattooed glory. 
Fritz always seemed to have a few tattoos when he appeared on "American Pickers," but Idol Persona got the inside scoop of ink he got within the last couple of years. The former picker stopped by Hawk's Tattoos to get full sleeves. He had some artwork on his arms while on the History series, which you could see every so often if his shirt rolled back a bit. However, he went all in, and you can see both sleeves in action, as well as his recent weight loss, on the Instagram account @hotchka2015.
That's not the only place where you can see his ink. The Instagram account for Shoofly Antiques posted a photo of a shirtless Fritz while he was at Sturgis Week, and he has several tattoos across his chest. Plenty of people were taken off-guard by the shot as one user commented, "I never would've guessed he would've been rocking all them tats!" He may be running out of clear skin, but don't be surprised if more tattoos materialize in the near future.