We Now Know How Much Scarlett Johansson Was Paid For Black Widow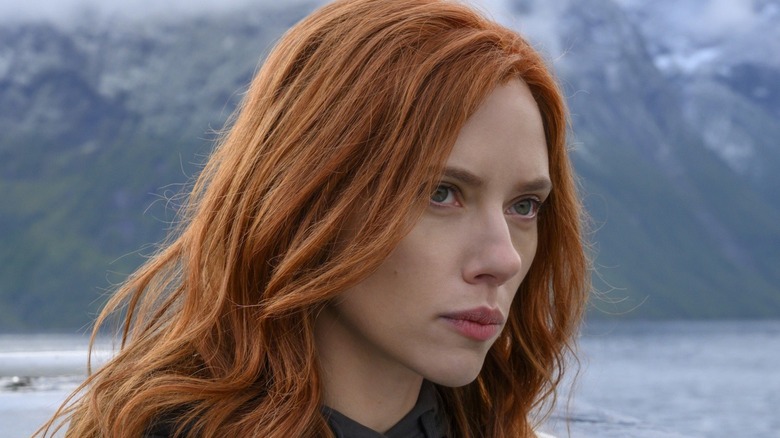 Marvel Studios/Disney
Black Widow has become one of the faces of the Marvel Cinematic Universe since she arrived in 2010's "Iron Man 2." She has taken part in some of the biggest tales ever told on the silver screen, asserting herself as an important part of the Infinity Saga — a series of Marvel films that culminated in 2019's "Avengers: Endgame," where Natasha Romanoff sacrificed herself to help her fellow heroes defeat the evil Thanos (Josh Brolin) once and for all. All the while, only one actress brought the mysterious super spy to life: Scarlett Johansson.
After sharing the spotlight with several other names, Johansson finally got one all her own via 2021's "Black Widow." The long-overdue solo movie took the prequel approach, finally giving us some insight into the past of the Black Widow character and the life she had pre-Avengers. It would also serve as the big sendoff for Natasha and the famed actress behind her by giving both of them the proper goodbye they didn't quite get in "Endgame." Even still, many fans are crossing their fingers in hopes that Black Widow will return to the MCU someday.
In reality, not only would it be difficult to rationalize Nat's return from the grave, but recent behind-the-scenes circumstances haven't helped this concept either. As revealed by The Hollywood Reporter, Scarlett Johansson is suing the Walt Disney Company over her "Black Widow" payday — one that's very impressive as it is. Here's how much she wound up bringing home.
Scarlett Johansson's Black Widow check was massive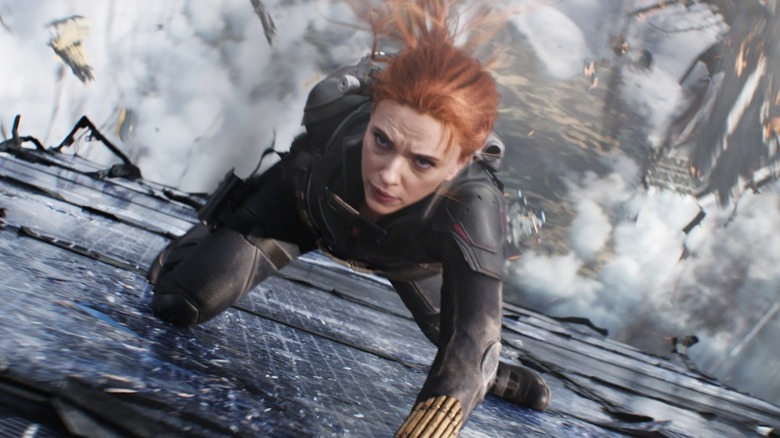 Marvel Studios/Disney
The catalyst for Scarlett Johansson's strong legal action is Disney's approach to releasing "Black Widow." It debuted both in theaters and Disney+ Premier Access, a move that the actress cited as a breach of her company contract. She claimed that their agreement stated the film would only see a widespread theatrical release, and its presence on streaming meddled with her payout. The complaint also notes that Disney made no attempt to renegotiate with Johansson over the situation, hence why she and her legal team felt compelled to file this lawsuit.
Johansson has earned $20 million from "Black Widow" at the time of this writing — roughly $6 million more than what she was paid for "Avengers: Endgame" and 50 times more than what she made for "Iron Man 2" (via Parade). Nevertheless, she's pursuing this case that a Disney spokesperson referred to as "sad and distressing," adding that the streaming release of "Black Widow" has granted her the opportunity to "earn additional compensation on top of the $20M she has received to date."
Where the legal conflict between Scarlett Johansson and Disney will go from here remains to be seen. A $20 million paycheck for a single film is nothing to scoff at, but she feels she has been wronged and cheated out of more, and she's clearly more than willing to do something about it.