Get Your First Look At Thor: Ragnarok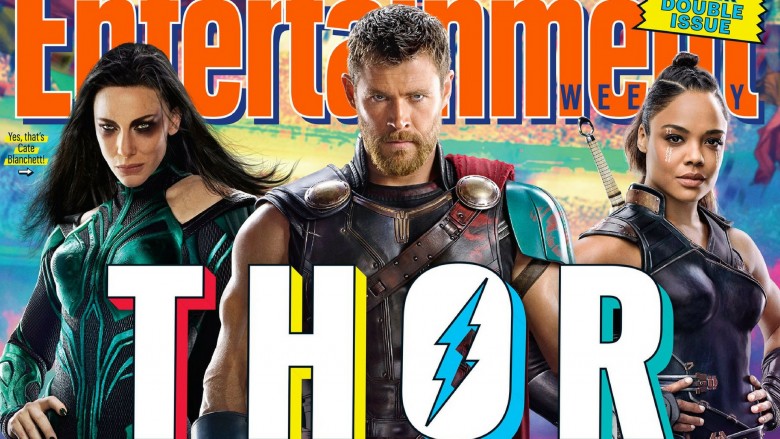 Entertainment Weekly
Marvel Studios president Kevin Feige promises that Thor: Ragnarok won't get stuck in "threequel-itis." In an interview with Entertainment Weekly, Feige, director Taika Waititi, and stars Chris Hemsworth and Cate Blanchett talked about the changes the upcoming movie, which is due out on Nov. 3, will make to the superhero franchise and how they think it will live up to its predecessors.
In the film, Thor finds himself trying to get back to Asgard to stop the ruthless Hela (Blanchett) from destroying his homeland and Asgardian civilization. First, though, he has to survive a deadly gladiatorial contest on the planet Sakaar, which Hemsworth says is "basically where every wormhole across the universe dumps out its trash, so you get people from all walks of life with all sorts of incredible abilities and powers."
"No one cares what prince or king Thor may have been in another world," he said. "Also, his strength is pretty easily matched with those he finds himself amongst," he added, teasing his fight against Mark Ruffalo's Hulk, who is the most successful and popular fighter on Sakaar.
Blanchett, who trained in capoeira with stuntwoman Zoe Bell for the part of Hela, said that the dangerous Goddess is going to be out for vengeance in the movie. "She's been locked away for millennia getting more and more cross, and then, with a mistake, she gets unleashed and she ain't getting back in that box," she said.
Ragnarok aims to refresh the franchise with a new, slightly funnier tone than other Thor movies, mostly thanks to Waititi. "Taika has such a quirky, left-of-field sense of humor, which forced all the characters and the tone of the whole story to head in a new direction," Hemsworth said. "Each day we were like, 'Are we pushing it too far? Are we allowed to have this much fun?'" Going along with the new tone is a new, shorter haircut for the Asgardian hero, which Hemsworth said felt like "a rebirth for me as the actor but also as the character."
Waititi defended the movie against critics saying that the humorous tone will be disingenuous to the series, saying, "I think sometimes people mistake a tonal shift as 'We're just going to make some ridiculous broad comedy where no one gives a s— what happens and everyone gets stoned and sits around talking about saving the universe.' We want people to care what happens and care that the hero succeeds. I think tonally it's like a slight shift. I don't feel nervous— I feel good about it."
Thor: Ragnarok also stars Tom Hiddleston, Tessa Thompson, Anthony Hopkins, Idris Elba, Karl Urban, and Jeff Goldblum. You can see even more photos from the film, including looks at the Hulk, the Grandmaster, and Loki, over at Entertainment Weekly. While we wait for the movie to premiere, see which characters we think are going to die in Marvel's Phase Three.