The Real Reason AHS: Freak Show Had So Many Musical Numbers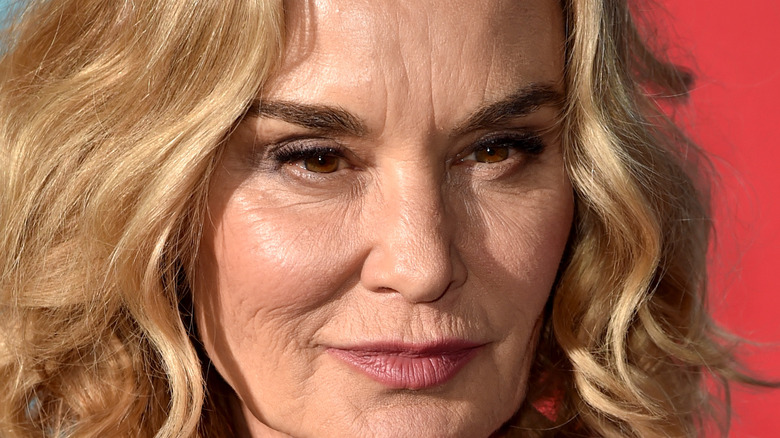 Kevin Winter/Getty Images
"American Horror Story" freaked fans out in a surprising way back in 2014 when the "AHS: Freak Show" season aired. The fourth season of the FX horror anthology was set in Jupiter, Florida, circa 1952, and it featured a cast of characters working in the dwindling freak show era, as well as a super-twisted Twisty the Clown (played by John Carroll Lynch). But perhaps even more twisted was the soundtrack. Despite its 1950s setting, the characters on "Freak Show" routinely performed songs that were released well after the time period depicted on the show.
In case you need a refresher, Evan Peters covered the 1991 Nirvana song "Come as You Are," Sarah Paulson's conjoined twin characters Bette and Dot performed Fiona Apple's 1997 hit "Criminal," and Emmy winner Jessica Lange delivered a pair of unlikely tunes: Lana Del Rey's "Gods and Monsters," which dropped in 2012, and David Bowie's 1971 song, "Life on Mars," per Pop Sugar.  Unless these freaky people were time-traveling into the future, the song selections made no sense — at least at first.
The musical numbers were a tribute to a famous director
A Reddit thread devoted to the topic teased the "AHS" cast "agreed to try their hands at the singing" after Jessica Lange's famous performance of "The Name Game" in "AHS: Asylum" the season before. But why the wacky musical selections that didn't line up with the era depicted on the show? Showrunner Ryan Murphy told E! News the music was "an homage" to his idol, Australian director Baz Luhrmann, who is known for adding a hip touch to his period pieces with far more modern soundtracks. In Luhrmann's 2001 film "Moulin Rouge," for example, Nirvana's "Smells Like Teen Spirit" plays during a turn-of-the-century dance party in Paris.
"We didn't want to do 'Happy Days,' we didn't want to do all '50s music," Murphy explained of the "Freak Show" soundtrack. "So, what we did was, we decided to do musical numbers ... that feature artists who have identified as odd, different freaks, that felt like outcasts. We did Lana Del Rey, Kurt Cobain, David Bowie. People who I admire who really changed the landscape of music, based on them feeling like outsiders."
Series star Sarah Paulson explained to Vanity Fair that Luhrmann "creates these worlds that are so hyper-real and hyper-fantasy-based all smushed into one thing," and that the style worked with the "tone" of "American Horror Story: Freak Show." "Ryan had some prerequisites in terms of how the songs were chosen," she added. "The songs all had to be chosen by people who identified themselves as freaks."