The Die Hard Prequel Has Officially Been Scrapped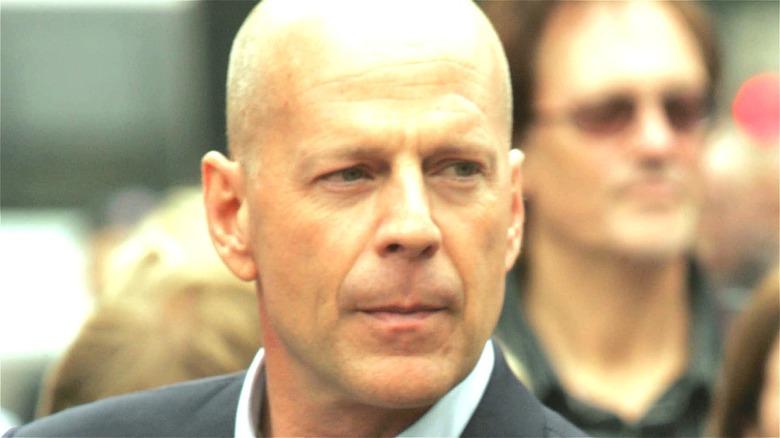 Shutterstock
The "Die Hard" franchise has thus far included five films, between John McClane's debut in 1988 and, most recently, "A Good Day to Die Hard" in 2013. It's a bit odd that cinemas have gone so long without McClane's presence, considering the more than eight years that have passed since the most recent "Die Hard" movie released have already amount to the second-longest amount of time without a "Die Hard" since the series began — trailing only the 12 years between "Die Hard with a Vengeance" in 1995 and "Live Free or Die Hard" in 2007.
That said, rumblings of a new "Die Hard" have been circulating for some time now, in various shapes and forms. Back in 2016, "Live Free or Die Hard" director Len Wiseman detailed a prequel concept, "Die Hard: Year One," that would also serve as a sequel — by telling two stories weaved within one another, about John McClane's origin story, as well as his final mission. 
Then, in 2020, Bruce Willis' daughter Rumer Willis shared what appeared to be a teaser for new "Die Hard." This was a false alarm, however. The new "Die Hard" being teased was not a canonical film, but simply a tie-in commercial for Die Hard Batteries, which starred Willis' John McClane (via @AdvanceAuto on Twitter).
Since the battery commercial proved to be a misdirect, fans were essentially left in the dark for years about the planned "Die Hard" prequel, save for learning its new title — "McClane" — which was announced in an interview with producer Lorenzo di Bonaventura via Empire in 2018. Now, though, as of July 2021, it appears the "Die Hard" prequel has officially been confirmed as a no-go.
The Die Hard prequel has... died hard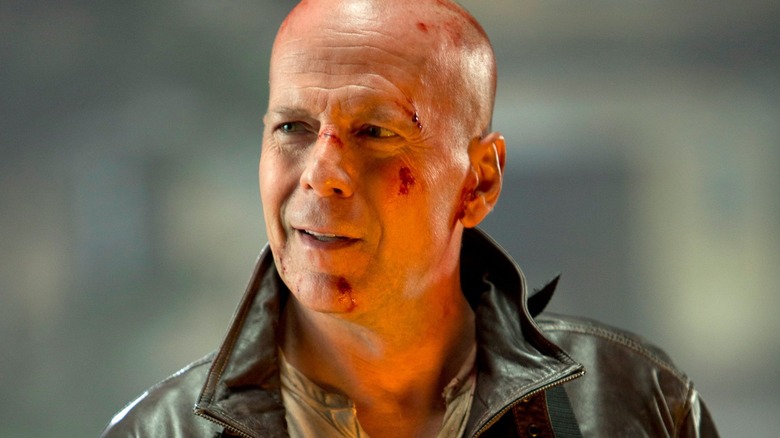 20th Century Studios
In 2021, Lorenzo di Bonaventura, who also produced the new "G.I. Joe" prequel "Snake Eyes," told Polygon outright during an interview otherwise focused on "Snake Eyes" that, in his words, "McClane" is "not happening." In no uncertain terms, then, the project seems to be officially dead in the water. Di Bonaventura did, however, provide some additional details about the concept for what was once "McClane," noting that it would've taken the dual prequel-sequel approach, as previously outlined, where a new actor could play the young John McClane, while Bruce Willis returned to play the contemporary hero.
"What was really interesting," said di Bonaventura, "was we actually came up with an idea to do it. It was a project that wasn't Die Hard that then, eventually, shifted over to Die Hard."
As Polygon points out, this wouldn't have been the first time a "Die Hard" movie would have originated as a script once untethered to the franchise. The original screenplays for what would become both "Die Hard 2" and "Die Hard with a Vengeance" were ultimately reworked from unrelated stories to include John McClane as their lead.
Now that "McClane" is no longer a go, the future of "Die Hard" is uncertain. "I don't know what their plans are," di Bonaventura said, referring to Disney, who now owns the "Die Hard" franchise following their acquisition of Fox. 
That said, like most popular franchises, "Die Hard" could very well continue under Disney's stewardship if the company simply determines a new "Die Hard" to be something enough fans want to see. The final product just won't be "McClane."