Who Is The Actress In The AHA Sparkling Water Commercial?
What you've got right here is a classic slogan-inducing television advertisement. We used to get them all the time in the '90s, back when the simple act of turning on your TV had the potential to make you wanna Fanta to give you a break from thinking outside the bun while you got milk.
Still, a catchphrase can only permanently embed itself in your noggin if a properly charismatic spokesperson is backing it up. In the case of AHA, the fact that your cubicle mate is going to be asking "Can I get an AHA?" for the next several weeks is very much the fault of its ad campaign's talent.
The commercial features a pair of proprietary double-dutch speakers, trying to decide what to have for dinner. On one side of the discussion is Colton Dunn, best known for his role on the long running sitcom "Superstore." On the other, one Lauren Lapkus, star of improv stages, podcasts, movies, and television programs.
Lauren Lapkus has been everywhere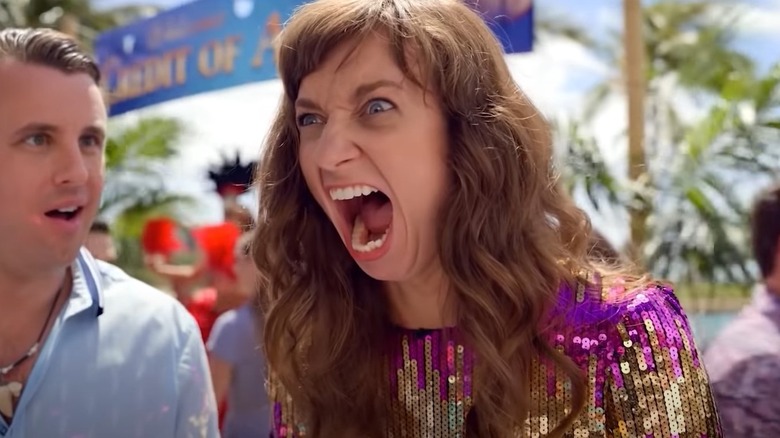 Netflix
Lapkus's work in the AHA commercial is a return to the old days for the performer, who got some of her first recognizable work in an ad for Snickers nearly a decade ago. In 2013, her career took two steps forward when she was cast as prison guard Susan Fischer on "Orange is the New Black."
A veteran of the UCB Theater and iO, Lapkus has comedic talent for days. She became a regular guest on Scott Aukerman's "Comedy Bang! Bang!" podcast in the early 2010s, and continues to contribute to the show, also co-hosting the "Threedom" podcast alongside Aukerman and Paul F. Tompkins. In 2015, she broke into Hollywood blockbusters, playing park technician Vivian in "Jurassic World." In 2020, she starred as the eponymous Wrong Missy in Happy Madison and Netflix's "The Wrong Missy." That same year, she narrated the documentary "The Last Blockbuster" and appeared in the Hulu sensation "Happiest Season" as Crystal the mall security guard. Overall, as careers go? Not so ba-aha-d.