These First-Look Lucifer Season 6 Photos Are Extremely Revealing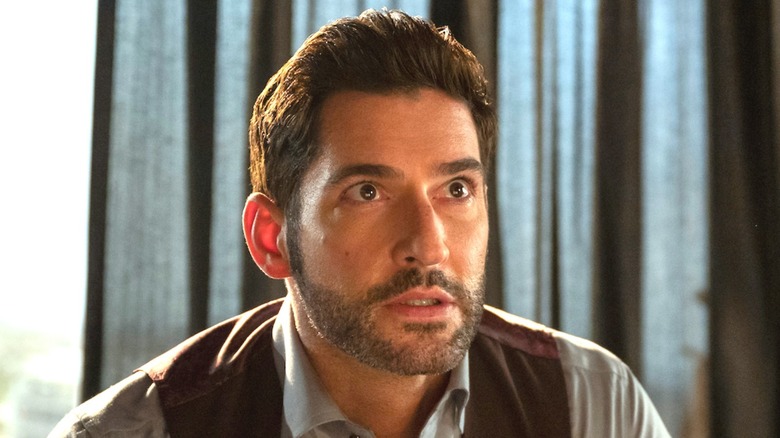 Netflix
Season 5 of Netflix's supernatural series "Lucifer" features a lot of big moments, some happy and some not so much, and they will have a major impact on the sixth and final season. Starring Tom Ellis as Lucifer Morningstar, the Devil living in Los Angeles, "Lucifer" Season 5 has the charming police consultant facing off against his dear brother Michael, also played by Ellis, who is enacting a plan to take over as God. 
A lot of Michael's plan involves hurting Lucifer and those around him, including Detective Chloe Decker (Lauren German), Amenadiel (D. B. Woodside), Mazikeen (Lesley-Ann Brandt), and even Detective Dan Espinosa (Kevin Alejandro). At the end of Season 5, Dan meets a tragic fate while fighting against Michael's hired French mercenaries, getting shot and dying in Chloe's arms. A major reason why the choice was made to kill off Dan was that the team behind "Lucifer" thought that Season 5 would be the show's last, but then Netflix surprised everyone with a final Season 6. 
Fans have mixed emotions about the upcoming final season, which is expected to hit the streaming platform on September 10, 2021, and just as Dan's death looms over everything Lucifer and the rest of the characters decide to do, fans don't really know how to face the loss of Dan in the final episodes. But luckily for everyone involved, Dan isn't completely gone and will definitely be a part of Season 6, and new official images hint at exactly how this might happen.
New photos hint at how a fan-favorite character will return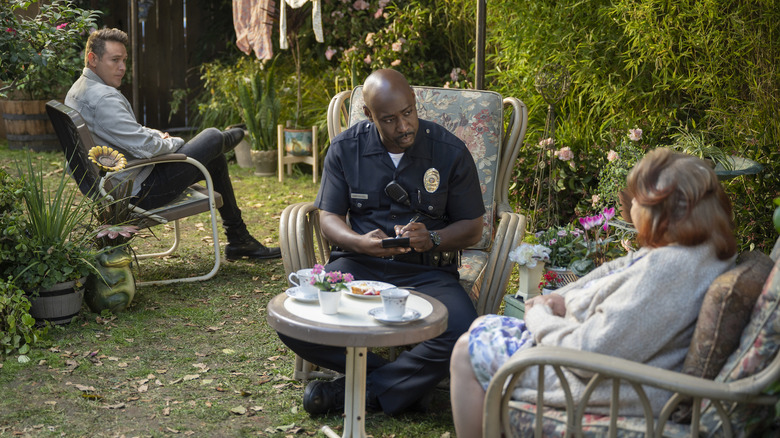 Netflix
Netflix just released a bunch of new images of the upcoming episodes, shared by TVLine, which reveal a sneak peek at Lucifer's new life as God and how that changes his relationship with Chloe, along with next steps for characters like Mazikeen and Eve (Inbar Lavi), Linda (Rachael Harris), and Amenadiel. One particular photo shows Amenadiel in an LAPD uniform, as he joins the police force after Dan submits his application. But there's a surprising appearance in the photo, and that's Dan himself. While Amenadiel appears to be interviewing someone for a case, with a notepad and pen in hand, Dan is sitting in another chair in the back watching over him, described in the article as a "very special mentor" for Amenadiel. It seems like Dan's role in Season 6 might be either as a memory or vision for Amenadiel, a manifestation of his inner conscious taking the form of a dear friend.
In an interview with Entertainment Weekly, Alejandro revealed that he suggested to showrunners Joe Henderson and Ildy Modrovich that Season 5 should be the end for Dan before they ever knew about Season 6 of "Lucifer." After the renewal was announced, the showrunners approached Alejandro with an idea of how his character can return for the last season, saying that "we know how to do this in a respectful way that is not going to lower the quality of storytelling that we've already established in the beginning." While Dan will be a part of Season 6, Alejandro reminded fans that Dan really does die in Season 5, and that's technically the end of his journey. So "he is back in some capacity, not the way you expect it, but he's there. He's part of the world." Fans will have to wait and see how Netflix ends the story of Lucifer, Chloe, Dan, and the others when Season 6 of "Lucifer" premieres on the streaming platform this fall.