The Strange Way Friends Taught Snake Eyes' Samara Weaving About G.I. Joe - Exclusive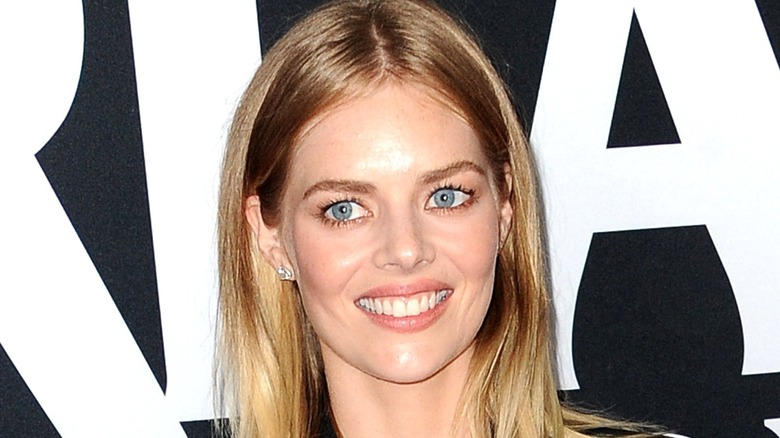 Shutterstock
The "G.I. Joe" franchise has been an American cultural phenomenon since it spawned from a set of 12-inch military themed action figures by toymaker Hasbro in 1964. With all of the solider figures saddled with such generic names such as "Action Marine," "Action Solider" and "Action Sailor," the "G.I. Joe" franchise got a bit more personable in the early 1980s with the release of Marvel Comics' "G.I. Joe: A Real American Hero" comic book series, which game names to the heroes and villains, and spawned an action figure line and animated series. As such, there are multiple avenues by which anyone could have learned of the franchise.
While "G.I. Joe" has grown into a global brand in the last four decades, not everyone in the world knows of the "Real American Hero"; for a time, that included Australian actor Samara Weaving. Weaving became a quick study, though, when she landed the pivotal role of Shana "Scarlett" O'Hara in the new action adventure "Snake Eyes: G.I. Joe Origins," now playing in theaters nationwide. The film chronicles the beginnings of legendary G.I. Joe characters Snake Eyes (Henry Golding) and Tommy Arashikage (Andrew Koji), before Snake Eyes joins the ranks of G.I. Joe and Tommy transforms into the Cobra ninja Storm Shadow. Also featured in the "G.I. Joe Origins" story is famed Cobra villain the Baroness (Úrsula Corberó), and a new character, Akiko (Haruka Abe), who is the head of security for the Arashikage Clan.
In an exclusive interview with Looper to discuss her work in "Snake Eyes," Weaving revealed how she was introduced to the "G.I. Joe" franchise.
Ross from Friends put G.I. Joe on Samara Weaving's radar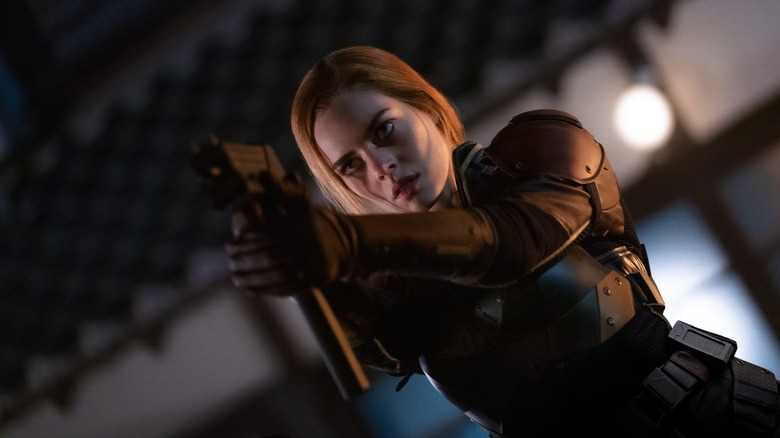 Paramount Pictures
Samara Weaving said the name "G.I. Joe" was certainly familiar to her, but that was about the extent of it. Fortunately, though, Weaving was a fan of another cultural sensation called "Friends," and one of its beloved characters, Ross Geller (David Schwimmer), inadvertently introduced Weaving to the "G.I. Joe" universe. "I knew of 'G.I. Joe,' but I didn't really have any context of what it even was. I didn't know if it was a TV show, or a comic book. I didn't really know," Weaving said. "I just knew that there was an action figure with 'G.I. Joe.' I think it was a 'Friends' episode, where Ross has a 'G.I. Joe" action figure out. So, I knew of 'G.I. Joe,' but not much. So, I learned about Scarlett when I first got the script, and then did a deep dive into her background and her role, and it was awesome."
The cool irony of Weaving learning about "G.I. Joe" through Ross' action figure is that — along with Golding, Koji, Corberó, Abe and the characters they play — Hasbro is producing a "Snake Eyes" action figure of Scarlett. "It's a dream," Weaving said of her likeness being immortalized in plastic. "I feel very humbled and very lucky!"
After Weaving became aware of the enormity of the "G.I. Joe" franchise and its cultural impact over the years, she admitted to Looper that heading into production to play Scarlett came with a range of emotions. "I think there was — and this is kind of every role I get — there is the initial excitement and then pure dread that I'm going to let everybody down by misrepresenting her," Weaving recalled. "Yeah, it was really nerve-wracking, but the script was so well-written, and the rest of the cast was so accommodating. And Robert [Schwentke], the director, was incredible ... After the first day, I was good."
"Snake Eyes" is playing in theaters nationwide.