The Life-Size Spider-Man That Sold For Hundreds On Pawn Stars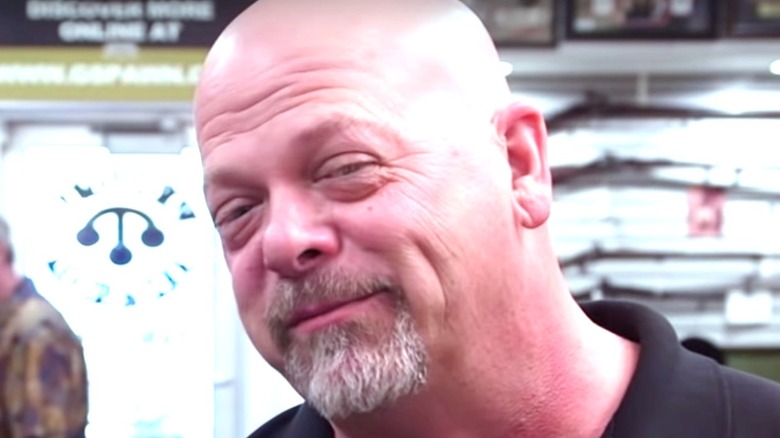 YouTube/History
Despite peaks and valleys in terms of box office success, the superhero film genre has survived and thrived over the past four decades-plus in Hollywood. Following the success of filmmaker Richard Donner's "Superman" in 1978 and director Tim Burton's "Batman" in 1989, the genre became a hit-or-miss proposition over the next 11 years until 2000, when the "X-Men" movie series kicked off.
Also propelled by the success of Marvel's "Spider-Man" trilogy by director Sam Raimi from 2002 to 2007, and DC's "The Dark Knight" trilogy from writer-director Christopher Nolan from 2005 to 2012, the genre proved it was here to stay with the sprawling success of producer Kevin Feige's Marvel Cinematic Universe — which kicked off in 2008 with "Iron Man." And while DC's fortunes have not been as consistent with highs like "Wonder Woman" in 2017, and lows like filmmaker Joss Whedon's "Justice League" the same year, fans started getting their confidence back with the release of Zack Snyder's director's cut of the film in 2021.
While box office numbers rise and fall, one certainty that remains is how the value of superhero memorabilia — whether it be props or even professionally crafted prop replicas — continues to rise. After all, what you see in a movie is what you get on the open market, if say, a costume or any other prop becomes available to purchase for the general public in the first place. More accessible for fans to purchase are replicas, which sometimes include full-scale replications of the superheroes themselves. And while replicas might not hold as much value as the real deal, they certainly can be worth a pretty penny, which is what Rick Harrison — the owner of Las Vegas' World Famous Gold & Silver Shop — proved in a 2021 episode of his hit History reality series "Pawn Stars."
Pawn Stars makes a Blockbuster deal for a Tobey Maguire Spidey replica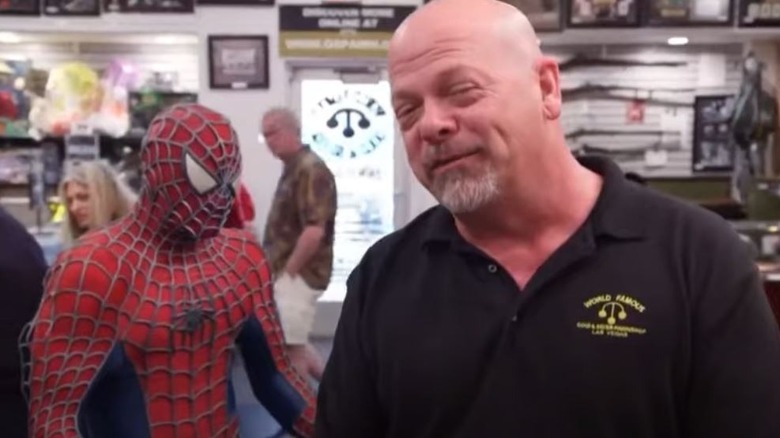 YouTube/History
Rick Harrison found himself standing face-to-face with one of Marvel legend Stan Lee's greatest comic book-turned-movie creations in a segment of the ninth episode of Season 18. That's when a prospective seller named Robert got Rick's "Spidey Sense" tingling when he walked into the shop with a life-size replica of Spider-Man based on the Tobey Maguire version of the character in Raimi's film trilogy. The replica was a display piece from a Blockbuster Video store, which itself became a relic of the past when digital video started wreaking havoc on the sale and rentals of Blu-rays and DVDs. 
Based on similar sales he researched, Robert said he was hoping to get $1,500 for his full-size Spider-Man figure, which had a plate mounted to its base saying "Spider-Man: Limited Edition Life-Size Replica." Rick showed immediate interest in the piece, saying the life-sized superhero piece was "super cool," but what the negotiations came down to was the actual rarity of the item. After all, the replica was labeled No. 2,780 of 4,600. It caused Rick to say with a laugh, "I love it when they say 4,600 is a limited edition."
As such, Rick countered Robert's $1,500 asking price with a $500 offer, noting, "There's probably a lot of them out there," and pointing out that the piece had "a little damage." After a little back-and-forth negotiating on the veteran pawnbroker's offer, Robert and Rick agreed on a sale of $550.
In a turn of a famous Spider-Man phrase after wrapping up the sale, Rick quipped, "Yep, I'm just your friendly neighborhood pawnbroker."