In Tom Cruise's Action Career, One Movie Stands Above The Rest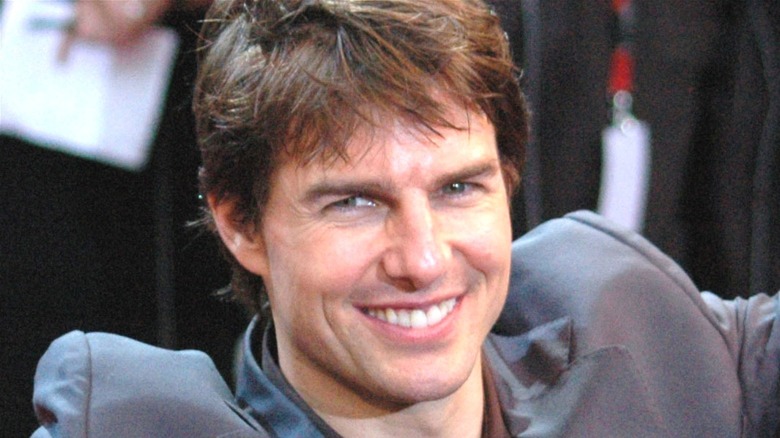 Shutterstock
Tom Cruise has a name that almost everyone knows. The actor has an extensive, varied career filled with iconic roles, from one of his first major parts as Joel in 1983's "Risky Business," to Lestat in "Interview with a Vampire," to what is probably his most well-known character, Ethan Hunt in the "Mission: Impossible" film series that started in 1996. While Cruise's career has definitely had its ups and downs, he's regularly churned out fantastic performances in different genres, like drama, science fiction, and action, although of late, he's mostly focused on the last one. In his long action career, Cruise continually proved himself to be the top action star of this era, and he consistently pushes himself past his limit and beyond to deliver astounding, death-defying performances. 
But what is the best action film of Cruise's entire career? It's a very tough question, and just as Cruise has grown and transformed over the years, so has the action genre and what defines a great film. Still, there are a handful of Cruise's movies that are obvious hits and should be considered for the top spot, including "Top Gun," all of the "Mission: Impossible" films, "Jack Reacher," and "Edge of Tomorrow." Cruise's impact on the action genre is substantial and it's difficult to compare one Cruise to another, but after considering many different factors, one film in particular definitely stands out from the others as the best action film of his career — at least so far.
Mission: Impossible - Fallout is Cruise's best action film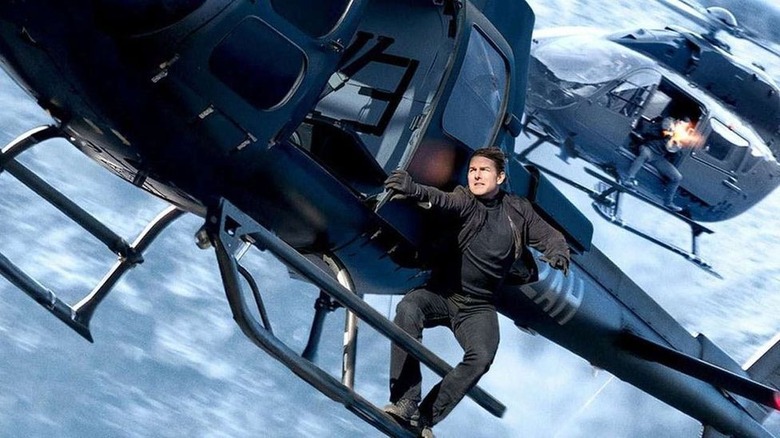 Paramount Pictures
While there are plenty of fantastic action films on Cruise's resume, it's his most recent release, "Mission: Impossible — Fallout," that is the best, and with good reason. The 2018 movie is the sixth installment in the popular "Mission: Impossible" franchise, which also stars actors like Ving Rhames, Simon Pegg, and Rebecca Ferguson. "Mission: Impossible — Fallout" continues the story of Hunt, an agent for the Impossible Missions Force, or IMF for short, who are facing a new terrorist group called the Apostles, formed out of the remnants of the Syndicate but now led by an unknown extremist named John Lark. The group is trying to get their hands on three plutonium cores to launch nuclear attacks on the Vatican, Jerusalem, and Mecca. "Mission: Impossible — Fallout" also features two fantastic new additions to the franchise with Henry Cavill as CIA Agent Augustus Walker, and Vanessa Kirby as the arms dealer Alanna Mitsopolis, also known as the White Widow. 
The film is currently Cruise's top-rated movie on Rotten Tomatoes with a shocking 97% rating, while it made more than a whopping $791 million at the box office, the best of the franchise and likely his career (Box Office Mojo). Both fans and critics were blown away by the movie, with many sharing their amazement at the fact that the sixth film in an action franchise can top all the movies that came before it, while also bringing something new to the table. David Ehrlich of IndieWire boldly declared "Mission: Impossible — Fallout" "one of the best action movies ever made," giving specific praise to Cruise by calling him a "one-man supernova," and stating that the film "rewards its leading man's superhuman dedication to cheating death for our amusement, every detail calibrated to convey the full extent of his psychotic effort." Cruise always gives his all to his roles, and with the "Mission: Impossible" franchise, its stars, and in particular, the returning director Christopher McQuarrie, match the actor's devotion perfectly. This all comes together most successfully in "Mission: Impossible — Fallout," but you can see it build to this accomplishment in the previous installments.
Of course, you have to remember that this isn't the end of the "Mission: Impossible" franchise by a long shot. Considering the trajectory of the franchise and Cruise's career so far, it seems extremely likely that Cruise may top himself once again in the near future, whether with one of the next "Mission: Impossible" movies, or with something else entirely.