Why Scarlett In Snake Eyes Looks So Familiar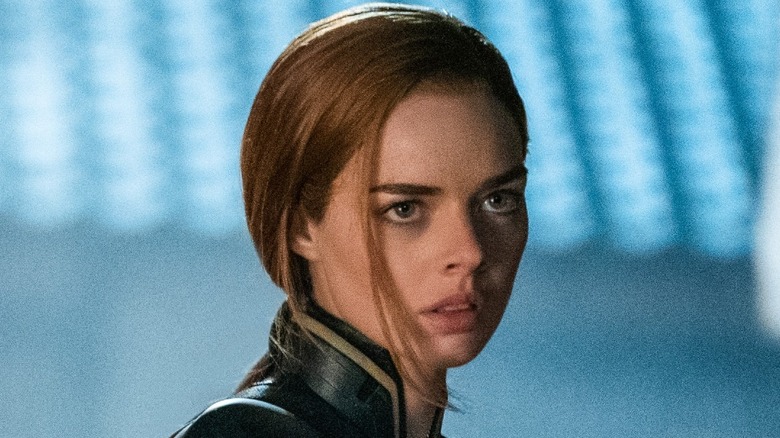 Paramount Pictures
While "Snake Eyes: G.I. Joe Origins" mainly chronicles how future G.I. Joe commando Snake Eyes (Henry Golding) and his chief adversary, Cobra ninja Storm Shadow (Andrew Koji), came to be, they're not the only characters from the franchise featured in the film. Among them is legendary G.I. Joe counterintelligence specialist Shana "Scarlett" O'Hara, who aligns with Snake Eyes and pre-Storm Shadow ninja Tommy Arashikage in battle when Cobra and its intelligence officer The Baroness (Úrsula Corberó) threaten to dismantle the Tommy's revered Arashikage Clan.
Bringing the fiery demeanor to Scarlett to life is Samara Weaving, an Australian actor who made her debut in the Aussie series "Out of the Blue" in 2008 before landing a long-running gig on the country's smash TV soap opera "Home and Away" from 2009 to 2013.
It was only a matter of time, though, before Weaving — like her famous actor uncle, Hugo Weaving — would head for the shores of the U.S. with her acting talents, and once she landed, it became apparent immediately that she was here to stay. After you remove the red wig she wears as Scarlett in "Snake Eyes," you'll see why the naturally blonde Weaving looks so familiar.
Samara Weaving's first Hollywood role was in Ash vs. Evil Dead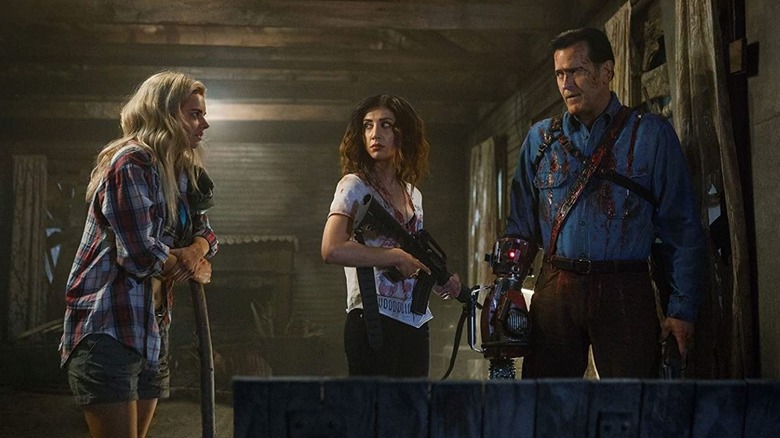 Starz
Weaving didn't have to travel too far for her first foray into American television, as she hopped over from Australia to New Zealand to film a guest role as the doomed hiker Heather in the American horror comedy series "Ash vs. Evil Dead" in 2015. The series, of course, is a spinoff of director Sam Raimi's cult classic "Evil Dead" movie trilogy, where Bruce Campbell's chainsaw-handed antihero Ash Williams resumes his battle with zombified, white-eyed menaces called Deadites.
Weaving appears in the first season of "Ash vs. Evil Dead," where Heather encounters Ash and his badass protégés Kelly (Dana DeLorenzo) and Pablo (Ray Santiago) while hiking in the woods with a pair of friends. Since Weaving's scenes involved the franchise's infamous, demonically possessed cabin, things don't end well for Heather. So how bad does it get for her? Let's just say the show's penchant for using gallons of blood and Deadite possession come into play.
Samara Weaving's first major lead in Hollywood came with The Babysitter movies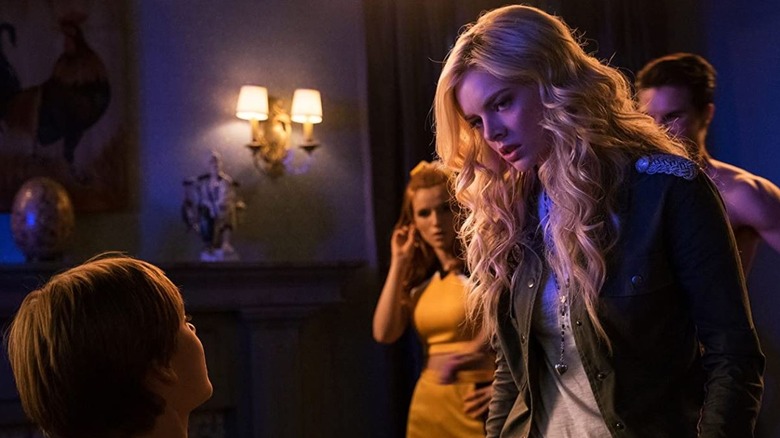 Netflix
Finding her groove in horror comedies after her memorable turn in "Ash vs. Evil Dead," Weaving continued her run in the subgenre with the Netflix original movie "The Babysitter" in 2017. In the original film, Judah Lewis stars as Cole, an adolescent who has a massive crush on his babysitter Bee (Weaving). But when his parents are away and Bee starts to play, Cole discovers that his babysitter is actually part of a Satanic cult and bloody madness ensues. "Things get messy when you deal with the devil," Bee quips.
The movie was such a smash that Netflix brought Lewis, Weaving and other cast members including Robbie Amell, Hana Mae Lee, Andrew Bachelor, and Bella Thorne for the sequel "The Babysitter: Killer Queen" in 2020. Set two years after the events of the original, Cole faces not only his past demons, quite literally, but another hell called high school.
Samara Weaving stars as the hunted new bride in the Ready or Not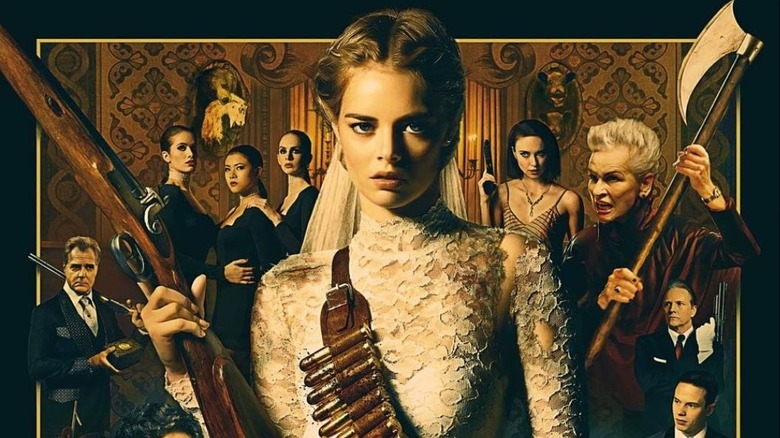 Searchlight Pictures
Weaving followed up her turn in "The Babysitter" with another horror comedy, "Ready or Not," in 2019, which rivaled the bloody mayhem she experienced in her guest turn in "Ash vs. Evil Dead." Weaving stars as Grace Le Domas, the new bride of Alex Le Domas, whose family made their fortune inventing board games. After the nuptials at the family's estate, Grace is informed of the tradition that every time the Le Domas family adds a new member, they must play a game doled out by a mysterious puzzle box. Grace gets the honor of drawing the game they will play in the overnight hours, which is hide-and-seek.
As Grace soon discovers, though, the Le Domas family tradition is not all fun and games. In fact, the family members, who are cursed, must kill Grace or each face a cruel demise at dawn. Taking up arms, Grace needs to find a way to navigate her way through the estate's secret passageways long enough to survive the sick game against her new, creepy family members.
Weaving emerged from "Ready or Not" a big winner. An independent production made for only $6 million — a paltry sum by Hollywood standards — "Ready or Not" pulled in more than $57 million at the box office worldwide, proving Weaving was ready to play the Hollywood game with the biggest and the best.
Samara Weaving plays Alex Winter's daughter in Bill & Ted Face the Music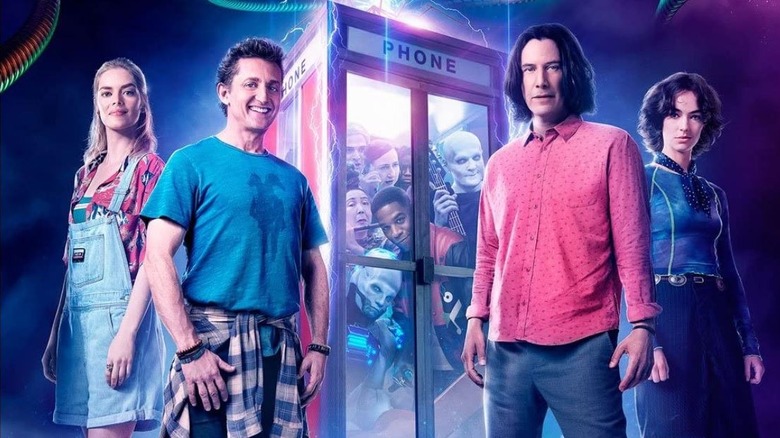 Weaving made a major breakaway from the horror-comedy subgenre — to veer toward pure comedy, only — with a key supporting role in the long-awaited Keanu Reeves and Alex Winter sequel, "Bill & Ted Face the Music," in 2020. In the film, Weaving stars as Theadora "Thea" Preston, who is Bill's (Winter) daughter; while Ted's (Reeves) daughter, Wilhelmina "Billie" Logan, is played by Brigette Lundy-Paine.
Set 25 years after the events of the last film, and Bill and Ted have yet to come up with the ultimate song that will unite the world. But when they are suddenly teleported to the future, Bill and Ted learn the stakes have been raised, as they are given 77 minutes to write the ultimate song or reality will collapse, and time and space will cease to exist. Thea and Billie each figure prominently in their fathers' quest to save humanity, and through time travel attempt to recruit such historical musical figures as Louis Armstrong (Jerimiah Craft) and Jimi Hendrix (DazMann Still) to help Bill and Ted to write the song. Ultimately, Thea and Billie get the opportunity to rock out with their famous dads.
Samara Weaving stars with Nicole Kidman and Melissa McCarthy in Nine Perfect Strangers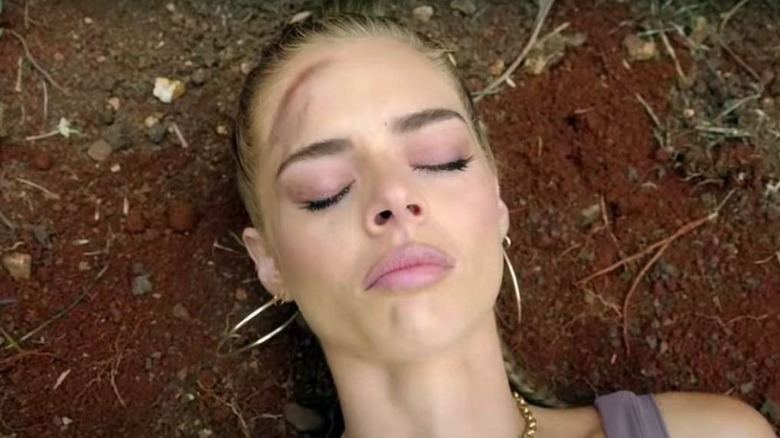 Hulu
Among the projects coming up for Weaving is the mystery drama series "Nine Perfect Strangers," where nine people are invited to a 10-day health and wellness resort run by Masha Dmitrichenko (Nicole Kidman), a mysterious guru who promises to transform her new guests. Based on the bestselling novel of the same name by Liane Moriarty, not much is known about the TV version of "Nine Perfect Strangers" apart from what's been revealed in the new trailer for the mini-series. The trailer has a suspenseful tone, as Masha gives off a creepy vibe as she instructs her guests to participate in unorthodox exercises including digging rectangular holes to resemble their own graves.
Weaving stars as Jessica Chandler in "Nine Perfect Strangers," along with such acclaimed actors as Melissa McCarthy, Michael Shannon, Regina Hall, Bobby Cannavale and Luke Evans. Created by David E. Kelly and John-Henry Butterworth, "Nine Perfect Strangers" is set to premiere on Hulu August 18.