Ghostbusters: Afterlife Toys Might Have Just Spoiled A Huge Reveal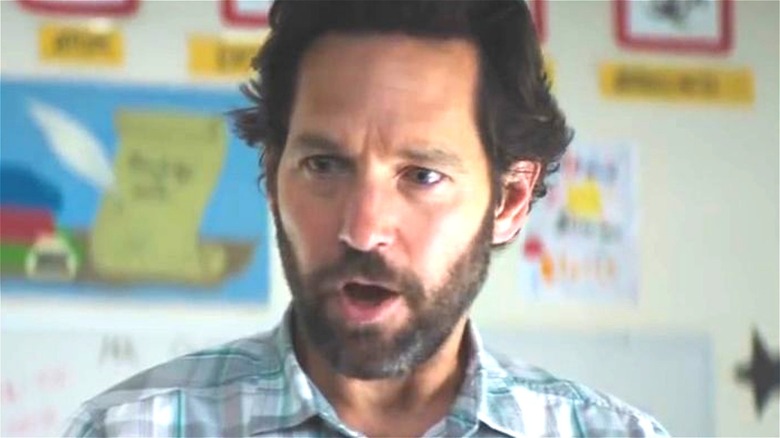 Sony Pictures
"Ghostbusters: Afterlife" represents the fourth entry in a beloved franchise that's been riding an unpredictable roller coaster for the better part of 40 years. 1984's "Ghostbusters" has been a near-holy entry in the pantheon of Hollywood comedies since it first debuted. "Ghostbusters 2" maintains a passionate fan base, despite a critically middling reception. In the more permanently perturbed corners of the internet, Paul Feig's "Ghostbusters" reboot from 2016 is still discussed in hushed but fiery tones.
The latest big screen crack at the world's most famous paranormal exterminators looks set to roll the dice on nostalgia, returning to the universe from the first two movies as it follows the descendents of the late Harold Ramis's Egon Spengler. And while the plot of "Ghostbusters: Afterlife" has been a closely guarded secret since day one, a newly leaked image is giving fans something to talk about: A potential spoiler the size of a particularly big Twinkie.
Is Ghostbusters: Afterlife getting the band back together?
Leaked product images of Hasbro's "Plasma" series of six-inch "Ghostbusters: Afterlife" action figures, published by CNET, show not just the new additions to the franchise dressed in their work uniforms, but a trio of familiar faces as well.
If the toys are any indication, original Ghostbusters Bill Murray, Ernie Hudson, and Dan Aykroyd will all be suiting up once again for Jason Reitman's long-delayed sequel. Images show present-day versions of Peter Venkman, Winston Zeddemore, and Ray Stantz in their distinctive tan coveralls, armed with classic proton packs.
If the toys are meant to replicate actual scenes from "Ghostbusters: Afterlife," this would represent the first time that the remaining original Ghostbusters suited up in an official capacity since the 2009 "Ghostbusters" video game. Rumors made the rounds that they would be joining the action in 2016's "Ghostbusters," but the trio wound up in cameo roles instead. How the premiere Ghostbusters will factor into the new story remains to be seen, but the latest trailer points to at least one original member's direct involvement with the proceedings.
"Ghostbusters: Afterlife" is slated to hit theaters on November 11, 2021.