The Latest Trailer For Ghostbusters: Afterlife Is Finally Here
Once again, the question of who we're gonna call has been answered — the second full trailer for "Ghostbusters: Afterlife" has finally arrived.
After the first trailer dropped way back in December of 2019, the film faced multiple delays due to the COVID-19 pandemic, preventing the film from dropping in July of 2020 as was originally planned. Throughout a global shutdown that kept movie theaters closed for months, anxious "Ghostbusters" fans were stuck waiting to hear the fate of the next film in this uber-popular franchise. Now, with the movie finally scheduled for release on November 11, 2021, audiences will get to see the next long-awaited chapter in this decades-long story.
Between new cast members, returning familiar faces, and ghostly apparitions, the second "Ghostbusters: Afterlife" trailer will definitely get fans pumped up for the next installment in this beloved comedy-horror tale. Here's why everyone is so excited about the second full trailer for "Ghostbusters: Afterlife," and what audiences can expect from the hotly anticipated film.
The second Ghostbusters: Afterlife trailer is an exciting look at the long-awaited sequel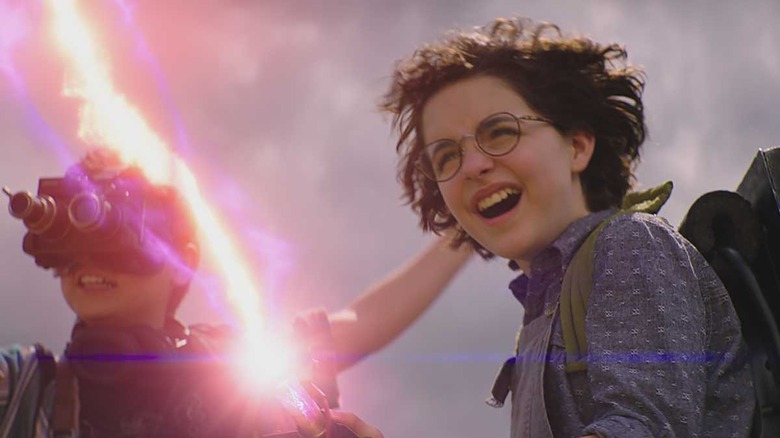 Sony Pictures
Following up on the first trailer, the second trailer for "Ghostbusters: Afterlife" — which is directed by Jason Reitman, son of Ivan, who helmed the original film — focuses on single mom Callie (Carrie Coon) and her kids Phoebe (Mckenna Grace) and Trevor ("Stranger Things" and "It" star Finn Wolfhard), who end up relocating to a small town in Oklahoma after suffering some serious financial setbacks. Worried about Phoebe's social anxiety, Callie consults with Paul Rudd's Mr. Grooberson, telling him that even though the move feels like an "opportunity to start over," she kind of hopes her kids can track down some trouble in Summerville.
Clearly, Callie's wish is granted sooner rather than later, as Trevor and Phoebe end up finding out their late grandfather, who left them their new run-down farmhouse, shared some history with the original Ghostbusters gang. Clearly, the film will contain a ton of references to the original, especially since Bill Murray, Dan Aykroyd, and Ernie Hudson will reprise their roles (leaving out Rick Moranis, who has retired from acting, and the late Harold Ramis).
"Ghostbusters: Afterlife" will finally hit theaters on November 11, 2021.