Winston Duke Cast As Bruce Wayne In Spotify's Batman Unburied Podcast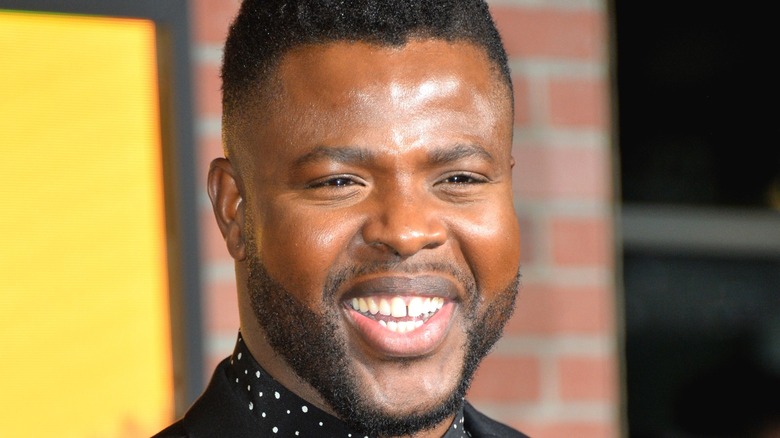 Shutterstock
Although Robert Pattinson will be the next person to physically suit up as Bruce Wayne in "The Batman" from director Matt Reeves, "Black Panther" star Winston Duke is set to voice the Caped Crusader in a new podcast series on Spotify (per The Hollywood Reporter), titled "Batman Unburied."
Duke's performance as M'baku in the Marvel Cinematic Universe is a great example of why he's perfect for the role, as he clearly knows how to give his voice an intimidating gravitas. That'll definitely be useful when the vigilante goes up against the criminals overrunning the streets of Gotham City. 
Duke isn't the only big name joining the series. Jason Isaacs will also appear in the series as Alfred Pennyworth to Duke's Bruce Wayne. The "Harry Potter," "Star Trek," and "The Oa" alum is no stranger to voice acting, having also starred in "Star Wars: Rebels," "The Dark Crystal: Age of Resistance," and "Castlevania." No other cast members have been confirmed for the project, as of yet, but a press release did confirm that there's some experienced Batman talent ushering this podcast onto Spotify: David S. Goyer serves as executive producer on the series, and he's best known for his work on Christopher Nolan's "Dark Knight" trilogy as well as "Man of Steel." On scribe duties are Eisner award-winning comics writer Saladin Ahmed, "The Haunting of Hill House" writer Rebecca Klingel, "Supergirl" writer Eric Carrasco, and Graham Westerson. 
"Batman Unburied" looks to be a highly unconventional Batman series: not only is Duke's Bruce Wayne going up against a terrifying new villain in the series, but if the synopsis is any indication, he'll be playing a pretty different version of the character fans know and love.
This version of Bruce Wayne has a surprising day job
Bruce Wayne is typically known for his billionaire, playboy, philanthropist status in the DC universe, but "Batman Unburied" is taking the hero in a new direction. Not only is Bruce Gotham's dark defender, here he also has a day job. As revealed by a description of the podcast (via The Hollywood Reporter), this version of Wayne will be a forensic pathologist, "working in the bowels of Gotham Hospital." 
That's a far cry away from romancing models and pretending to party all the time. It'll be interesting to see if Bruce is still a member of Gotham's wealthy elite, considering his line of work. The description also revealed that a new villain is causing chaos in the city, as Bruce is "tasked with examining the victims of The Harvester, a gruesome serial killer preying on Gotham's citizens." The only DC villain wielding a similar name is Harvest, a character from the 31st century who culls metahumans supposedly for the greater good (via Fandom). This is probably a coincidence. It's highly likely that the Harvester is a brand new creation for the series, specifically developed for the storyline at hand. Meanwhile, like any good Batman project, the podcast will force Bruce to deal with his own issues, as the description goes on to say that his inner demons will play a key role in the plot, if he wants to protect Gotham from the Harvester. 
Clearly, DC and Warner Bros. are trying to give listeners something unexpected with "Batman Unburied," and hopefully it pays off. With an impressive list of talent attached, this is definitely a series to keep an ear out for.
"Batman Unburied" is expected to release on Spotify sometime in 2021.