Snake Eyes' Samara Weaving Reveals What It Was Really Like Wearing Scarlett's Costume - Exclusive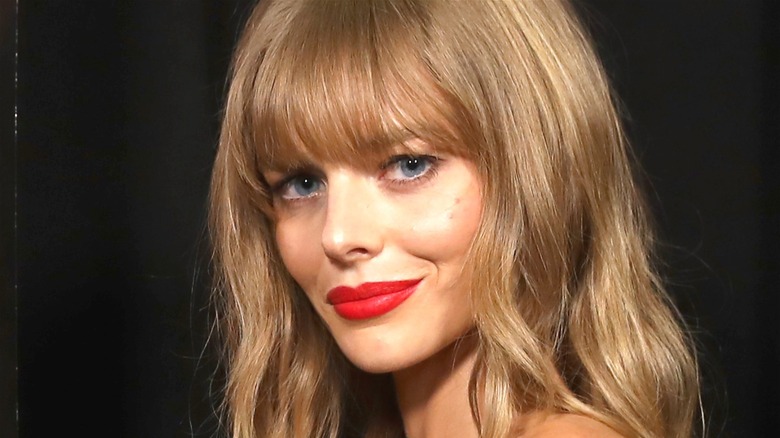 Rachel Murray/Getty Images for Paramount Pictures
There's something empowering that transforms an actor when the director hollers "Rolling!" on set, especially when the performer dons the costume of a beloved character in popular culture. "Snake Eyes: G.I. Joe Origins" star Henry Golding said it happened to him when he put on the full getup for the iconic ninja character Snake Eyes for the first time and his co-star Samara Weaving felt the same sort of electricity wearing the costume for legendary G.I. Joe counterintelligence specialist Shana "Scarlett" O'Hara.
Now playing in theaters nationwide, "Snake Eyes" tells the beginning of not only the title character, but Tommy Arashikage (Andrew Koji) before he transforms into the fearsome Cobra ninja Storm Shadow. The two characters begin the film as allies, as Snake Eyes spares Tommy's life despite a kill order from his boss, Kenta (Takehiro Hira), a nefarious crime lord. Grateful for Snake Eyes' gutsy move, Tommy invites Snake Eyes to join and learn the ancient secrets of the centuries-old peacekeeping Arashikage Clan of ninjas.
Despite a revelation about Snake Eyes that puts his and Tommy's brotherly bond to the test, the duo sets their difference aside to confront a threat to the Arashikage Clan, who has enlisted the help of the terrorist organization Cobra and their brilliant intelligence officer the Baroness (Úrsula Corberó). Aiding Snake Eyes, Tommy, Arashikage security head Akiko (Haruka Abe), and the clan's warriors in the battle is Scarlett, who is representing the G.I. Joe unit.
Samara Weaving says there's much more to wearing Scarlett's costume than it looks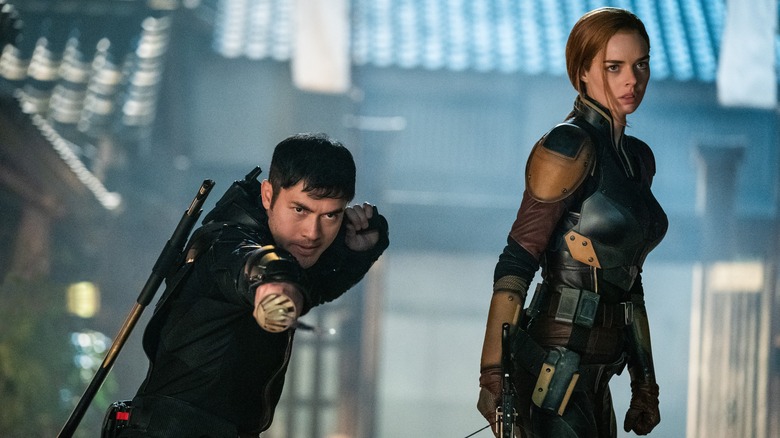 Paramount Pictures
In an exclusive interview with Looper to discuss "Snake Eyes," Samara Weaving said she was overcome with thrilling emotions when she put on Scarlett's full costume for the first time — a process she discovered was much more involved than it appeared on the surface. "It was so cool to wear a superhero outfit like that. That's like a bucket list thing for an actor, or at least for me. I hadn't ever worn something like that," Weaving said. "So, it was really cool, but not that practical. After the first day, I was like, 'Okay, now it's getting intense.' There's a lot of straps and things, and you have to rely on a team of people to put it on and off you every day."
Topping off Weaving's transformation into Scarlett, though, was the character's famous red mane. Luckily, the "Snake Eyes" hair and makeup department had a different idea in mind instead of dyeing the actor's blonde hair to get her into the mindset of playing fiery character. "It was a wig, so I didn't have to dye my hair. That would have been a bit tricky to get that perfect red color," Weaving said. "But yeah, every morning, when you put the red wig on, that really does help you encompass that character, for sure."
While Weaving loved the opportunity to embody Scarlett in "Snake Eyes," she told Looper that having her scenes with Golding made the experience of working on the film all the more satisfying. "He was a great leader in his own right," enthused Weaving, the niece of esteemed actor Hugo Weaving. "He was really incredible and such a generous actor to work with."
Directed by Robert Schwentke, "Snake Eyes: G.I. Joe Origins" is playing in theaters nationwide.